Mayor calls support for tax a vote for rail
Hannemann is optimistic that the City Council will eschew consideration of bus rapid transit
Mayor Mufi Hannemann says he remains confident that his rail transit plans won't be derailed, even though the City Council has raised anew the possibility of a bus rapid transit system as an alternative for Oahu's clogged roads.
The mayor, who was against former Mayor Jeremy Harris' plan for a BRT system and has lobbied hard for rail, cited the Council's previous support for a tax increase to fund rail as evidence that rail will prevail.
"The Council, if they want to have a say, they want to have input, they want to put it out on paper, I have no problem with that," Hannemann said yesterday. "At the end of the day, the buck stops at the desk of the mayor. And that's what's going to happen here."
The mayor stopped short of saying whether he would veto a nonrail transit bill and said he would rather focus on getting a rail plan in place before the end of the year.
After a 14-hour meeting Thursday, the City Council's Transportation and Planning Committee voted for a fixed guideway system but did not specify whether rail would be the preferred method.
The bill goes up for a final vote Friday and reserves the right for the Council to decide between a bus or rail fixed guideway system. A BRT would use buses on dedicated lanes.
"We're just one vote away, and I'm delighted," the mayor said.
Hannemann said the Council had the opportunity to oppose rail a year ago when they approved by a 7-2 vote the use of a general excise tax increase for the rail system.
"We wouldn't have been here without their support," he said. "Those seven people are very important. ... They said they were willing to support the General Excise Tax."
City Councilman Charles Djou, a vocal opponent of rail, described Thursday's committee meeting as "a 15-hour train wreck in slow motion."
"I think even if you were a rail proponent, before going in, I think it further eroded your confidence that we know what we're doing," Djou said. "We don't know where the route's going to go. We don't know where the minimum operating segment is, and now it seems to be we don't even know whether we're going to have a bus system or a rail system. I think it's just easier to go ahead with toll roads."
Kapolei Neighborhood Board Chairwoman Maeda Timson was not happy to hear that BRT was being considered as an alternative to rail.
"It's disappointing that we may not get rail and be stuck with an antiquated method of getting people around," Timson said. "We hope the City Council has transit vision, not tunnel vision."
Thursday's decision also recommended a route from Kapolei to the University of Hawaii at Manoa campus, with a spur to Waikiki. Ewa Beach residents are out of luck, which also disappointed Timson.
"What affects Ewa Beach affects Kapolei," said Timson, adding that heavy traffic cuts through Kapolei, which already has clogged lanes throughout the day. "They backtrack to Kapolei and go to town."
The decision also did not settle the debate over whether the route should pass through Salt Lake or the airport.
Gov. Linda Lingle said she will be meeting with federal transportation officials during a February visit to Washington, D.C., to discuss federal funding for rail. She said it seems logical to her that it would pass through the airport.
"Because people coming in anywhere west of the airport who want to go to the airport now have a direct link to get there," said Lingle, adding that thousands of workers at the airport would be able to take advantage of the system. "I think for a system to be successful, it's helped if there are these key nodes -- the stadium, you have the airport, major shopping areas and the university."
---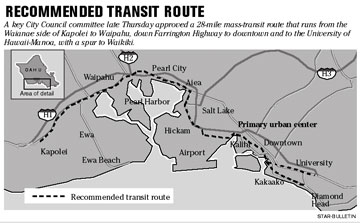 ---
Star-Bulletin reporter B.J. Reyes contributed to this report.