| | |
| --- | --- |
| | Newswatch |
---
Aiea pedestrian overpass reopens
Pedestrians can once again use the Aiea the H-1 Freeway overpass that was severely damaged and partially dismantled after an Army truck carrying an oversized load hit it on Sept. 6.
The state Department of Transportation reopened the Mahiko Street pedestrian overpass at 2 p.m. yesterday.
Construction crews replaced an 84-foot-long precast concrete section weighing 120,000 pounds on Dec. 2.
A HOLIDAY REMEMBRANCE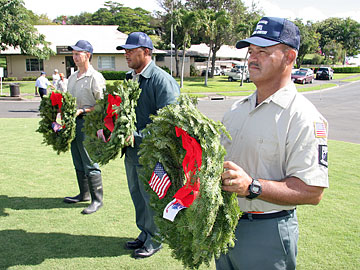 Grand jury charges 2 in child-porn cases
Two men were indicted on federal child pornography charges by a federal grand jury in two separate cases.
Robert P. Moser and Thomas J. Crowe were indicted yesterday in federal court.
Moser knowingly possessed computers and electronic storage media allegedly "containing visual depictions of minors engaged in sexually explicit conduct," on July 27 the indictment said.
Crowe possessed on April 8 two computer hard drives containing visual depictions of minors engaged in sexually explicit conduct, the indictment said.
Box jellyfish influx stings beachgoers
Ten people were stung by box jellyfish stings yesterday during a box jellyfish influx at various Oahu beaches. The jellyfish were expected to dissipate today.
Lifeguards reported nine people were stung in Waikiki and one was stung at Ala Moana Beach Park, said Bryan Cheplic, spokesman for the Honolulu Emergency Services.
State searches for sprinkler vandals
The state Department of Transportation is looking for vandals who have repeatedly damaged sprinkler heads along the Honolulu-bound lanes of the H-1 Freeway in Kaimuki.
Maintenance crews have repaired or replaced about a dozen sprinkler heads between Waialae Avenue and Koko Head Avenue in the last two weeks, the DOT said.
---
THE GOOD NEIGHBOR FUND
---
Monetary gifts may be sent to:
Honolulu Star-Bulletin's
Good Neighbor Fund
c/o Helping Hands Hawaii
P.O. Box 17780
Honolulu, Hawaii 96817-0780
Clothing, household items and gifts can be donated at the Community Clearinghouse, 2100 Nimitz Highway.
You may also participate in the Adopt-A-Family program, in which businesses, employee groups, social clubs, families or individuals can help a specific family.
Call 440-3804 for information about the program or to arrange for pickup of large items.
---
Coming this weekend in your Star-Bulletin:
SUNDAY
Today:
The Nintendo Wii is the hot ticket for holiday gifting, a game console that's easy to learn and every bit as fun as it looks. Just be careful when you swing that controller around. Also, in this week's The Weekly Eater: Get pancakes at any time of the day or night at MAC 24/7. Or a bento, or chili chicken wings, or macaroni and cheese.
Business: Hawaii consumers' demand for Christmas trees has grown significantly this year, with purchasers preferring live ones over the artificial variety. Also in Sunday's business section, Tower Records will continue to thrive overseas even though its U.S. operations, including three stores on Oahu, are shutting down.
Travel: Outdoor adventure company Backroads has coordinated upscale trips around the world for more than 26 years, offering travel itineraries in 16 U.S. national parks, and hosting 14,000 singles, couples and family travelers annually.
| | |
| --- | --- |
| | Police, Fire, Courts |
---
WINDWARD OAHU
Kaneohe baby killed in driveway accident
A Kaneohe infant died yesterday when he was struck by a vehicle driven by his father, police said.
The 1-year-old boy was in the driveway of the home on Mapele Place in Kaneohe when the driver, 30, began reversing his minivan. Police said the driver felt an impact, continued to back up, then stopped when he saw the boy on the ground.
The child was taken in a private vehicle to Castle Medical Center where he was pronounced dead.
HONOLULU
Elderly man hit by car is in critical condition
A pedestrian accident yesterday put a 69-year-old man in The Queens Medical Center in critical condition with head injuries, police said.
The Honolulu man was walking on Captain Cook Avenue when he was sideswiped by a Mazda driven by a 22-year-old woman. The man had been crossing a freeway overpass near Alapai Street. Police said the 10:25 a.m. accident occurred when the car entered the crosswalk.
CENTRAL OAHU
Early morning burglar caught inside business
Officers arrested a 26-year-old man who was found searching a Wahiawa business he had broken into, police said.
Officers responded to a burglar alarm at the business at about 12:20 a.m. yesterday and found the man inside, police said. He was arrested for investigation of second-degree burglary.
Woman reports rape by 50-year-old man
Police were looking for man who allegedly raped a woman Sunday night in Waipio.
The 21-year-old woman told police that a man in his 50s raped her in the Waipio commercial area between and 10 and 10:30 p.m.
NEIGHBOR ISLANDS
Shed fire too remote for firefighters to stop
HILO » Big Island firefighters responded to a utility building fire in Waipio Valley Tuesday night, but the location was so remote that the structure had burned to the ground by the time they walked to it, they said.
They described the building as a large shed, about 20 feet by 30 feet.
The call came in at 10:26 p.m. and firefighters arrived at the scene at 11:49 p.m., they said. To reach it, they had to go down the steep, four-wheel-drive-only valley road, cross a river, hike across a beach, and then double back 300 yards along the far wall of the canyonlike valley. A caretaker at the building said he heard a loud explosion just before the fire started. No one was injured.
Blaze razes building; cause being probed
Fire destroyed a wooden structure in the Orchidland subdivision in lower Puna on Wednesday night. Big Island fire crews found the structure at 40th Avenue and Pohaku Drive engulfed in flames after the alarm at 10:38 p.m. The structure collapsed, fire officials said. No damage estimate was available and the cause of the fire was under investigation.
BREAKING
Driver of stolen car accused of crimes
Alert security guards noticed a stolen Mazda being driven into a Waikiki apartment complex at about 11:35 last night and called police.
Officers found a 24-year-old man sitting in the car and arrested him for investigation of auto theft.
An officer then removed the man's ID from his wallet and noticed a bank card with someone else's name on it, police said.
Officers also noticed an open bag on the center console and found drug paraphernalia and drug residue inside, police said.
The man was arrested for investigation of identity theft and drug violations.
Man assaults victim for making noise
Police were looking for a man who allegedly assaulted another man for making too much noise in a public park just before noon Tuesday.
Police said the victim, 29, was drinking in the park with friends when he was confronted by the suspect. The suspect then assaulted the victim, who was sitting in his car, police said.
The victim got out of his car and the suspect hit him with a weapon, police said. Police described the suspect as bald and having tattoos.
Man, 23, arrested in violent theft of purse
Police arrested a 23-year-old man who allegedly used force to steal a purse from a 48-year-old woman in Kalihi yesterday.
Police said the incident happened at about 10:15 a.m..
Officers found the suspect nearby and arrested him for investigation of second-degree robbery.