| | |
| --- | --- |
| | Island Mele |
---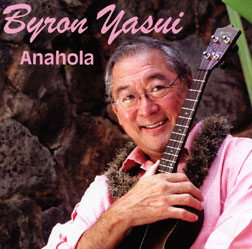 Anahola
Byron Yasui
(River Bank Lane Music RBLM 001)
Ukulele virtuoso Byron Yasui writes in the liner notes of his first full-length album that he recorded it to document "some of my musical activities" for his family -- and this is impressive documentation indeed! He opens with the title track, an original written for his niece, then demonstrates the instrument's versatility with beautifully executed solo arrangements of Hawaiian, hapa-haole, Broadway, Latin, pop and Japanese melodies.
Yasui displays his skill as a technician with an invigorating assault on "The Stars & Stripes Forever." "Sleigh Ride," done to death as a seasonal standard, takes on new life thanks to Yasui's imaginative arrangement.
Imagination and technical skill are also key ingredients when Yasui goes classical with "The Comedians' Galop" and then closes with a tour de force rendition of "Scherzo" from Tchaikovsky's Symphony No. 4.
---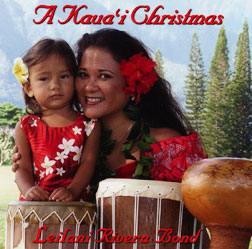 A Kaua'i Christmas
Leilani Rivera Bond
(Leilani LRCD2006)
Leilani Rivera Bond got in just under the wire with this last-minute Christmas release. The title song opens the album with the message that Christmas on Kauai is a day for prayer and celebration of the birth of Christ.
"Christmas in Hawai'i" also emphasizes the religious aspect of the season, but most of the other songs have secular themes. Bond is also, alas, the third local act this year to remake the Carpenters' 1970 hit, "Merry Christmas Darling." She personalizes her straight pop remake a bit by having the backing vocals sung in Hawaiian.
Bond has a beautiful voice and her rendition of "Mele Kalikimaka" is one of the highlights in suggesting the feel of Christmas here. Her earnest by-the-numbers take on Eaton "Bob" Magoon's pidgin parody of "Twelve Days of Christmas" will entertain folks unfamiliar with Ed Kenney's version.
---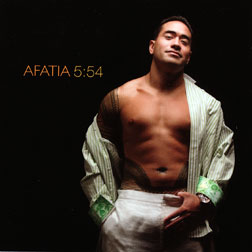 5:54
Afatia
(Tihati - no serial)
Afatia Thompson, a founding member of Reign, stepped out as a solo artist this year with this enigmatically titled album. He follows the example of Pati and Aziel in downplaying his Samoan heritage and going for a mainstream hip-hop/"urban" sound.
Afatia and his producers succeed throughout. A guest rapper helps set the mood on the opening track but Afatia quickly proves himself comparable to many artists already on the national charts.
Afatia is at his best as a soulful crooner. His straight remake of "Love Won't Let Me Wait" brings no new ideas to Major Harris' 1975 hit, but is beautifully sung. "Video," an ode to an unconventional but supremely self-confident woman, shows he can handle light up-tempo material as well.
"Worship Medley," featuring all five members of Reign, closes the album on a smooth, soulful note and provides another welcome glimpse of his Polynesian heritage.
John Berger
, who has covered the local entertainment scene since 1972, writes reviews of recordings produced by Hawaii artists. See the Star-Bulletin's Today section on Fridays for the latest reviews. Reach John Berger at
jberger@starbulletin.com
.