E&O's 'Alchemist Lounge' created for mature crowd
LOCAL PROMOTERS
Artist Groove Network
kick off a new party this week with the debut of "The Alchemist Lounge" at E&O Trading Company.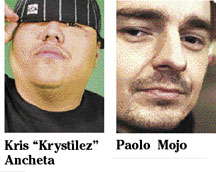 AGN's Roni Yurong says the new Saturday weekly will have a "good vibe" and feature music "from all eras" in an attempt to lure a more mature crowd. DJ Ryan Sean, a staple on Fridays at the crew's "Wonderlounge" party at the W Honolulu, will handle mixing duties at E&O as well.
And if you're lucky enough to score VIP access, be sure to check out the complimentary massages that will be available. This weekend's launch will also serve as a birthday celebration for AGN's Thaddeus Park. Doors open at 9:30 p.m. ...
THERE MIGHT have been a lot of celebrities at last weekend's U2 concert, but I'm still glad I decided to skip it in favor of Pearl Jam's Dec. 9 show at Blaisdell Arena.
Sure, I didn't get to rub elbows with Bill Gates, Pierce Brosnan or Kid Rock. And I'm a little broken up about not getting to see Heather Locklear, Mira Sorvino or Alyssa Milano in person.
But what makes up for it is one of the pictures that Pearl Jam fans are downloading with an official "bootleg" recording of the concert at http://bootlegs.pearljam.com. In it, Eddie Vedder is standing on a barrier in front of the stage. Look closely in the center of the shot, and you'll see this columnist enjoying the show alongside Star-Bulletin entertainment editor Gary Chun ...
LOCAL RAPPER Kris "Krystilez" Ancheta is heading down the home stretch toward the release of his new album, "The O," due in stores on Tuesday.
Never mind that Nas drops "Hip-Hop Is Dead" on the same day -- Ancheta is getting a lot of love from Hawaii fans, and says the time is right for other artists to step up and take advantage of increased exposure that local hip-hop has received in recent months.
Besides bombarding MySpace.com with promo bulletins and putting in work on the streets, he also recorded a music video for the single "Shake" with help from his label, Tiki Entertainment. Filmed at Panama Hattie's earlier this month, the video features appearances by Hot 93.9's Big Koa and Jimmy Taco, Power 104.3's Micah Banks, Sheena Sakai, Big Mox and fellow Tiki artists Spookahuna and Suga D. Local crews I-Deliver Entertainment, Stand Alone Entertainment, Funky4Corners and No Mercy Productions were also on hand to support ...
NEED A pick-me-up while finishing your Christmas shopping? Check out Morton's at Ala Moana Shopping Center for a taste of one of the restaurant's new "Heavenly Mortinis."
Tylor Field, Morton's VP of wine and spirits, developed four new cocktails with the help of Southern Wine and Spirits's Francesco Lafranconi (who also helped design the drink menu at nearby Pearl Ultra Lounge). They join more than 30 martinis already on the menu.
Last week, I joined Smart magazine's Amy Alston, Sarah Honda and Molly Watanabe and The Oahu Concierge's Pam Davis and Kathryn Wheeler to taste the "Pomegranate Mortini," "Heavenly Palm Beacher" and "Heavenly Cosmopolitan," but my favorite had to be the "Pistachio Mortini" with its Cruzan rum, Starbucks liqueur, heavy cream and chocolate syrup. It was like dessert in a glass -- just heavenly ...
COMING UP: After a killer set on Halloween at the Living Room last year, British DJ Paolo Mojo returns to Hawaii to play at the Lotus Soundbar on Friday. It's also your first chance to see Ramyt "DJ Archangel" Islam back on the decks after a six-month break ... Tattoo artist Mike Ledger celebrates the re-opening of his studio with a party at Osake on Tuesday ... And promoters Moguls Entertainment, Kaizo Speedgear, Evol Entity and Racesauce present a new Thursday party for Christmas break. "The Threads" makes its debut at Fashion 45 for the 18-and-over crowd next week ...