---
FAST FACTS HAWAII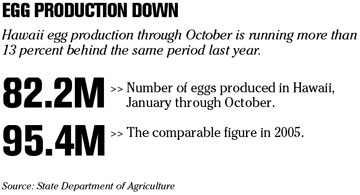 ---
HAWAII
Island Air offers $12 return fares
Island Air
, making its own mark in the interisland fare war, said yesterday it is offering $12 return fares for travel through March 15.
The special fare is available through Friday and must be purchased online at www.islandair.com.
Mesa Air Group Inc.'s go!, which began the fare war when it started service in June, announced a $29 holiday fare over the weekend that was matched by Hawaiian Airlines and Aloha Airlines. Tickets for that fare must be purchased by 11:59 p.m. Monday and are applicable for travel through Jan. 31, 2007.
[HAWAII INC.]
NEW JOBS
» First Insurance Company of Hawaii has hired
Randall Isaki
as information technology solutions director. He will be responsible for systems engineering, e-business application development, systems operations and production, and the information technology help desk. He previously served at CGI-AMS and has more than 20 years of information technology management experience.
» The Hawaii Association of Realtors has named Anne Deschene executive vice president. She previously served as president and chief executive officer of the Better Business Bureau and its foundation for 14 years.
» Sea Life Park by Dolphin Discovery has hired Jesus Bravo as general manager. He will be responsible for building the park into one of Hawaii's premier attractions. He previously served as general manager of Dolphin Discovery's facility in Cozumel, Mexico.
» Servco Insurance Services has hired Malcolm Tajiri as senior vice president of the employee benefits practice. He will manage daily operations and business development, and will serve as a lead consultant for Servco clients. He previously served as vice president and senior consultant of a worldwide employee benefits company.
» The law firm Bays Deaver Lung Rose Baba has hired Joseph W. Huster and Denise W. Wong as associates. Both previously served as law clerks at the Hawaii Intermediate Court of Appeals.
» The Wyndham Waikiki Beach Walk has announced the following apppointments to its new management team: Neil Murakami, assistant general manager; Ismile Espaniola, chief engineer; Marsha Kapu, hospitality manager; Sharon Pudiquet, executive housekeeper; and Rie Burson, guest service manager.
» Austin Vali has rejoined Cox Radio as programming consultant. He brings over 33 years of radio broadcast experience, recently serving as general manager and market manager for Cox Radio in Long Island, N.Y. Scott Mackenzie has been hired as local sales manager of POWER 104.3 KPHW FM. He has been in charge of marketing and promotions for Cox Radio Hawaii since 1998.
---
NATION/WORLD
Qantas accepts sweetened offer
SYDNEY, Australia »
Qantas Airways
said today it has accepted an Australian dollars $11.1 billion (US$8.64 billion) takeover offer from a private equity consortium including
Australia's Macquarie Bank
and the
Texas Pacific Group
.
Qantas Chairman Margaret Jackson said the board had agreed to recommend to shareholders that they accept the offer of A$5.60 (US$4.40) a share from the consortium. The announcement follows Qantas rejection yesterday of the consortium's offer of A$5.50 a share.
Jackson said in a statement the new offer included the removal of unacceptable conditions, including a break fee payable to the consortium if the deal fell through because of government regulations or a lack of shareholder support.
She said the bid price was 33 percent higher than Qantas shares were trading at before takeover speculation began in early November.
Skilling starts 24-year sentence
WASECA, Minn. » Former Enron CEO Jeffrey Skilling reported to federal prison yesterday to begin serving his 24-year sentence for fraud and other crimes in the collapse of the former energy giant.
Even if he earns a few years off for good behavior and for participation in an alcohol treatment program at the Federal Correctional Institution in Waseca, Skilling, 53, will be an old man at the end of his 24-year, four-month prison term. That's more than twice as long as the sentence of any other Enron executive.
Skilling and Enron founder Ken Lay were convicted last May on numerous counts of fraud, conspiracy, insider trading and other charges in the collapse of the Houston-based firm, which led to the loss of thousands of jobs, more than $60 billion in company stock and more than $2 billion in employee pension plans.
A federal judge yesterday denied Skilling's request to remain free pending his appeal.
Lay died in July of a heart attack before he could be sentenced, prompting a judge to vacate his conviction.
Pinnacle OKs expansion of casino
NEW ORLEANS »
Pinnacle Entertainment Inc.
plans a $145 million expansion of its New Orleans-area riverboat casino complex that will include a new gambling boat and a more-luxurious hotel than the company originally intended.
The new boat for the Boomtown New Orleans will be modeled after Pinnacle's L'Auberge du Lac casino in Lake Charles, which has been a major hit with gamblers since it opened in May 2005, easily becoming that market's top-grossing casino, Pinnacle said yesterday.
The Boomtown New Orleans is in the New Orleans suburb of Harvey and competes with Harrah's Entertainment's casino in downtown New Orleans and the Treasure Chest dockside riverboat casino, owned by Boyd Gaming Inc., in Kenner. Harrah's opened a hotel with 450 rooms and suites adjacent to its casino in September.
---
BUSINESS PULSE