---
FAST FACTS HAWAII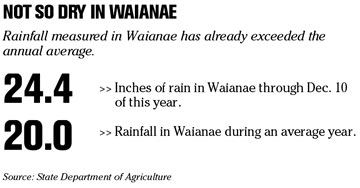 ---
HAWAII
Aqua Hotels to manage Coconut Plaza Hotel
Aqua Hotels and Resorts
announced yesterday it has been awarded the management contract for the 80-room Coconut Plaza Hotel in Waikiki.
Owner 3D Investments LLC of Beverly Hills, Calif., selected Aqua to assume management of the hotel from ResortQuest Hawaii on Dec. 20.
It will be renamed Aqua Coconut Plaza and marketed as an Aqua Lite hotel.
"The Coconut Plaza has personality and lots of potential," said Mike Paulin, owner and CEO of Aqua Hotels and Resorts. "A renovations program of several million dollars is slated for early 2007."
Aqua Hotels and Resorts also manages the Aloha Surf, Aqua Bamboo & Spa, and Aqua Palms & Spa under its Aqua Boutique line, along with a number of others under its Aqua Lite line.
NATION / WORLD
Sale pricing hits Best Buy's profit
MINNEAPOLIS »
Best Buy Co. Inc.
said yesterday its third-quarter profit rose 9 percent as customers bought more expensive products, but results were below expectations as the nation's biggest consumer electronics retailer made greater use of promotions to move merchandise.
Net income for the quarter ended Nov. 25 totaled $150 million, or 31 cents per share, compared with net income of $138 million, or 28 cents per share, a year ago. Revenue grew 16 percent to $8.47 billion, from $7.33 billion last year. The net income figure fell below the expectations of analysts polled by Thomson Financial, who expected earnings of 35 cents per share. Revenue was just above forecasts of $8.42 billion.
But Same-store sales, or sales in stores open at least 14 months, a key measure of industry performance, rose 4.8 percent, as customers spent more on items such as flat-screen televisions and notebook computers.
Competitors such as Wal-Mart Stores Inc. lowered prices on high-ticket items during the Thanksgiving shopping weekend, forcing Best Buy to do the same.
Brad Anderson, vice chairman and chief executive, said the short-term hit to profit margins was worth it. "We are taking market share," he said in a conference call with analysts.
Sabre Holdings selling for $4.5B
DALLAS » Travel-reservations system operator
Sabre Holdings
, parent of the online service Travelocity.com, said yesterday it is being acquired by private-equity groups for about $4.5 billion.
Silver Lake Partners and Texas Pacific Group said they will pay $32.75 per share in cash for the company, which connects airline, hotel and car-rental systems with travel agents. They also assume about $550 million in debt.
The price per share is a 30 percent premium over Sabre's average closing price over the past 60 days, the companies said. The deal would require approval by Sabre shareholders and is expected to close next spring. Sabre Holdings said it doesn't expect to make management changes and will remain based in the Fort Worth suburb of Southlake.
Sabre's board of directors recommended that shareholders approve the sale.
Goldman profit nearly doubles
NEW YORK »
Goldman Sachs Group Inc.
, the biggest investment bank on Wall Street, said yesterday its fourth-quarter profit almost doubled from last year on record takeover activity and robust stock market trading.
The New York-based financial company was the first to report results in what is expected to be a record year on Wall Street. Goldman reported profit attributable to common shareholders for the three months ended Nov. 24 of $3.1 billion, or $6.59 per share, compared with $1.63 billion, or $3.35 per share, in the year-ago period. Net revenue rose 47 percent to $9.41 billion from $6.4 billion.
This easily surpassed Wall Street projections for earnings of $6.04 per share on $8.96 billion of revenues, according to analysts polled by Thomson Financial.
Apple iTunes sales slid in first half, analyst says
CAMBRIDGE, Mass. »
Apple Computer Inc.
's iTunes music store suffered a 65 percent slump in sales during the first six months of the year, reversing almost two years of gains, according to a
Forrester Research Inc.
report.
The number of iTunes transactions declined 58 percent between January and June of this year, while transaction size fell 17 percent, the Cambridge, Mass.-based market- research firm said today. iTunes spokesman Tom Neumayr said the report is "simply incorrect."
Forrester, which based its findings on analysis of 2,791 U.S. iTunes debit and credit purchases, said it is too soon to tell whether the decline is seasonal or if demand for digital music is falling.
Apple got $452 million in sales last quarter from music sold through iTunes as well as accessories for its market-dominating iPod device, the company reported in October.
Google to help workers sell their stock options
SAN FRANCISCO »
Google Inc.
will unleash employee stock options so they can be sold to a select group of investors, opening a new moneymaking channel for rank-and-file workers at the expense of lowering the online search leader's earnings next year.
It marks the first time that a major U.S. company has established an ongoing market where employees will be able to sell their options to sophisticated money managers.
Chinese president's son gets large airport deal
BEIJING » A company headed by the Chinese president's son has won a deal to supply airports across the country with security scanners, company and aviation officials said yesterday.
Under the deal, Nuctech Co. will supply scanners that detect liquid explosives to all 147 airports in China, said the General Administration of Civil Aviation's head of security. The scanners use X-rays to detect whether a liquid is harmless or potentially dangerous, and the aviation official said the Nuctech devices outperformed competing models.
The deal is a potential windfall for Nuctech, a nine-year-old government company whose president is Hu Haifeng, the son of China's state president and Communist Party leader Hu Jintao.
---
BUSINESS PULSE