U2: Ever the craftsmen
Patience will be rewarded for local U2 fans this weekend. And they may well find that waiting 22 years to see the Irish band wasn't such a bad thing.
U2 Vertigo World Tour
With Pearl Jam and opening band Rocko and the Devils

In concert: 6:30 p.m. Saturday at Aloha Stadium; gates open at 5.

Tickets: $49.50, $95 and $165.

Call: 486-9300 or online at ticketmaster.com.

Also: Ovation Travel Experiences present a luau from 6 p.m. to 2 a.m. Friday at Hawaiian Waters Adventure Park with guest host Rosario Dawson, and U2 tribute band Matt Easter and Vertigo USA. Tickets $49.95 (luau only) and $169.95 (includes one general admission ticket to concert). Call (877) 678-8282 or (888) 548-3849 or online at otx.ca.
Despite performing in stadium settings on this last leg of the 2006 Vertigo World Tour, the band is trying to regain that intimate connection with audiences that made U2 so beloved early on.
Those lucky enough to see the quartet in 1983 and '84 at the Blaisdell Arena, touring in support of the "War" and "The Unforgettable Fire" albums, saw them at their earnest best. Flush with their first taste of rock celebrity, Bono and the band put on two consecutive memorable shows. This was well before the media-overload imagery of the 1993 Zoo TV and near-disastrous PopMart tours of 1993 and '97, when the band put a heavy coat of irony on their stage presentation.
Hawaii missed out on the largesse of those tours, and although hard-core U2 fans may have stood by them, the band may have lost some relevance to a wider audience. But thanks to 2001's "All That You Can't Leave Behind," U2 has been making interesting music again, with the album a restatement of the band's original strengths.
U2 returns to Hawaii as megastars in the rock 'n' roll firmament. Bono, The Edge, Adam Clayton and Larry Mullen Jr. have sold upward of 170 million albums worldwide (and counting), won 22 Grammys (five of them last year for "How to Dismantle an Atomic Bomb"), and were inducted into the Rock and Roll Hall of Fame in March of '05 -- in their first year of eligibility -- by none other than "the Boss," Bruce Springsteen.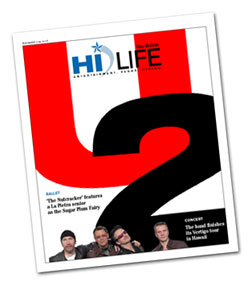 2006 has been a year of reevaluation for the band (and constant mentions in the news in general, thanks mostly to Bono, more later on that). And their next studio album, done with the help of the masterful career rejuvenator, producer Rick Rubin, should reconfirm their status.
U2's older catalog has been featured just as much on tour as tunes from the latest album. They've even, on occasion, played "I Will Follow," their hit single from the early '80s.
Well-timed in all of this is the recent release of the band's latest greatest-hits collection, "U218 Singles," that doubles as an aural complement to the "U2 By U2" coffee-table book, out just in time for the holidays.
The new collection's selling point is two new tracks. "Window in the Skies" debuted on the just-completed Japan leg of the tour and may show up somewhere in the Hawaii setlist. There's also the song U2 performed with Green Day at the Louisiana Superdome when the New Orleans Saints returned to their home field.
A cover version of a 1978 song by Scottish punkers the Skids, "The Saints are Coming" was initially released as a downloadable single with proceeds going to the Edge's charity, Music Rising, to help struggling musicians with their post-Hurricane Katrina lives.
AND DID you know Bono may win the Nobel Peace Prize on Sunday? He's one of the 191 nominees, being considered for his continuing campaign to alleviate world poverty.
It's inevitable that if you're a fan of U2, you're going to have to deal with Bono's outside activities. While detractors wish he would just shut-up-and-sing, the lead singer-slash-activist has taken a decidedly less politically agitating tact in his adopted cause -- tackling economic and health problems in Africa.
"I don't want people to feel, 'Oh, no! Here's that bloody priest Bono rattling his plate again. Quick, hide the drink!'," Bono said in an interview with the British magazine Q in January. "No! This is like the civil rights movement. This is like the anti-apartheid movement. This is the issue that will define our generation and, come on, don't we want to say we gave it a good go? People should feel great doing this."
All that entails is buying into his recent (Product) Red marketing campaign. Working from the premise that corporations can help save the lives of the poor, the campaign involves specially designed products from such brands as Nike Converse, The Gap and Motorola. Purchase one of the items and 50 percent of the net profit will reportedly be donated to Bono's anti-AIDS campaign in Africa.
And there's no denying the man's ability to get serious face time with politicians. On this portion of the tour alone, Bono has met with Australian Treasurer Peter Costello, spending an hour with him discussing his country's international aid. He later gave a pair of his trademark Giorgio Armani wraparound shades to Japanese Prime MInister Shinzo Abe, urging him to honor Japan's pledge to boost aid to Africa and other parts of the developing world.
BUT, AT the end of the day, it's still all about the music.
Even fans from the mainland have been looking forward to U2's appearance here. The addition of Pearl Jam to the bill has only intensified interest.
"Few bands in the history of rock 'n' roll have been able to succeed in the way that U2 and Pearl Jam have," wrote Craig Banhart of South Lake Tahoe, Calif., via e-mail. "Their songs have been able to transcend, being a combination of beats, lyrics and melodies, and have become a real part of the lives of their fans. Having these bands together in such a beautiful setting will be an incredible experience."
And for such big rock stars, Bono and the Edge are still humbled in their constant attempt to perfect their songwriting craft.
"It's about trying to get the right channel," Bono said during a recent HBO interview with fellow rocker Dave Stewart. "It's always been that journey away from self-consciousness. ... And if you bump against God in the corridor, good one!"
"Every step we go, it gets better," the Edge added. "We're still trying to do that great album (and) write the greatest song. It's important in how it connects to you -- to write something that will have people listen to that song over and over."
"We feel we're just about to make our best work," said Bono.
And it all starts after Hawaii. The journey begins anew for U2.
My favorite musical moments from U2
»
"I Will Follow"
-- The Edge's echoing guitar riff that kicked off the band's debut album "Boy" was an electrifying experience for me. (I initially bought the album without even hearing it.) That inspirational song pretty much made me a U2 fan for life.
»
"Gloria"
-- The band's second, equally anthemic single. I'm surprised this song isn't being played on tour.
»
"Under a Blood Red Sky"
-- Off the success of "War's" two singles "Sunday Bloody Sunday" and "New Year's Day," a career-making performance at Denver's Red Rocks Amphitheatre, with the band swathed in dramatic fog.
»
"Pride (In the Name of Love)"
-- I remember heartily singing along with the rest of the audience this song from their '84 show here.
» The first four songs on
"The Joshua Tree"
album: "Where the Streets Have No Name," "I Still Haven't Found What I'm Looking For," "With or Without You" and "Bullet the Blue Sky."
»
"Bad"
-- Specifically the live eight-minute version on the "Wide Awake in America" EP.
» The "Rattle and Hum" movie -- Seeing this on the big screen in the Waikiki Theatre, the concert sequences were riveting.
"Desire"
and
"All I Want Is You"
are two of the soundtrack's standout songs
»
"Mysterious Ways"
-- The bellydancing song, with that great Edge thick-sounding guitar figure.
» The first three songs on
"All That You Can't Leave Behind"
: "Beautiful Day," "Stuck in a Moment You Can't Get Out Of" and "Elevation" (all together now, "woo-hoo!")
»
"Walk On"
-- Their performance for the televised World Trade Center benefit showed me that the band was back in top form.
»
"Vertigo"
-- U2's reintroduction into the mass culture, complete with their own branded iPod.
»
"One"
-- Specifically singer Mary J. Blige's testifying performance with the band from last year's "Shelter from the Storm: A Concert for the Gulf Coast" Hurricane Katrina benefit concert.
-- Gary Chun