CHRISTMAS
Yuletide Tunes
These CDs will get you in the holiday mood
A Christmas hit can become an annuity for a recording artist or songwriter -- and a cherished part of the season for years to come. Each year brings a selection of new would-be classics, as recording artists and offer new versions of Christmas standards and a few original songs as well. Six new albums by local artists, and a seventh with a local link, merit consideration this year.
---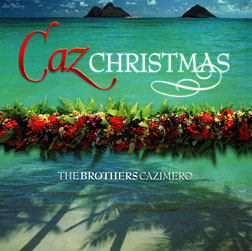 "Caz Christmas"
Brothers Cazimero
(The Mountain Apple Company)
The Brothers Cazimero got a jump on everyone by releasing their third Christmas album in early October. We described it then as "...another delightful collection. Everything fits, nothing disappoints."
The arrangements evoke memories of the Brothers' old-time Christmas concerts at Bishop Museum and the Blaisdell Arena. One of the most memorable selections is a medley that combines Bobby Helms' 1957 hit, "Jingle Bell Rock," with "Jingle Bells." Local artists almost always embarrass themselves when they do remakes of Hot 100 classics, but the Cazimeros' version of Helms' hit is one of the rare exceptions.
They also take a a fresh approach to "Up on the Housetop" by adding the Drifters' 1963 hit, "Up on the Roof," but then spoil it by failing to mention Gerry Goffin and Carole King in the composers' credits.
---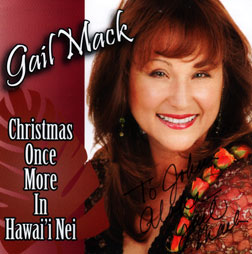 "Christmas Once More In Hawaii Nei"
Gail Mack
(Gail Mack)
Gail Mack first recorded the title song in 1986 as a favor for Robert Shinoda, who wanted to help out Gordon Okimoto, an unsuccessful participant in a radio station Christmas song-writing contest. With Shinoda's band, Nueva Vida, as the studio musicians, and Kapono Beamer playing slack-key guitar, the song got a strong launch as a playable "postcard single" as well as a conventional 7-inch vinyl record. The album can thus be seen as a 20th-anniversary reunion for Mack, Shinoda and Beamer as they're joined by several other musicians in expanding the original project into a full-length album.
Most of the songs are originals by Okimoto and other local writers. George Street's Gordon B. Kim expresses a father's bittersweet thoughts about his growing son with "That's Christmas to Me (For Max)." Becky Mello writes that Christmas should not be about conspicuous consumption and greed in "A Christmas Lei of Wildflowers," Patrick Downes adds a comic, albeit stereotypical, song to the collection with "Korean Christmas."
Mack demonstrates her ability to recreate the vocal style of the late Karen Carpenter with a conventional pop remake of "Merry Christmas Darling" that is pretty but adds nothing to the original version. Composer Okimoto's "Christmas Day In The Sun," written and performed as poppy light rock, is more impressive.
---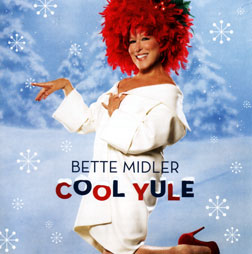 "Cool Yule"
Bette Midler
(Columbia)
Midler gets a mention here because of her album includes a new version of "Mele Kalikimaka," the late R. Alex Anderson's hapa-haole classic that is -- thanks to Bing Crosby's recording of it as the "B side" of White Christmas" more than 60 years ago -- the best known "Hawaiian" Christmas song of all time.
Superlatives aside, Midler and producer Robbie Buchanan enlisted two local artists, Johnson Enos and Hoku Award-winner Aaron Sala, to put together the vocal arrangement for the male chorus that backs her. Midler and Buchanan put a nostalgic spin on the song but show the respect it deserves, and the chorus adds in both respects.
---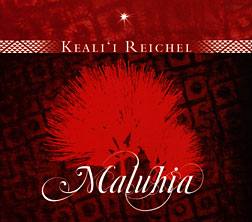 "Maluhia"
Keali'i Reichel
Punahele
Keali'i Reichel writes that this gem of an album is about "more than a ritual birthday commemoration," and is intended to represent "a mindset" that recognizes the importance of care and compassion throughout the year.
Beautifully designed, and containing important cultural information about several key selections, "Maluhia" is in many ways as perfect an album as his 2003 masterpiece, "Ke'alaokamaile."
Reichel's instantly recognizable voice makes each song distinctive. "O Holy Night" and "Silent Night/Po La'i E" are two stand-out selections. Horace K. Dudoit III deserves extra credit for re-thinking "Merry Christmas Darling" as a choral piece with Ho'okena as the backing choir, and two guitarists, bass and a string quartet as the musicians. Reichel and his production team have always avoided synth-tracks, and the use of a string quartet along with other acoustic instruments adds to the beauty of every song.
With "Nu 'Oli," a 19th-century Hawaiian hymn, Reichel reminds the listener of the Christian foundation of Christmas and the deeply rooted Christian traditions he grew up with. "Ke Aloha Kalikimaka," written by Keola Donaghy, combines Christian and pre-Christian themes and images.
"Till the Season Comes 'Round Again" brings the album full circle with a message of good wishes for the new year.
---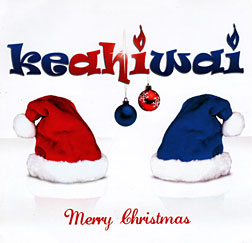 "Merry Christmas"
Keahiwai
808e Productions
Keahiwai -- Lei Melket and Mailani Makainai -- celebrate Christmas with a routine cross-section of seasonal standards that includes "The Christmas Song," "White Christmas" and a generic remake of "Merry Christmas Darling."
"Let It Snow, Let It Snow, Let It Snow" opens the album with an instantly engaging jazz groove, but co-producers Aaron Kimura, Robert Shinoda and Jon Yamasato maintain a softer and more languid soft-pop sound through the next songs. The overall mood is romantic, and that's fine, but only one voice is heard, and that creates the sense that this is an album by a solo artist rather than a duo.
That impression is dispelled with the last two songs as Melket and Makainai harmonize on "Christmas is Here," and then get effective backing from Herb Ohta Jr. and percussionist Jon Porlas on a noteworthy semi-acoustic reworking of "Rockin' Around the Christmas Tree."
---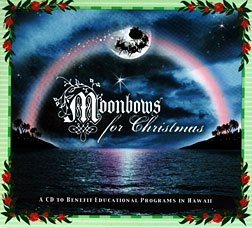 "Moonbows For Christmas"
Various Artists
(Moonbow Productions)
Martha "Marti" Rosenquist and producer Michael Ruff get the credit for this beautiful Christmas-themed compilation. Amy Hanaiali'i Gilliom, Eric Gilliom and Jake Shimabukuro are among the artists who participated in the fund-raising project (proceeds will help fund educational programs in Hawaii).
Kelly Covington soars in a swinging, soulful rendition of a new Rosenquist song titled "Mele Kalikimaka." The choice of title is problematic, as many will assume it is the well-known song by R. Alex Anderson, but Covington and her musicians swing!
Amy Hanaiali'i Gilliom addresses the meaning of Christmas with a beautiful original titled "Unto Us is Born a King," Cyril Pahinui touches the heart with "Harvest of Rainbows," and George Kahumoku shares a sugar-coated message about the importance of helping others with "More Poi for You."
The anti-religious themes of "Imagine" make it an odd choice for a Christmas album, and a pidgin parody of "The Night Before Christmas" is harsher than necessary, but neither reduces the overall appeal of this eclectic compilation.
---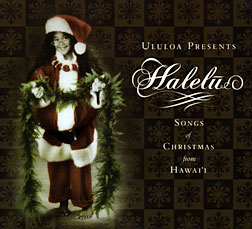 "Ululoa Presents Halelu Songs of
Christmas from Hawaii"
Various Artists
(Ululoa Productions)
There's a welcome traditionalist feel to this fund-raiser compilation that will benefit two Maui charities. Falsetto harmonies, slack-key guitar and acoustic bass enhance the natural island ambiance of the Hawaiian songs and give a similar feel to standards such as "Winter Wonderland."
C. Pueo Pata and Leimana Abenes team up beautifully on "Po La'i E/Silent Night," the Hula Honeys are featured on a charming version of Kui Lee's "Song of Christmas," and Kaiolohia Funes Smith celebrates the reason for the Christmas holiday season with "Hanau 'Ia 'O Iesu/Jesus was Born."
Pata, Abenes and Smith join Kamakele "Bulla" Ka'iliwai for a stirring rendition of "Poli'ahu," Kawaikapuokalani Hewett's popular ode to the snow goddess of Mauna Kea. It's not a Christmas song, but the winter theme fits.
John Berger
, who has covered the local entertainment scene since 1972, writes reviews of recordings produced by Hawaii artists. See the Star-Bulletin's Today section on Fridays for the latest reviews. Reach John Berger at
jberger@starbulletin.com
.