WEEKEND
Big wavers
For island fans, the upcoming weekends are a dream, with two Pearl Jam appearances
"I scream in affirmation / of connecting dislocations / and exceeding limitations / by achieving levitation
Got me a big wave, ride me a big wave ..."
Eddie Vedder and his Pearl Jam mates rode that big wave of crowd adulation as they wrapped up the final 12-date Australian leg of the band's extensive tour.
Pearl Jam
With opening band Kings of Leon:

In concert: 8 p.m. Saturday, doors open at 6:30

Place: Blaisdell Arena

Tickets: $53 (with $2 Vitalogy Foundation donation and applicable venue and service charges. Half price for those with military ID with ticket purchased at a Ticketmaster outlet)

Call: 591-2211 or online at www.ticketmaster.com
The group has finally landed on our shores for the start of two big appearances here, starting with a concert at Blaisdell Arena Saturday night and, the following week, as guests on the final date of U2's Vertigo World Tour. Timing is everything, considering that the Irish rock stars were supposed to have played Aloha Stadium back in April, were it not for the postponement of the Australia/Japan/Hawaii dates due to a family illness. What was already a major concert event became more so with the addition of Pearl Jam to the bill.
When both bands were simultaneously Down Under, they made a joint appearance of sorts on Nov. 17 at the Make Poverty History concert in Melbourne, coinciding with a meeting of the Group of Twenty, comprising international economic powers working together to eliminate world poverty. Pearl Jam frontman Eddie Vedder was joined by U2's Bono and the Edge onstage to perform a song familiar to PJ fans, Neil Young's "Rockin' in the Free World."
Compared to their rocking counterparts, Vedder and the band have been keeping a relatively low profile.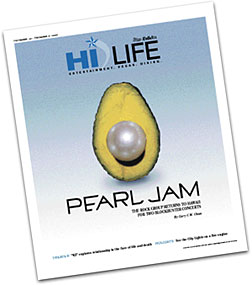 A surf enthusiast, Vedder was recently paired with big-wave rider Laird Hamilton as part of "Iconoclasts," a Sundance Channel series featuring casual exchanges with like-minded celebrities who get together to talk about their lives, work and passions. (Their episode will air several times on the digital cable network -- channel 646 on Oceanic Time Warner Cable -- throughout December, including 11 a.m. Sunday.)
But Pearl Jam is doing its fair share of activist work. The band launched its 2006 Carbon Portfolio Strategy in July, from which the band will donate $100,000 to nine organizations "doing innovative work around climate change, renewable energy and the environment."
The band has been on the road to support its latest eponymous-titled album on the J Records label. While the disc continues to mine Pear Jam's familiarly intense emotional, the album is a confident restatement of the band's power.
In addition to the aforementioned "Big Wave," other songs from the album featured on this tour include the lead single "Life Wasted," the jaunty political number "World Wide Suicide," the Who-like "Comatose," "Severed Hand," "Marker in the Sand" and the powerful protest song "Gone."
One other song, "Inside Job," should be played in concert here, partly because it features Waimanalo-born keyboard player Boom Gaspar. It's because of Gaspar's connection to the band that part of the Vitalogy Foundation donation included in the ticket price will go to the Hui Malama i ke Kai Foundation for its after-school Hawaiian values program, which serves sixth- and seventh-graders from Waimanalo Elementary and Intermediate and Blanche Pope Elementary schools.
---
BACK TO TOP
|
The Kings of Leon command respect as Jam's opener
Even though Kings of Leon have become bigger stars in the UK than their U.S. home, it's not through lack of trying.
The Southern-bred quartet -- Caleb, Jared and Nathan Followill, and cousin Matthew Followill -- have been steady road warriors ever since last year. The band opened several dates on U2's Vertigo Tour last year, and is wrapping up its continuing gig on Pearl Jam's tour, which concludes here Saturday.
(Kings of Leon also appeared on VH1 Classic's "Decades Rock Live" tribute to the Pretenders, taped in August at Atlantic City's Trump Taj Mahal hotel. Named by Pretenders frontwoman Chrissie Hynde as her favorite band of the moment, the four guys shared the stage not only with Hynde and company, but with guests Incubus, Iggy Pop and Garbage lead singer Shirley Manson.)
This weekend's Honolulu audience will get to see and hear for themselves what's made the Kings of Leon fan and critic favorites.
Coming from a Pentecostal-preacher family background that meant traveling throughout the South, the brothers moved to Nashville in 1998 after their parents' divorce, and formed the band (named after their father and grandfathers' first names) with cousin Matthew two years later.
The band's first album, "Youth and Young Manhood," made their reputation outside this country. The Kings' sophomore effort, 2005's "Aha Shake Heartbeat," is the band's best to date. Glibly labeled "the Southern Strokes," the Kings play songs like the lead single, "The Bucket," and "Velvet Snow" approximate the Strokes' spare, tight and angular sound.
But what also can be heard is a sound that draws inspiration from '60s British Invasion, Southern rock 'n' boogie and noisy indie rock. Top tracks from the album include "Taper Jean Girl," "Razz" and "Four Kicks."
Here's hoping the Kings of Leon will gain some new fans after this weekend.