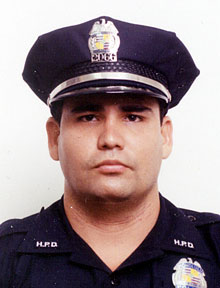 Officer Steve Favela
Favela's death stirs national response
Web site messages express prayers and sympathy after the officer's fatal accident
Condolences poured in from across the country for 30-year-old Honolulu motorcycle officer Steve Favela, who died Sunday from injuries sustained in a crash while escorting President Bush's motorcade last week.
Some messages posted yesterday on "The Officer Down Memorial Page Inc." on the Internet were from fellow police officers from mainland police departments, while others were from people who had lost a family member in the line of duty.
HPD MOTORCYCLE FATALITIES
Twelve officers of the Honolulu Police Department who have died in motorcycle accidents:
» Frederick Wright: April 30, 1916
>> David Mahukona: Oct. 28, 1923
» George H. Macy: July 22, 1926
» George Rogers: Sept. 10, 1930
» Patrick K. Ihu: June 1, 1964
» Frank R. Medeiros: Jan. 25, 1967
» Benjamin N. Kealoha Jr.: Nov. 27, 1971
» Ernest A. Grogg: Aug. 26, 1979
» David W. Parker: March 1, 1985
>> Roy E. Thurman: Oct. 20, 1990
» Ryan K. Goto: July 23, 2003
» Steve Favela: Nov. 26


Messages posted on the Web page came from Iowa, Florida, Alabama, Wyoming, Virginia, Illinois, California, Massachusetts, Maryland and Colorado.
Officer Skip Robinson of the Chicago Police Department's Motor Unit wrote, "Officer Steve Favela, you have made the ultimate sacrifice for your department and your country. For this, the nation thanks you. To Officer Favela's family, co-workers and friends, I extend my deepest sympathy and my prayers are with you."
On Nov. 21, Favela and two other officers, Domingo Manog and Johnny Bahng, crashed while escorting Bush's motorcade on O'Malley Boulevard to have breakfast with 300 island-based troops at Hickam Air Force Base.
Police said the officers lost control of their motorcycles on a bend in the wet roadway and crashed. Police are continuing their investigation.
Favela was listed in critical condition at the Queen's Medical Center after he suffered severe injuries, primarily to his right hip and upper thigh area. Favela also lost huge amounts of blood.
Blood supply to his right leg was "irreversibly compromised." His right leg was amputated in an attempt to save his life, said Honolulu First Deputy Medical Examiner Dr. William Goodhue Jr.
Favela received a massive blood transfusion, but his condition worsened. He suffered "multisystem organ failure and brain death," Goodhue said. Favela died at 9:55 a.m. Sunday.
Goodhue said Favela died of complications of blunt force injuries sustained in the motorcycle crash. He also suffered a torn spleen in the crash.
"Everything was done for officer Favela that could have been done. Unfortunately, the severity of his injuries and complications made the heroic efforts unsuccessful," Goodhue said.
Favela and his wife, Barbara, have four children: a daughter, age 5, and three sons, ages 3 months, 2 and 7.
An eight-year veteran of the Honolulu Police Department, Favela served as a patrol officer at the Kalihi Substation before he joined the solo bike detail. He served in the detail for two years.
Tenari Maafala, president of the State of Hawaii Organization of Police Officers, described Favela as a "happy-go-lucky guy." He was friendly and always said "hi" to everyone, Maafala said.
Maafala said Favela will be best remembered for his great personality. "He always had a smile," he said.
HPD received many calls from former Honolulu police officers who now work and live on the mainland as well as those on the neighbor islands offering words of support to Favela's family members and police officers.
Favela was the 12th solo bike officer of the Honolulu Police Department who died while on duty.
A fund to help support Favela's four children is being created. Details have yet to be released. Services for Favela are pending.