---
FAST FACTS HAWAII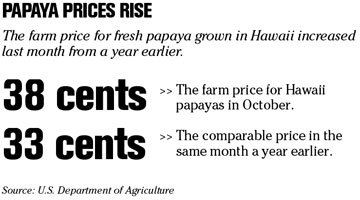 ---
HAWAII
A&B plans $90 million complex in California
Alexander & Baldwin Inc.
subsidiary A&B Properties said yesterday it is planning to develop a $90 million retail complex in Bakersfield, Calif.
The project will be developed in partnership with Intertext Cos., a California contractor that has worked with A&B on five other retail projects already under construction in the state.
The latest project will be on 57 acres of vacant, commercially zoned land in southwestern Bakersfield that A&B bought for $15 million last week. Construction is expected to start in early 2008 and take 12 months.
"Bakersfield is a dynamic and growing community, and this property is located in an under-retailed area of Bakersfield that has experienced, and will continue to experience, very rapid residential growth," said Michael G. Wright, A&B senior vice president.
Self storage planned for Kalihi
Local developers
York & Co. Inc.
and partners are planning a 120,000-square-foot self-storage facility in Kalihi.
The complex at 935 Dillingham Blvd., across from Honolulu Community College, will have more than 1,100 storage units in addition to ground-floor retail space.
Amenities will include individual door alarms, climate-controlled spaces, a full-service business and shipping center, digital surveillance security system and a free move-in truck.
E.I.M. Group has been selected to manage the self-storage. The project is expected to break ground in May, with completion scheduled for late fall 2007.
NATION
Comair argues in court for cuts
Delta Air Lines Inc.
's bankrupt commuter unit Comair Holdings told a judge it needs to throw out a labor agreement with pilots and impose $15.8 million in pay and benefit cuts to ensure the company's survival.
The pilots' association said Comair would be profitable in 2006 and asked the judge to block the airline's move and stem the tide of pilots leaving the company.
The statements came at a hearing yesterday in New York before U.S. Bankruptcy Judge Adlai Hardin on a motion by Delta to impose the cuts. Comair, which filed for bankruptcy along with Atlanta-based Delta in 2005, wants to reduce annual costs by $42 million and exit bankruptcy as a viable company. The airline recently reached agreements to reduce pay and benefits for mechanics and flight attendants.
Verizon Wireless to offer YouTube
NEW YORK » YouTube videos will be viewable on cell phones for the first time under a deal with
Verizon Wireless
, which will also allow users to upload videos shot with their camera phones.
The partnership to be announced today marks the first big distribution deal for YouTube since the young video-sharing Web site was acquired earlier this month by Google Inc. for $1.76 billion.
The mobile YouTube service, to be launched in early December, will be offered for no additional fee as part of Verizon's V Cast service, which costs subscribers $15 per month or $3 per day. The companies declined to provide an exact launch day, saying the technologies being employed are still being tested.
Jetstar to promote its overseas flights
BANGKOK, Thailand » Jetstar, a low-cost carrier owned by Australia's biggest airline,
Qantas Airways Ltd.
, said overseas traffic will surpass domestic traffic as it adds flights to Asia and Europe on routes where its parent can no longer profitably compete.
Jetstar will invest $21 million this financial year in launching and marketing new overseas flights to destinations including Thailand, Vietnam, Japan and Honolulu, and add more long-haul destinations as new aircraft are delivered, Chief Executive Officer Alan Joyce said.
Jetstar was created more than two years ago to recover domestic market share lost to Virgin Blue Holdings Ltd., Australia's second-biggest airline. Qantas is relying on the airline to win back international passengers lost to rivals such as Singapore Airlines Ltd. and Emirates Airline, which have cut Qantas' market share by 11 percent in the past 10 years.
Unions approve Mesaba concessions
BLOOMINGTON, Minn. » Unions at
Mesaba Aviation Inc.
said yesterday they have approved new concessionary contracts with the bankrupt airline, a Northwest Airlines feeder.
About 1,100 pilots, flight attendants and mechanics are covered by the contracts, which took nearly a year to reach and brought the unions to the brink of a strike. Mesaba said it needed the labor deals to continue handling regional flying for Northwest Airlines Corp., which also is operating in bankruptcy. Mesaba earlier got permission from a bankruptcy judge to impose cuts amounting to 17.5 percent of pay and benefits on the union, but held off as the two sides continued bargaining.
Union leaders said they weren't happy with the deal, but that it was necessary to keep Mesaba flying, and the cuts could have been deeper. In the end, their concessions in wages and benefits added up to about 15.8 percent.
JAPAN
In other news ...
TOKYO » An interest-rate increase in Japan is "unavoidable" to ensure the country's economy keeps expanding, central bank Governor Toshihiko Fukui said.
---
BUSINESS PULSE