---
FAST FACTS HAWAII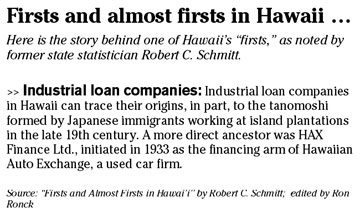 ---
NATION


Most plan to spend about $500 for gifts

Black Friday is around the corner, and most shoppers are planning to spend at least $500 this holiday season, according to a recent survey from Discover Card.

Fifty-five percent of shoppers said they will spend up to $500 on gifts this season, while 27 percent will shell out between $500 and $1,000.

The most popular gift type, according to a quarter of consumers, is electronics, followed by apparel, 23 percent, and home items, 15 percent. Jewelry ranked only 5 percent.

Most consumers will purchase their gifts from a department store or mall, but nearly one-third will buy at least one present online. More than three-quarters prefer the web because it's available around the clock, while 52 percent use it to avoid long lines. Nearly one half choose to shop online to take advantage of Internet promotions.

Fifty-four percent of shoppers actively look for any kind of sale or incentive to make their budget go further. Younger shoppers ages 18 to 24 are more likely to bust their budgets than any other group.

Discover Financial Services LLC, a unit of Morgan Stanley, polled 1,053 adults nationwide in October.
Dos and don'ts for holiday parties
Most likely, you've already received an invitation to your company's holiday party. Make sure to go, but stay on your best behavior, according to one expert.
"It's critical to remember that this is still a work function and anything you say or do could affect your standing with your employer," said John Challenger, chief executive of Challenger, Gray & Christmas Inc., an outplacement consultancy. "Whether one's standing in the company is positively or negatively affected is entirely up to the individual."
Challenger offers the following tips:
» Early bird: Get there early. The best time to chat with senior executives is in the beginning when the environment is still quiet.
» Schmooze: Branch out from your usual co-worker posse and meet others in different departments. They may help your career someday.
» Stay professional: Don't drink too much. You don't want to become the next day's office gossip -- or worse, the next former employee. Also, avoid flirting. Sexual harassment charges could follow.
» Don't talk shop: Pitch your great business idea at the office. At the party, learn more about your boss on a personal level, which can help you when you do bring up the new idea.
Car rental firms improve ratings
Car rental companies are leaving more customers with smiles, according to a recent survey from
J.D. Power & Associates
.
Customer satisfaction improved 23 index points this year on a 1,000-point scale, a 3 percent increase from 2005. The study measures six categories: costs and fees, pickup process, rental car, return process, reservation process and shuttle bus or van.
Additionally, all eight rental car companies in the study recorded year-over-year improvements. Enterprise topped the list with a score of 789, a 21-point gain from last year. Hertz came in at No. 2; National followed at third.
Despite high gas prices during the year, customers are increasingly renting full-size and sports utility vehicles. While mid-size and compact cars make up 56 percent of all vehicles rented, the rental share of full-size cars rose 5 percentage points to 12 percent and SUVs edged up 3 points to 11 percent.
The study was based on responses from 4,133 business and leisure travelers who rented a car at an airport location between January and October 2006. The study is in its 11th year.
---
BUSINESS PULSE