Vietnam: Beautiful contrasts amid controlled chaos
Saigon's many delights allow it to regain the title of "Paris of the Orient"
SAIGON, Vietnam » The last time I visited here, somebody shot at me. And I was a tourist, for heaven's sake -- not a soldier.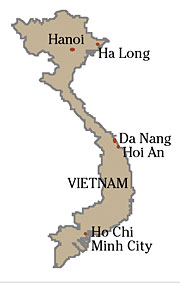 Thankfully, lots of things are different in these parts today. For one, Saigon is now officially Ho Chi Minh City, except that almost everyone still calls it by its original name.
Known as the "Paris of the Orient" during French colonial days, Saigon can again lay claim to that title. The conflict that Vietnamese schoolchildren know as the American War has been over for three decades. Saigon and its wide, tree-shaded avenues, sidewalk cafes and smart shops have again become a safe and attractive destination for Americans and other travelers.
Here in the former capital of the former South Vietnam, I recently checked in at the venerable Caravelle Hotel. It was the second time I had signed the register in almost exactly 40 years.
IN 1966, when my wife and I visited Saigon a year after we were married, the Caravelle was no taller than its 10th-floor rooftop bar. The only room we could get was a modest one a single flight up, overlooking the main intersection.
"No one wants that room," said Malcolm Browne. My friend and former newspaper colleague was a war correspondent headquartered in the city.
"It's considered within grenade-lobbing distance from the street below," he explained.
My latest room at the Caravelle was a luxuriously appointed chamber on the 16th floor of the new 24-story wing, with a view of ferry boats bustling back and forth across the busy Saigon River.
In the 1960s, Mal believed in taking his visitors out to show them the war. But because I had my bride with me, we mainly toured historic sites around the city. This included the intersection where Mal took a photo of a burning Buddhist monk, a dramatic suicide which was published around the world.
Mal said he would like us to see the Mekong Delta, and so the four of us, including Sara and Mal's wife, Le Lieu, set off for a two-hour drive to the village of Mytho, where we lunched in a small open-air restaurant suspended over the edge of the Mekong River.
At this point, American troops were beginning to support South Vietnamese forces, although some of the fiercest battles in the war were yet to come.
Here in the delta, though, Mal explained that it was then tacitly understood that the opposite bank of the Mekong, which we could clearly see from our table, was considered Viet Cong territory 24/7. However, all the land on this side of the river, between Mytho and Saigon, was controlled by the U.S.-supported government. Or at least it was during the daytime.
At night it all belonged to the Viet Cong, Mal said.
On our way back to Saigon, while driving along some rice paddies, we suddenly heard a loud whizzing sound go by in front of our windshield.
"What the heck was that?" I asked.
"You have just been sniped at!" said Mal, gritting his teeth. "Open the glove compartment."
I didn't know that my friend had a gun in the car, but there was a .45-caliber pistol for me to hold while Mal pressed down hard on the accelerator. Our wives hunkered down in the back seat. But there was no further incident, and we arrived back in Saigon unharmed.
"I thought you told us this road belonged to the government during the day," I said later.
"Well, the VC is just like any other army," Mal replied. "There's always one guy who doesn't get the word!"
As it turned out, Mal did indeed show us the war, albeit from a safe distance. That night, we dined in the open air at Paprika, an Algerian restaurant atop the Rex Hotel. The entertainment, so to speak, was a night artillery operation just outside the city.
We could see the muzzle flash in one neighborhood and the explosions where the rounds landed in another area. The operation was directed by an American F4 "Phantom" jet, with its distinctive spooky sound, as it circled over the city.
Sara and I left the following day, as planned. But of course Mal stayed throughout the war, eventually winning a Pulitzer Prize for his coverage.
MY RECENT TRIP was just as interesting and much more pleasurable. Again, I traveled out of Saigon on an excursion to the Mekong Delta, this time as part of a group conducted by Exotissimo, a Saigon-headquartered company specializing in tours throughout Indochina. Most in the bus were American travel agents.
We spent the morning and afternoon cruising the Mekong River on a tourist "junk boat," named the Cai Be Princess, from which we could observe villages and floating markets along the river. We received friendly waves from families and workers on boats and along the banks, and we lunched at a centuries-old Mandarin house.
It was the beginning of a weeklong tour of sites in today's Vietnam, during which we progressed from the tropical south to the cooler north. From Saigon we flew to Nha Trang, which features luxury beach resorts to rival any I have seen in Hawaii, and then continued to Da Nang, landing on the runways of the former American air base there.
We had a good look at China Beach, which once served as a large R&R facility for American servicemen. Here and throughout the country, we often saw old military construction put up either by Americans or Vietnamese.
The jewel in the central area of the country is the village of Hoi An. There we checked in at some attractive waterside garden accommodations called the Life Resort, which adjoins an outdoor market in the low-rise downtown area.
The generally slow pace of life in Hoi An is not matched by the ubiquitous tailors at work in the village. I got overnight delivery on a tailored silk suit from a shop full of smiling young women called Thu Thuy. It cost $180, and I had chosen one of the better-quality fabrics.
Also in Hoi An, our Exotissimo tour leaders sought out a poor and hard-working farm family to receive the gift of a young, female water buffalo. It is probably the most useful beast in Vietnam, for plowing, renting out to others and, of course, raising more water buffalos. Though we weren't required to do so, all of us donated something toward the $650 purchase.
From Hoi An we bused over the mountains to arrive at the ancient imperial capital of Hue. Hue has seen its share of fierce battles over the past few centuries, not the least of which was during the "Tet Offensive" between American and Vietnamese forces in 1968.
Our own headquarters in Hue was at La Résidence, the expanded premises of the 1930 Art Deco home of the former French governors of colonial Vietnam. In Hue we visited the tombs and palaces of several former emperors. Also included was a Dragon Boat ride on the Perfume River until we docked at the famous Thien Mu Pagoda. A visit to the extensive ruins of the 1808 Imperial Citadel capped the visit to Hue.
FROM HUE we flew to Hanoi, the busy, if not totally hectic, capital of the country. A human-powered cyclo (pedicab) tour of the city provided a thrilling introduction to a traffic situation that seemed on the verge of chaotic. Much more sedate are the city's several museums, including the house of Ho Chi Minh and Hoa Lo Prison, commonly known as the "Hanoi Hilton" during the Vietnam War.
As it turns out, there is now a genuine Hilton in Hanoi. The Hilton Opera hotel is next to the city's opera house, a scaled-down replica of l'Opera in Paris.
A walk from the Hilton to dinner at the Hanoi Press Club a block away was a successful experiment in keeping a steady, determined pace while legions of motorcycles whirled around our legs. The key to safety: Keep walking at a steady pace and never step backward.
The crowning experience in my trip to Vietnam, however, was an overnight trip on Ha Long Bay aboard an excursion boat named the Ermeraude, a re-creation of a similar vessel owned by a French family in the early 20th century.
Ha Long Bay, dubbed a UNESCO World Heritage Site, is populated by hundreds of steep-sided islands, many of which look like giant green gumdrops floating on still waters. Deep within its boundaries, small groups of fishing families live and work on an informal collection of boats and rafts in a sort of floating village. It was a particularly satisfyingly and relaxing end to an interesting week.
There are no noisy motorcycles in Ha Long Bay. And certainly no evidence that a war ever disturbed the tranquil existence of those who populate the peaceful waters between the gumdrop islands.
Robert Bone's Tips
»
When to visit:
December and January, when the weather is relatively cool
»
Entry requirements:
A valid passport and Vietnamese visa (visas are usually arranged with the help of travel agencies)
»
Money:
The official currency in Vietnam is the dong, and the rate is approximately 16,000 dong to the dollar. However, many prices are quoted in dollars, including hotel bills, and many travelers manage by using credit cards or spending only American dollars.
»
Clothing:
Bring lightweight, casual clothing and comfortable walking shoes.
Recommended Hotels
The telephone country code for Vietnam is 84:
»
Caravelle Hotel:
19 Lam Son Square, Ho Chi Minh City. Call 8-823-4999, e-mail
hotel@caravellehotel.vnn.vn
; Web site:
www.caravellehotel.com
.
»
Hilton Opera:
1 Le Thanh Tong St., Hanoi. Call 4-933-0500; e-mail
Hanoi@hilton.com
; Web site:
www.hilton.com
.
»
Sofitel Metropole Hanoi:
15 NgoQuyen St., Hanoi. Call 4-826-6919; e-mail
sofitelhanoi@hn.vnn.vn
; Web site:
sofitel.com
.
»
The Life Resort:
1 Pham Hong Thai St., Hoi An. Call 510-914-555; e-mail
hoian@life-resorts.com
; Web site:
www.life-resorts.com
.
»
La Résidence Hotel & Spa:
5 Le Loi St., Hue City. Call 054-837-475; e-mail
resa@la-residence-hue.com
; Web site:
www.la-residence-hue.com
.
More information
»
Vietnam National Administration of Tourism:
80 Quan Su, Hanoi. Call 4-942-3998; Web site:
www.vietnamtourism.com
.
»
Vietnamese Embassy:
1233 20th St. NW, Suite 400, Washington, DC 20036. Call 202-861-0737; Web site:
www.vietnamembassy-usa.org
.
»
Exotissimo Travel:
301 Howard St., San Francisco, CA 94105. Call 415-538-8687; Web site:
www.exotissimo.com
.
---
Kailua resident Robert W. Bone, 74, has been writing travel articles for more than 30 years. His articles and photos have appeared in books, magazines and newspapers, and he is the author of several travel books, including "The Maverick Guide to Hawaii." He maintains Web sites at travelpieces.com and robertbone.com.