Marrow-match search heats up
A leukemia patient's relatives and friends will host a gathering at Pipeline Cafe
Friends of Sharnell Onaga, a Hawaii woman in a race for a bone marrow match to save her life, are making a big push today for potential donors and funds to help defray the family's medical costs.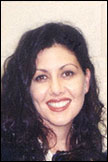 They are holding a fundraising event from 2 to 9 p.m. at the Pipeline Cafe, 805 Pohukaina St., in Kakaako.
Then, they might extend their drive for bone marrow donors to Florida or even Puerto Rico in hopes of finding a match for the 38-year-old leukemia patient, said Cissy Boyer. Onaga is part Portuguese and Puerto Rican.
"We may reach out to organizations to get more donors on that side," Boyer said. "If we keep getting donors, the odds get better."
Hawaii's potential marrow donors are especially important because of the population's racial mix and the difficulty of finding a match for multiethnic patients.
Onaga had long wanted to donate her bone marrow to a cancer patient. Since she no longer can do that, she has become "a great spokesperson" for the Hawaii Bone Marrow Registry, Boyer said.
Onaga was diagnosed with acute myeloid leukemia in June when getting a routine blood test at nine weeks of pregnancy.
She and her husband, Clifton, a vice president of family-owned Amazon Construction, are expecting their third child in January.
Her family and friends from the Church of Hope Chapel, Kapolei, have been volunteering at events around the island to help increase potential donors for the Hawaii Bone Marrow Registry. They have added more than 800 names to Hawaii's list of 66,000 potential donors.
"People of Hawaii, when they have a cause, really get behind it," Boyer said. "It is very tragic news, but so many good things have happened."
Onaga said she is "doing awesome" and that ultrasound tests show the baby "is growing perfectly."
With Thanksgiving approaching, she said, "we have a lot to be thankful for. ... The people who have been around us have been so supportive and awesome. Thanks to them, I can smile. They're taking all the stress from me."
She is still working as an aesthetician at the Ihilani Resort & Spa at Ko Olina but said, "I rest a lot. I have a great job." She is training two women to replace her when she leaves, she said.
Relatives and friends organized the Friends for Sharnell Onaga and teamed up with Soroptimist International of Honolulu to collect donations for the Onaga family. Their medical expenses are estimated at more than $100,000.
Fundraising event set for today
Tax-deductible donations may be made payable to SI Honolulu-FFSO and mailed to Friends for Sharnell Onaga, P.O. Box 700814, Kapolei, HI 96709. First Hawaiian Bank also will accept cash donations at any of its branches.
Tickets for today's fundraiser are $25 per person, of which $20 is tax-deductible, and they can be purchased at the door. Children 11 or younger are free.
A bone marrow registration drive will be conducted from 2 to 6 p.m., with samples taken simply by rubbing a cotton swab inside the cheek.
Activities will include food, children's games and musical entertainment by artists including Imua, Red Letter the Band, Unified, D Funct, Danny Kennedy, Next Generation and Kamele.
Door prizes and a silent auction will include such items as a trip for two to Las Vegas, two nights' stay at the Ihilani Resort, an ocean-view room at the Waikiki Beach Marriott, Aloha Airlines round-trip tickets for two, golf clubs and bag from Schuler Homes, golf and lunch for two at the Waialae Country Club and four tickets and a parking pass to the Hawaii Bowl.
Also up for grabs will be an autographed football from University of Hawaii head football coach June Jones, an autographed baseball from Anaheim Angel Wally Joyner, tires from East Bay Tire Co., auto detailing from Commercial Electric, a variety of jewelry and gift certificates to Outback Steakhouse, Sam Choy's, Plumeria Beach House, Fukuya, Hawaiian Adventures Water Park and the "Perry & Price Show."
For more information, call 421-3396 or visit www.sharnell.org.