ISLE WOMAN IS THE CAT'S MEOW
Bush to honor Tripler pet therapy volunteer
Eloise Monsarrat hopes an award she is to receive Monday from President Bush will bring attention to her volunteer program of bringing animals to the hospital to help patients heal.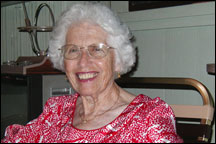 "I was surprised and pleased, and I kept thinking, 'Hey, more people are going to learn about our program, and maybe they'll want to get in it,'" said Monsarrat, a volunteer with the Human Animal Bond Program at Tripler Army Medical Center.
Bush will give Monsarrat the Volunteer Service Award, which recognizes people across the country for their service that makes a difference in the lives of others.
"The President's Volunteer Service Award is a unique way for President Bush to honor outstanding individuals like Ms. Monsarrat who strive to improve the lives of their neighbors in need," said Alyssa McClenning, spokeswoman of USA Freedom Corps, which oversees the award.
The president honors volunteers during his travels across the country as part of his Volunteer Service Award, calling the honorees USA Freedom Corps Greeters. The greeters number more than 550 across the country.
Monsarrat, 84, will meet Bush at Hickam Air Force Base, during his arrival, to accept the award.
"That's going to be very exciting, especially since I'm a Republican," she said.
Monsarrat, who lives near Fort Shafter, moved from Missouri to Hawaii in 1948. She worked at the Delta Society in Missouri, which improves human health through pets and animal therapy and heard about a similar program at Tripler.
She was the first civilian to bring in a dog. Monsarrat introduced Marjie to the program after joining in 1989. Her second dog, Qu'I, an Australian Kelpie who knew how to salute, also participated in the program, before dying in 2004.
Monsarrat has volunteered for more than 10,000 hours during the past 16 years as a pet handler with the program.
Monsarrat volunteers every Wednesday at Tripler, visiting the patients and their families with another volunteer's golden retriever.
"This program wouldn't exist without her," said Vernell Flood-DeYoung, chairwoman of the Human Animal Bond Program, which is sponsored by the American Red Cross. "Every single volunteer that has an animal, she personally ensures that they know everything that they need to do."
Currently, about 17 volunteers bring dogs, cats and a few rabbits to the hospital to cheer up the patients. The patients' blood pressure drops when the pets visit, Monsarrat said.
She celebrates the holidays by dressing up the animals with decorations, like reindeer horns and crowns for Christmas. She also helps with an annual Christmas parade of animals around the hospital grounds.
"It's such a wonderful volunteer activity. ... Just the presence of the dogs relaxes the patients and makes them smile," she said.