---
FAST FACTS HAWAII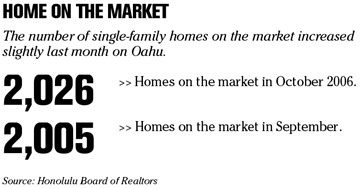 ---
HAWAII
Cyanotech to be late with 2nd quarter data
Cyanotech Corp.
, already delinquent on the filing of its fiscal first-quarter financial statement, has notified the Securities and Exchange Commission that its second-quarter financials will be late as well.
The Kona-based producer of nutritional products from microalgae said it is still conducting an accounting review related to its "historical treatment of certain inventory-related costs." The company's second-quarter financial statement was due to be filed this week.
Cyanotech also said it continues to await the results from a hearing with a Nasdaq listing qualifications panel regarding the possible delisting of the company's stock. A hearing on Cyanotech's appeal was held on Oct. 12.
The company is facing possible delisting for failure to file its first-quarter financial statement with the SEC. Without a successful appeal or an extension of the delisting notice, Cyanotech's stock is due to be delisted before the start of trading on Nov. 27.
NATION / WORLD
CompUSA to open Thanksgiving night
DALLAS » The heck with that pumpkin pie, electronics retailer CompUSA is opening its doors on Thanksgiving night to give holiday shoppers a head-start on Black Friday madness.
Most of the chain's stores plans to open from 9 p.m. until midnight, then send shoppers home for a quick nap before the doors reopen at 5 a.m. on Friday.
"Some customers aren't interested in waking up at the crack of dawn to go shopping at 5 a.m.," said Brian Woods, CompUSA Inc.'s executive vice president of merchandising. "We're giving them more options."
Woods said he's not worried about overlapping with Thanksgiving celebrations. He figures that by 9 p.m., most people are done eating turkey and would welcome a shopping trip as their entertainment for the evening.
Last year, CompUSA opened its doors at midnight, and Woods said the crowds outside averaged 600 to 700, and sales were strong. But after the initial rush, he said, traffic thinned out until about 5 a.m.
Dell postpones its third-quarter results
DALLAS »
Dell Inc.
said yesterday that federal regulators had begun a formal investigation into the computer giant, which had been part of an informal inquiry since August.
Dell also said it was postponing the release of its third quarter earnings report -- scheduled for today -- until sometime later in the month.
The company said the earnings report delay was unrelated to the widening Securities and Exchange Commission probe.
A company spokesman told the Associated Press that the company did not know what the SEC was investigating.
Dell said the delay was due to the "level of complexity the company is facing in the preparation of its preliminary results."
Last top Enron exec sentenced to prison
HOUSTON » Richard Causey, the last of the top Enron Corp. executives to learn his punishment, was sentenced yesterday to five and a half years in prison for his role in one of the biggest corporate scandals in U.S. history.
Causey, Enron's former chief accounting officer, pleaded guilty in December to fraud two weeks before he was to be tried along with Enron founder Kenneth Lay and former chief executive Jeffrey Skilling on conspiracy, fraud and other charges.
"There were improper things done at Enron. Some of those things were done by me. For that, I'm sorry," Causey said before U.S. District Judge Sim Lake sentenced him.
After Causey, 46, serves his prison term, he will have to serve two years' probation and pay a $25,000 fine that will be distributed to Enron's victims. Causey had already agreed to pay $1.25 million to the victims' funds.
Wynn expanding Macau casino resort
LAS VEGAS » The company run by billionaire Steve Wynn yesterday announced an expansion for the Wynn Macau casino resort in the Chinese gambling enclave, two months after its opening.
The new Wynn Diamond Suites hotel will have its own casino, retail space and restaurants, according to a statement released by Wynn Resorts Ltd.
Analyst Celeste Brown of Morgan Stanley said of the announcement, "we view the expansion as a positive sign," but added she would reserve judgment until more details were released.
Ex-HP chair pleads not guilty
SAN JOSE, Calif. » Former
Hewlett-Packard Co.
Chairwoman Patricia Dunn pleaded not guilty yesterday to four felony identity theft and fraud charges for allegedly instigating the company's ill-fated spying probe into boardroom leaks.
Dunn appeared briefly for her arraignment in Santa Clara County Superior Court and was released on her own recognizance after her lawyer entered the plea for her.
Dunn, 53, is one of five people charged in the computer and printer maker's clandestine efforts to unmask board members who discussed company business with reporters.
Dunn resigned from HP's board after the scandal broke in September. The two-time cancer survivor recently began chemotherapy for ovarian cancer.
Harley union approves concessions
MILWAUKEE »
Harley-Davidson
's union workers approved contract concessions, including cuts in pay and health benefits, that the motorcycle manufacturer said it needed to undertake a $120 million plant expansion project in Milwaukee.
Members of United Steelworkers of America Local 2-209 accepted the proposal, 943-536, in results announced by the union Tuesday evening. But local president Jim Wheiland said the concessions grated on workers after the company chalked up 2005 earnings of just under $1 billion.
The deal also included a written guarantee from Harley to stop planning for the expansion of power train manufacturing elsewhere.
Wheiland said many workers "had to swallow their pride" to accept the proposal and work had to be done to patch up relations between the company and some union members unhappy about the changes.
Former VW executive charged
HAMBURG, Germany » Prosecutors charged
Volkswagen AG
's former personnel director Peter Hartz with 44 counts of breach of trust yesterday in connection with a corruption scandal involving the company's labor council.
Hartz, 65, who was also responsible for helping overhaul Germany's labor market under former Chancellor Gerhard Schroeder, was one of 12 people investigated in the scandal that revolved around whether VW managers and members of its works council, which represents employee interests, received illegal privileges including lavish foreign trips paid for by the company.
---
BUSINESS PULSE