Orcas Island offers a healing isolation
Self-sufficiency is needed for residents of the island off Washington state
They are back again this morning. The two fawns inch their way to our front porch, munching the greenery along the path. Their mother, an Appaloosa-colored doe, follows a few feet behind, fully aware of the two humans peeking out the front window of the Isle Dream cottage.
The blacktail deer of the San Juan Islands have no natural predator, so this family shows no fear claiming our flower bed as a personal cafeteria. My husband, Gary, slowly opens the door and snaps a photo. The doe lifts her head and shoots him a look of utter disdain (another tourist!). To them, we are just the latest occupants of the fairy-tale cabin overlooking the East Sound of Orcas Island.
The one-room cottage, about the size of a two-car garage, sits on a slope of fir forest in central Orcas, one of 450 islands that make up the San Juan archipelago. Most visitors to this corner of the Pacific Northwest assume Orcas was named after the whale pods that forage these waters for salmon and sea. But some historians believe the island got its name from 18th-century Spanish explorers who sought to honor the Viceroy of Mexico, Don Juan Vicente de Guemes Pacheco de Padilla Orcasitas y Aquayo Conde de Revilla Gigedo. Whew.
Today, fewer than 5,000 people live on Orcas, most in the villages of Eastsound, Rosario, Westsound and Deer Harbor. The 57 square miles of rolling farmland and seacoast can be navigated by car in two days, but we have chosen to mostly vegetate in our cottage with best-sellers and Ovaltine.
The Isle Dream is one of four vacation rentals owned by former Palolo resident Nanae Nagaoka Fralick and her husband, Richard.
"Orcas is remote like Hawaii but in a very different way," Nanae says. "We have no amenities and very few services. To live here, you must have self-sufficiency and a love of silence."
No one "stumbles" upon remote Orcas. Visiting the island requires detailed planning. It's a two-hour drive north on I-5 from SeaTac airport to Anacortes, a small seaside village. Tourists usually spend a night there and take the first ferry out to the islands. Fare to Orcas is $42 per car and driver, and $12.50 per passenger. The return fare is free. After making stops at Lopez and Shaw Islands, the ferry lands at Orcas Village, unloading up to a hundred cars, bikes, trucks and motor homes.
RESIDENTS OF the San Juan Islands know the ferry schedules by heart, though they are loathe to leave, Nanae says. "We may make a Costco run for supplies, but generally, there's no reason to go to the mainland all that often. We have pretty much what we need, and what we don't have, we make adjustments."
A multicolored quilt on the wall of her Deer Harbor home is proof of that.
"There's no fabric store here, so I had to improvise with scraps mostly," Nanae said. "That's what this island does to you. Your dormant creativity comes to the surface. You learn to do things. When resources are limited, you rely on yourself."
Scarcity has its benefits. Nanae's quilt won first prize at the last island fair.
"To live here, you must have a certain amount of self-confidence because the remoteness can be scary at first. You must be willing to be alone sometimes. Of course, this is the very thing visitors seek when they come here -- this nurturing isolation."
Indeed, inaccessibility seems to have generated a pioneer spirit among those who have chosen to stay. Amateur potters, painters and sculptors display their wares along Orcas' handful of paved roads.
IT IS Open Market Day in Eastsound, so Gary and I go hunting for provisions. Past the stalls of tie-dye clothing and hemp weavings are the organic produce kiosks where I find a Vidalia onion, fresh arugula, a yellow chanterelle and a petite pan squash the size of a grapefruit.
Down the street at the Homegrown Market, Gary buys some fresh sockeye salmon and a Dungeness crab. At the larger Island Market we grab some orzo, sourdough bread and a bottle of Yakima Valley Hinzerling Chardonnay.
On the way home, we stop along the roadside to pick wild blackberries and lavender. There is no actual plan to the evening's menu, impulse being the prime motivator of our purchases, but somehow it all comes together in the Isle Dream's tiny kitchenette. We shoo away the bees on the lanai and feast al fresco.
There is little night life on Orcas. This evening, the hot attraction is a local combo called Two Hits and a Miss playing at the Deer Harbor Inn. We are content to sip our Chard and watch the interisland seaplanes make their last deliveries before darkness.
On our last morning on Orcas, we wake to the honking of Canada geese. What an alarm clock! There are hundreds of them landing in the cove beneath our cliff. Gary is up in a flash, binoculars in one hand, minicam in the other. A steep trail leads from the cabin to a rocky beach and an abandoned boat dock, which serves today as an excellent observation point. Like the deer, the geese go about their business, knowing we are not likely to interfere with their feed. Otters also frequent this coast, though the incessant honking keeps them away this morning.
Right on cue, the deer show up for breakfast. This time, it's a fawn and buck making quick work of the foliage. The blacktails have an easy life here and sometimes swim between islands just for a change of scenery. Humans must rely on the commuter ferry.
We have two hours before queuing up for our boat, plenty of time to pack up, finish the remaining blackberries and sign the Isle Dream guest book. There's no line at the dock, so we veer off the main street for a quick exploration of the farms and forest along Killebrew Lake road.
Harvest for most corps is already pau this year, but there are still bargains at the roadside huts displaying the last of the season's zukes, cukes and corn. Rabbits and squirrels dart into the trees along Killebrew Lake, one of the island's primo birding and fishing sites.
From the promontory over Guthrie Cove, we spot our ferry and reluctantly make our way back to the village. Already a hundred cars and two huge timber semis are ahead of us. Where did they all come from? We drive onto the ferry, which will make the reverse trip, stopping at Shaw and Lopez before reaching the mainland. We are already planning our next visit.
"You don't choose the island," Nanae says. "The island chooses you. Nearly everyone who lives here came first as a tourist. There is a healing, a de-stressing, detoxing effect on the senses. Even if you come with plans to hike and bike, very often you end up just sitting and looking at the view, with no guilt whatsoever."
As islanders, we grow accustomed to a certain measure of isolation. It's hardly a challenge for us to adjust to the lifestyle of another island, whether in the Mediterranean, South Pacific or off the coast of Washington state.
Orcas Island, with its bucolic vistas and audacious wildlife, will always be for me a reminder that isolation doesn't necessarily mean being far from the best things in life.
---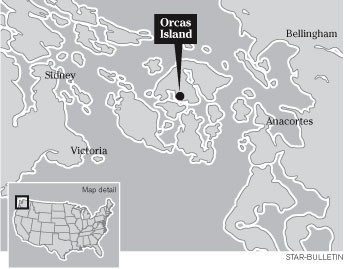 ---
Pamela Young
is a KITV news anchor and produces "Mixed Plate" TV specials. More information about the Isle Dream Cottage can be found online at
alldreamcottages.com
.