COMMENTARY
This outsider ain't no outlaw
Country singer Dwight Yoakam is considered a rebel, but his work is too respectful to afford him "outlaw" status
Chicken Lickin's. Lanky Links. Platter Patties. Boom Boom Shrimp. Bakersfield Biscuits. Border Dips. What is it with country artists and packaged foods? What have you wrought, Jimmy Dean? The above are all Dwight Yoakam's current products, a variety of fried stuff that be purchased at Wal-Mart supercenters and reheated.
Dwight Yoakam
In concert: 7:30 p.m. Nov. 16

Place: Waikiki Shell

Tickets: $20 to $65

Call: (877) 750-4400 or online at ticketmaster.com

Also: 9 p.m. Nov. 18, Hilton Waikoloa Village on the Big Island, $55, call (808) 886-1234
And, oh yes, Yoakam has a new album out: "Blame the Vain." The first self-produced album -- after 18 others -- from the guy that Johnny Cash declared was his favorite singer.
Yoakam is an industry unto himself. In addition to the foodstuffs, he's one of the most admired country artists in existence -- all the while keeping his distance from Nashville -- and, when he takes off his 10-gallon, Yoakam becomes an actor in rather challenging roles, often playing a psycho killer or some other form of borderline character.
It all boils down to this: Yoakam's never been an insider. He's out there on the fringe, outside the envelope, the wastelands of all-night honkytonks, Elvis sneers and trucker's favorites.
Consider: His song "She'll Remember" from "Vain" is already kicking up dust. He begins it with a kind of retro British accent -- Mick Jagger tackling Hugh Grant, one points out -- which morphs into straight-ahead Bakersfield rockabilly fueled by Britbeat guitar jangling. Good stuff.
Yoakam recently shed his label, management and band and is beating up the bandstands with a pickup crew of dedicated Los Angeles pickers. The live shows are getting positive word from fans, and most reviews of "Blame the Vain" talk about how much fun the songs are played live.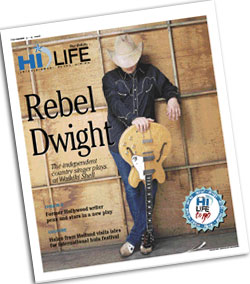 Born in Kentucky and reared in Columbus, Ohio, Yoakam was the darling of his high school drama club, taking on musical leads and amusing the kids with his impressions of Richard Nixon. He graduated in 1974, experimented with college and then, like every garage-band country wannabe, rocketed down to Nashville, expecting to be discovered. But the late '70s was an era of overly slick Urban-Cowboy flash, and Yoakam's heartfelt honky-tonk laments were a little too heart-rending.
He skipped over to Los Angeles and began sitting in with noncountry punks like X, The Blasters, Dead Kennedys and Los Lobos. After appearing on some L.A. country compilations, Yoakam's debut LP, "Guitars, Cadillacs, Etc., Etc." in 1986 was an instant kick-start, and his follow-up albums were just as successful. It all led to a relationship with California country artist Buck Owens, with whom he recorded duets.
You probably can't do anything in Southern California without acting, and Yoakam did some stage work with Peter Fonda before he was noticed by Billy Bob Thornton and cast as the downright nasty Doyle in Thornton's "Sling Blade" in 1996. All of this, quite naturally, leads to dating actresses like Bridget Fonda, Karen Duffy and Sharon Stone.
Although he's considered a "rebel" in country music, Yoakam hasn't quite achieved "outlaw" status, as his songs, particularly his covers of classic rockabilly and honkytonk tunes, are insightful and respectful while maintaining a certain joyfulness in performance. That's old-fashioned, but then, so is creating a line of food products. Just wait for his Dwightwear line of country couture.