Arson ruled as cause of Liliha house fire
A fire that gutted a home on Liliha Street early yesterday was determined to be intentionally set, police said.
"It was arson," said Detective Gary Lahens, of the Honolulu Police Department's Criminal Investigation Division.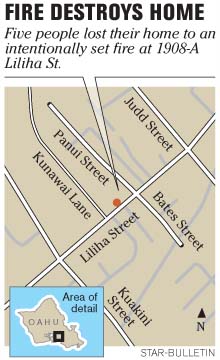 Two adults and three children, ages 2 through 14, were displaced from the single-story wooden home located on a narrow road at 1908-A Liliha St.
A sport utility vehicle, described by police to be a Toyota 4Runner, also was destroyed by the fire, and a compact vehicle sustained damage.
The pattern of the fire, which started in the carport, led investigators to determine it was arson, Lahens said.
Five homes that are in close proximity to the gutted home sustained varying degrees of interior or structural damage, Lahens said.
A neighbor said a "loud boom" awakened them in the early morning hours.
About 36 firefighters responded to the blaze at 2:33 a.m. Fire Capt. Kenison Tejada said the fire was under control at 3:04 a.m.
Lahens said it is not known what was used to start the fire. "The investigation is still continuing," he said.
A man, woman and 2-year-old child were at the home at the time of the blaze, Tejada said. All made it out without injuries.
The American Red Cross-Hawaii Chapter is assisting the displaced residents with living arrangements, food and clothing, said Maria Lutz, director of disaster services.
Damage to the Liliha Street home and its contents was estimated at $195,000. Damage to the other homes affected by the blaze has yet to be determined.