| | |
| --- | --- |
| | Newswatch |
---
New shark sighting closes Kauai beach
LIHUE » Kauai lifeguards closed another beach yesterday after spotting sharks.
Ocean Safety Bureau officials announced that Salt Pond Beach Park, on Kauai's South Shore, was closed yesterday afternoon after two sharks, approximately 10 feet and 6 feet long, were spotted in the area.
This is the second closure on the Garden Island due to sharks within a week. Beaches on Kauai's North Shore were closed last Sunday when two 10-foot sharks were spotted in the area near Tunnels Beach at Haena State Beach Park.
Firm pleads guilty to stealing state taxes
The president of Ohana Telcom Construction Inc. and the corporation pleaded guilty Tuesday to theft of state withholding taxes.
The company was accused of withholding more than $20,000 in state taxes from its employees and failing to pay those taxes to the state. President Randolph Funn faces imprisonment of up to 10 years and a fine of up to $25,000.
City lights permits available
Nonprofit groups wanting a display during Honolulu City Lights must submit their applications by Oct. 18. The city Department of Customer Services will issue permits for five display sites via a lottery at 10 a.m. Nov. 1 in the Mission Memorial Auditorium at 550 S. King St. Proof of nonprofit designation must be submitted with the application by Oct. 18. Honolulu City Lights will be from Dec. 2 to 31. For more information, call Patty Teruya at 808-527-5759.
---
[ FROM THE ART DEPARTMENT ]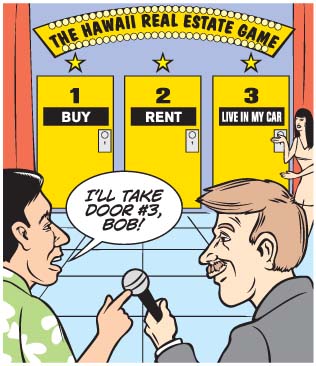 | | |
| --- | --- |
| | Police, Fire, Courts |
---
LEEWARD OAHU
Driver dies after going into pond A 67-year-old woman died yesterday after driving her van into a pond at the Kapolei Golf Course.
Shortly before 8 p.m., the woman was seen driving radically on Farrington Highway before driving into a water hazard fronting the Kapolei Golf Course.
A Fire Department official said the top of the van could be seen upon arrival.
Fire personnel were able to remove the woman from the van and transferred her to paramedics, who pronounced her dead at the scene, said Bryan Cheplic, city Emergency Services spokesman.
Morning house fire burns 2 occupants
Two people suffered burns when fire swept through a bedroom just before dawn yesterday in a split-level home in Honokai Hale near Kahe Point.
The fire at 02-391 Waiomea St. was reported at 6:10 a.m. and was brought under control by 6:24 a.m.
A man and a woman, both believed to be in their mid-40s, were taken by ambulance to Straub Clinic & Hospital for treatment of burns. They were listed in serious condition. Two other people who were in the house were not hurt. The cause of the fire was under investigation. No damage estimate was available.
NEIGHBOR ISLANDS
4 people hospitalized after Kauai collision KILAUEA, Kauai » Two cars crashed nearly head-on on Kuhio Highway yesterday morning, sending four people to the hospital.
According to county officials, one of the victims, a 20-year-old Kapaa man, needed to be airlifted to the Queen's Medical Center, while two tourists, a 39-year-old man and a 12-year-old boy from Riverside, Calif., underwent surgery at Wilcox Memorial Hospital.
According to police, the Kapaa man, driving a 1989 Oldsmobile station wagon, crossed the center line and struck a southbound 2006 Dodge van driven by the California man.
Both drivers were pinned in their vehicles and had to be extricated by fire rescue specialists from the Hanalei station, officials said.
A passenger in the station wagon, a 51-year-old Kapaa woman, also suffered injuries and was being treated last night at Wilcox Hospital.
Four passengers of the van, all from the same California family, were treated and released.
Speed and alcohol do not appear to be factors in the crash, police said.
HONOLULU
Man allegedly tries to cash phony check Police arrested a 30-year-old man who allegedly tried to cash a counterfeit check.
Police said the man tried to cash the check about 12:15 p.m. Wednesday at a Kalihi business.
Employees at the business noticed something was wrong and verified that the check was fake.
The man was later arrested for investigation of second- degree forgery.
Men's argument ends with shotgun fired
Two men were arrested yesterday morning after allegedly firing a shotgun near Piikoi Street and Kapiolani Boulevard following an early morning argument.
Around 4 a.m., an off-duty police officer heard an argument, then heard a sound like a gunshot and saw a flash from a truck.
The officer followed the truck as it sped away, police reported. Police stopped the truck and spotted a shotgun in the cab.
The two men, 23 and 29, were arrested on suspicion of first-degree reckless endangering and a firearm violation.
WAIKIKI
Knife-wielding man tries to rob business Police arrested a 24-year-old man who allegedly tried to rob a Waikiki business while armed with a knife.
Police said the man walked into the business on Kalakaua Avenue near the Hawai'i Convention Center at 5:36 p.m. Wednesday, brandished the knife and demanded money. A worker in the store struggled with the man and took the knife away, police said. The man fled on foot but was caught nearby by police following an extensive search. He was arrested for investigation of first-degree robbery.