| | |
| --- | --- |
| | Island Mele |
---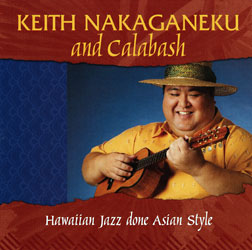 "Hawaiian Jazz Done Asian Style"
Keith Nakaganeku and Calabash
(KKN Productions)
Be warned that there is little sense of jazz on Nakaganeku's debut album, and that the Asian instruments used on occasion rarely assert themselves sufficiently to bring a so-called "Asian style" to the Hawaiian and pop selections here. However, taken as a new artist's first step in exploring what musicologist Billy Rose describes as hapa kepeni (half-Hawaiian and half-Japanese) music, Nakaganeku and Calabash deserve a listen.
Nakaganeku is, first and foremost, an impressive Hawaiian falsetto singer. The first few songs demonstrate his range and commercial appeal in Hawaiian and English.
After an earnest original song written by one of the band members, Nakaganeku moves to Japanese and Okinawan material. Several selections have newly written Hawaiian lyrics that he says express the general feeling originally sung in Japanese or Okinawan, hence hapa kepeni.
Nakaganeku writes in the liner notes that one of the Asian instruments used on a song is "a cross between a guitar or ukulele and an Okinawan sanshin." It's an instrument he should feature more prominently on his next album.
---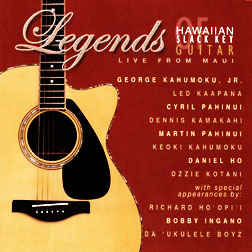 "Legends of Hawaiian Slack Key Guitar"
Various artists
(Daniel Ho Creations)
This compilation brings with it the same issues as its Grammy Award-winning predecessor, "Masters of Hawaiian Slack Key Guitar Volume 1." First, several of the artists heard here are unquestionably "legends" or "masters" of slack key, while others aren't of the same caliber. Second, given the title, why does it include recordings by ukulele players and a steel guitarist?
The answer is that these recordings come from a weekly concert series that present other types of Hawaiian music as well as slack key. That explains why there are tracks featuring falsetto master Richard Ho'opi'i, steel guitarist Bobby Ingano, and a young duo dubbed Da Ukulele Boys.
New recordings by slack key virtuosos such as Ledward Kaapana and Dennis Kamakahi are always welcome, and even those who don't fit into the title theme add some welcome diversity. Daniel Ho's latest version of "Simple as a Sunrise," for instance, adds a pleasant pop touch to the collection.
---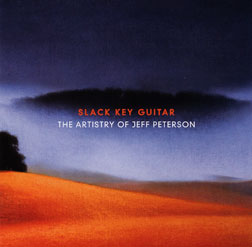 "Slack Key Guitar:
The Artistry of Jeff Peterson"
Jeff Peterson
(Palm Records)
Grammy Award-winning producer Charles Michael Brotman is making it easy for the members of the National Academy of Recording Arts and Sciences (NARAS) to gravitate to Jeff Peterson's first album for the Big Island-based label. The title says it all, and Peterson delivers throughout.
NARAS members may recall Peterson as one of the guitarists who had a track on "Slack Key Guitar, Volume 2," the compilation that made Brotman the first Grammy winner in the then-new "Best Hawaiian Music Album" category last year. Local listeners know Peterson as one of the few slack key artists also familiar with classical guitar techniques. He is an accomplished jazz player as well, and he applies both styles to slack key. Peterson's new album beautifully captures this cross-cultural approach during these solo performances.
"Whee Ha Swing" stands out because his style can be compared to earlier versions by Sonny Chillingworth and Ledward Kaapana. Peterson's version of "Hi'ilawe" is another benchmark number; in it he acknowledges the impact of the Mexican vaqueros by using Hispanic guitar techniques.
John Berger
, who has covered the local entertainment scene since 1972, writes reviews of recordings produced by Hawaii artists. See the Star-Bulletin's Today section on Fridays for the latest reviews. Reach John Berger at
jberger@starbulletin.com
.