Honolulu condo prices set record
The market continues to soften for houses as sales volume drops
Home and condominium sales continued to decline in September on Oahu, and the median home price barely exceeded its year-ago level.
The median price of a single-family Oahu home was $620,000 last month, according to the latest release from the Honolulu Board of Realtors. The price was up only 0.8 percent from September 2005, and down 2.4 percent from $635,000 in August 2006. Meanwhile, condominium prices set a record high at $320,000.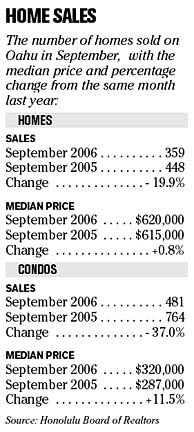 But the sales pace continues to drop. Only 359 single-family homes changed hands last month, down about 20 percent from the 448 that sold in September 2005. The number of condo sales dropped a dramatic 37 percent -- from 764 in September of last year to 481 in September of this year.
"There is good news for both buyers and sellers in today's market," said Mary Flood, president of the Honolulu Board of Realtors. "Properties for sale are more plentiful now, with 2,005 single-family homes and 2,750 condominiums on the market, providing buying opportunities not seen in the past few years."
Flood added that prices for sellers, on the other hand, have remained fairly level, with interest rates at a six-month low, meaning that homes remain attractive to buyers.
Still, real estate agents are finding that homes on the market move much more slowly these days.
Single-family homes in September stayed on the market an average of 48 days, compared with 22 days in September of last year.
This translates into lower selling prices for some buyers: A three-bedroom home at the top of Komo Mai Drive in Pacific Palisades, originally listed at $625,000 a few months ago, dropped its list price to $585,000 this month.
Some homeowners are still overshooting the market, according to Abe Lee of Abe Lee Realty, because they do not realize the market has slowed down.
"They're looking for that one person willing to pay the price," said Lee, "and they haven't heard that the feeding frenzy is over, in most places."
A home he listed in Manoa sold at $600,000, though it was listed for $695,000.
But another home in Nuuanu, listed at $1.69 million, brought in multiple offers within a week, with one potential buyer offering a $100,000 premium. It was in a desirable location on a well-sized lot, and recently remodeled, according to Lee.
"Generally, if it's priced right, it moves," he said. "Unless the property is really special, it won't move at the high price that the sellers expect."
Condominium prices are still going up.
The $320,000 median price in September was highest on record -- and an 11.5 percent jump from $287,000 in September 2005. Condo buyers could choose from 2,750 condominiums on the market last month, more than twice the 1,296 available in September 2005.
Honolulu Board of Realtors economist Harvey Shapiro said the annual sales rate so far this year is lower than it was last year, which was the peak of the market, but has not reached the lows of the mid-1990s.
"We had a long period of expansion," he said, "and now we're stabilizing."
Cumulatively, Oahu home sales in the first nine months of this year totaled $4.3 billion, a 6.1 percent drop from $4.5 billion in the same period a year earlier.