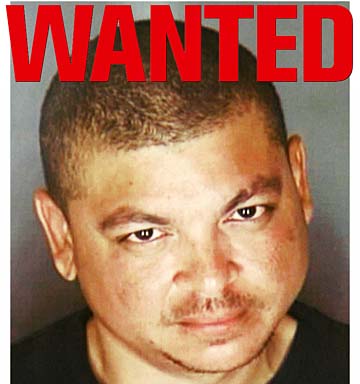 Elusive suspect named
Police now have a name to go with the many faces of a serial bank robber whose elaborate disguises have included a construction worker, a security guard and a woman.
A federal judge issued an arrest warrant Monday for Michael Rosario Sr. after prosecutors filed a criminal complaint identifying Rosario, 40, as the suspect in three robberies in December, July and last month.
His disguises apparently did not include gloves. Police said they identified him from fingerprints on demand notes he presented tellers.
In addition to the three robberies listed in the federal complaint, police believe Rosario is responsible for at least six other bank robberies on Oahu between October 2005 and this August, said Capt. Frank Fujii, Honolulu Police Department spokesman.
"He's been positively identified in nine bank robberies, and we're still investigating a few others," he said.
Fujii said Rosario should be considered armed and dangerous because in at least one of the robberies, he brandished a handgun. His convictions include terroristic threatening, abusing a family member and violating a protective order. He is on probation for all of them.
Rosario is 5 feet 9 inches tall and weighs about 160 pounds. Anyone with information about him is asked to call the HPD Criminal Investigation Division at 529-3115.
Rosario is known to frequent the Kalihi, Pearl City and Mililani areas, Fujii said. HPD's Specialized Services Division and the department's helicopter converged in Pearl City yesterday on a report that he had been sighted there, but the search was unsuccessful.
The criminal complaint identifies Rosario as the suspect in the Dec. 22 robbery of Central Pacific Bank's Royal Kunia Branch, the July 15 robbery of Hickam Federal Credit Union in Kapolei and the Sept. 22 robbery of Central Pacific Bank's Keeaumoku Branch.
In the December case, the robber was dressed as a construction worker. He wore a white long-sleeve shirt, orange traffic safety vest, hard hat, clear safety glasses, work boots and false mustache and beard. He presented a demand note and told the teller he wanted hundred-dollar bills. The robber fled with $3,105.
The robber in the July robbery wore a security guard-type uniform, wig, false beard, sunglasses and a white hat. He presented a demand note and told the teller he was armed with a gun.
He fled with an undisclosed amount of money and ditched his disguise outside the credit union. The uniform was altered to allow him to tear it off quickly.
In last month's robbery in Keeaumoku, the robber was dressed as a woman. He wore a long-sleeve, dark-colored floral print dress, dark boots, heavy makeup, a black wig and glasses. He presented a demand note, but the teller could not read it because it was folded.
The robber told the teller, "This is a holdup," and showed her a handgun inside a purse. After the teller handed the robber some currency, the robber demanded more money and said that he would "blow (her) head off" if she did not comply, according to the complaint.
The robber fled with approximately $1,500 cash, jumped over a wall into a parking lot on Rycroft Street and ditched the dress, wig, glasses, false breasts and an envelope containing the demand note.
In the other bank robberies for which police say Rosario is responsible, the robber wore a blond wig and hospital scrubs, a blond wig and a baseball cap and, during three robberies, an Army camouflage uniform with a black beret and head bandages.
In the Aug. 25 robbery of Hickam Federal Credit Union's Pearlridge branch, police found the robber's discarded Army uniform outside the bank. And just like the security guard uniform in the July robbery, the Army uniform had been altered to allow the robber to tear it off quickly.
---
BACK TO TOP
|
Bank robberies
Dec. 22: Central Pacific Bank
A federal judge has issued an arrest warrant for Michael Rosario Sr., suspected of being the man seen in this security camera image robbing the Central Pacific Bank in Royal Kunia on Dec. 22. The suspect entered the bank, demanded money from the teller and fled with it. No weapon was seen. He fled on foot to the back of the Royal Kunia Shopping Center.
Aug. 25: Hickam Federal Credit Union
The man who robbed the Hickam Federal Credit Union at 98-1005 Moanalua Road on Aug. 25 wore a military camouflage uniform, as seen in this security camera image. The suspect, identified as Michael Rosario Sr., fled through the service entrance that leads to a parking lot next to the Pearlridge facility. A camouflage jacket was recovered at the scene.
Sept. 22: Central Pacific Bank
Prosecutors say that Michael Rosario Sr. disguised himself as a woman to rob the Central Pacific Bank at 818 Keeaumoku St. on Sept. 22. Authorities have named Rosario as the suspect in a string of Oahu bank robberies and ask anyone who knows where he is to call the police.