Diva deluxe
A grand entrance for Susan Lucci -- the grand dame of daytime TV
When the time comes to leave her soap opera home of Pine Valley, Susan Lucci would like to exit the way she entered Waikiki Beach last week.
Lucci's legendary character, Erica Kane, couldn't be handled in the manner of the usual soap opera clichés -- no fiery crash or mysterious disappearance for her. "Great, hunky guys carrying Erica on a throne would be very nice," Lucci said, just having been carried across the beach by four hunky, bare-chested guys.
Poised like a queen, with the demeanor of a Southern belle, Lucci was transported to a stage behind the Hilton Hawaiian Village for the taping of "Soap Talk in Paradise," to air on the cable network SOAPnet.
Lucci wore an elegant fuchsia outfit, one of her own designs, which perfectly matched her orchid lei and the flowers in her hair.
Lucci has played Erica on "All My Children" for 35 years, since both she and Erica were teenagers. She's played the part through many, many marriages and several of Erica's career changes -- all the way from girlhood to grandmotherhood. Erica continues to have a front-burner storyline on the ABC soap.
But the role is only part of Lucci's life. She juggles her daytime career with designing -- fashion, haircare products, fragrances, jewelry, shoes and accessories. She also sells a personal microdermabrasion system, Youthful Essence by Susan Lucci.
During the "Soap Talk" taping, local models showed off Lucci's designs, which are available on the Home Shopping Network. Lucci is to be featured on the network Oct. 10 and 11; her new line comes out the first week of December.
Lucci also appears on "Celebrity Jeopardy" in early November. She'll play on behalf of her favorite charity, Little Flower Children and Family Services of New York, which provides foster care and adoption services, independent living preparation for teens in foster care, residential services for developmentally disabled adults and parenting training.
Daytime drama has definitely served Lucci well. "In the past, I have sought out roles that are indeed different. However, the truth is I love playing Erica Kane and I don't mind being type-cast in that perspective."
Still, she'd like Erica to face some new challenges. She's already had a problem with drug addiction, followed by alcohol addiction. "I think the next demon Erica should face is by way of her naughty nature," Lucci said. "I'm very excited to have the character Jeff (Erica's ex-husband, played by John James) back on the show and I think their past relationship should be revisited."
Further motherhood could be another option. "I always hoped we would see Erica raising a little boy. We have seen her with her daughters so much and Josh (her adult son) is all grown and angry at all times. I really don't know what hope there is for that relationship," she said. "It would be interesting if Erica adopted a young boy."
Erica's first pregnancy was the result of a rape and she gave the baby up for adoption. With her second pregnancy, she opted for an abortion, or so she thought. The doctor performing the procedure took the fetus and implanted it into his own wife's womb. Both children re-entered Erica's life as adults.
Her third child was born the normal way, but when Erica divorced, the child was taken to Seattle in her father's custody.
Lucci said she had no reservations about the abortion storyline. "I was in very good hands with brilliant writers, who would portray various points of view. It's a very complicated issue and actually a wonderful format to explore the difficult issues," she said.
"When I was in college, abortion was the hot issue -- discussed in philosophy classes and so on. In my whole adult life, it remains one of the hotbed issues. It's really incredible. ... It would be great to have real conversations about issues people can identify with right now. Too often things become political, it gets ugly and that is not possible."
The abortion storyline also raised awareness of medical care issues, she explained. Erica dealt with a doctor who "took life into his own hands ... He played God and decided who should and should not become parents. He stole my fetus and raised it as his child. It was a great illness in this man."
Trust levels need to be evaluated, she added. "So many women put their trust into a doctor's hands for all different sorts of procedures."
During her stay in Hawaii, Lucci was looking forward to some much needed rest and a break from the hair and make-up chair.
"I'm excited to see all of the beautiful flowers, especially the orchids, watching amazing sunsets and most importantly, relaxing," she said. "I'm also looking forward to a nice spa treatment or two."
---
Sudsy reading material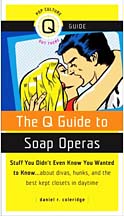 If you are looking for juicy tidbits about your favorite soap stars, look no further than Daniel Coleridge's new book, "The Q Guide to Soap Operas" (Alyson Books, 2006, $12.95).
The pages include the Top 10 soap divas and hunks, interviews with daytime stars, a history of gay characters on soap operas, trivia and more.
The book also explores how a television genre devoted to housewives is gaining many gay fans.
Coleridge is the senior editor and soap columnist at TVGuide.com. Visit www.danielcoleridge.com for more information.
---
BACK TO TOP
|
All her children
Erica Kane has three biological children, who came into her life three different ways (she also has two stepchildren, but that's another story):
Kendall Hart (Alicia Minshew) was born when Erica was a teen, the result of a rape. Erica gave her up for adoption, but Kendall sought her out as an adult. Their early relationship was stormy, but they have reconciled. Kendall has a son, Spike.
Bianca (Eden Riegel) is Erica's one conventional child, born during her marriage to Travis Montgomery. Bianca, like Erica (Susan Lucci), got pregnant when she was raped, but chose to keep her daughter, Miranda, Erica's first grandchild.
Josh Madden (Colin Egglesfield) grew up believing he was the son of Dr. Greg Madden. But it turns out that Erica had gone to the doctor for an abortion and he took her fetus and implanted it in his own wife. Jeff's biological father is one of Erica's many ex-husbands, Jeff Martin.
---
BACK TO TOP
|
'Soap Talk' beach episodes set to air in mid-October
"SoapTalk in Paradise" featuring host Ty Treadway with special guest hosts Rebecca Budig and Laura Wright was filmed on the beach at the Hilton Hawaiian Village.
Susan Lucci appeared on the tapings with other daytime stars, including Kelly Monaco ("General Hospital," "Dancing with the Stars"); Jack Wagner ("Bold and the Beautiful"); Ingo Rademacher and Jason Thompson ("General Hospital"); and Julie Pinson, Billy Warlock and Bryan Dattilo ("Days of Our Lives"). The shows will air on SOAPnet Oct. 16 and 17.