Radisson is pau in Hawaii, for now
The company's last property in the state is switching to Hilton
Radisson Hotels & Resorts is making an exit from Hawaii this month. Its last property in the state, the Radisson Prince Kuhio hotel, is starting a transition to the Hilton flag.
The Prince Kuhio ends its relationship with the Minneapolis-based Radisson this month, and the property is scheduled to be renamed the Hilton Waikiki Prince Kuhio in December.
The change in brands signals a step toward remaking the Prince Kuhio hotel at 2500 Kuhio Ave. more of a luxury destination.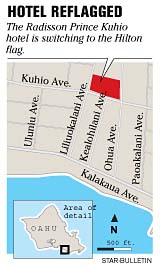 The 601-room hotel's owner, Stanford Hotels Corp. of San Francisco, recently put more than $50 million into renovations, and is considering a 7,000-square-foot spa in its lower lobby.
The Prince Kuhio's transition comes at a time when the state is targeting more affluent visitors, and Waikiki off-beach properties are going upscale to maintain their competitive edge.
"We really felt Hilton was a brand that has tremendous success in Hawaii," said Clyde Guinn, Stanford's senior vice president of operations. "It has a great name there, and has done a good job of selling Waikiki as a destination both in Japan and the mainland. ... It's not a reflection upon Radisson, which has been a great relationship for us. Rather, something's good and something else was better."
Stanford owns 16 properties with 4,580 guestrooms throughout the United States under seven top global brands, including Marriott, Sheraton, Hilton, Holiday Inn and Radisson. When it acquired the Prince Kuhio in 1999, Stanford switched hotel management from Outrigger to Radisson.
While the latest change will leave Radisson with no properties in Hawaii, the company has not severed its ties to the Aloha State.
Joan Cronson, spokes-woman for Radisson, which is part of Carlson Hotels Worldwide, said its development team is seeking other opportunities in Hawaii.
"It's just part of the business," she said. " Brand affiliations change, but we definitely want to have a property in Hawaii because there's a lot of demand there."
For Hilton, the addition of the Prince Kuhio comes as it is expanding its presence in the isles significantly.
Besides owning and operating the Hilton Hawaiian Village Resort & Spa and Hilton Waikoloa Village, it operates Doubletree Alana Hotel Waikiki and the Grand Wailea Resort Hotel & Spa.
Hilton also will lend its brand name and reservations system, under a franchise agreement, to the Kauai Beach Resort, Wyland Waikiki and Embassy Suites Hotel at Waikiki Beach Walk, along with Prince Kuhio.
Kauai Beach Resort made a deal with Hilton last year, according to Trevor Benn, marketing consultant for owner Anekona Development, which bought the property to convert it to condos.
"Anekona was looking for a national flag to go with that had the reputation," said Benn. "We're completing $14 million in renovations that will be done in 20 days. We wanted to rebrand the property to bring it to a higher level. With the Hilton brand, we're going more upscale."
Benn also said the condotel would be able to participate in Hilton's grand vacations club, so that owners at Kauai Beach Resort could swap time at their units with other destinations.
Hilton Hotels is diversifying its offerings, according to Gary Seibert, area vice president and managing director, to target various market segments.
Renovations at the Prince Kuhio, which began two years ago, have occurred in phases -- beginning with the lobby, then the meeting rooms, and now a complete refurbishment of the rooms.
Every hotel room will be outfitted with the signature Hilton Serenity Bed, high-speed Internet, and 42-inch plasma TVs, along with outlets for MP3s, laptops, iPods, camcorders and digital cameras.
New nightly room rates will range from $229 for a city view to $449 for an ocean view, and up to $1,200 for executive suites, compared to the current rates of $189 to $279, and $900 for executive suites, General Manager Jay Leonard said.