THE WAR IN IRAQ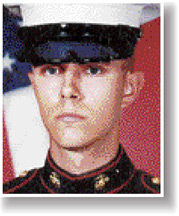 ASSOCIATED PRESS
Florida native Pfc. Christopher Riviere, 21, enlisted last year.
2nd Battalion loses a Marine in Iraq
The Kaneohe unit suffers its first fatality since arriving in the war zone weeks ago
The Kaneohe Marine Corps unit that arrived in Iraq a few weeks ago suffered its first death this week.
The Pentagon said Pfc. Christopher Riviere, 21, of Cooper City, Fla., was killed Tuesday while on patrol in Al Anbar.
Riviere, who had been a Marine for just a year, was providing security when he was shot.
He was a rifleman assigned to the 2nd Battalion, 3rd Marine Regiment.
Riviere's 2nd Battalion is replacing its sister unit -- the 3rd Battalion from Kaneohe Bay -- which is returning home next week. The 3rd Battalion has suffered 11 combat deaths while in Iraq for the past seven months.
Riviere, who celebrated his 21st birthday Aug. 8, enlisted in the Marine Corps in September 2005 and arrived at Kaneohe in March. He is survived by his mother and two sisters.
His aunt Connie Pie told the Miami Herald that her nephew was killed by a sniper.
"It doesn't even feel real right now," Pie said.
"He wanted to be something and he loved his country. He was a good kid and this was a great opportunity. Back then, we thought so anyway," Pie told the newspaper.
His aunt added that Riviere followed the Miami Dolphins and the University of Miami Hurricanes and made sure to keep an eye on his two little sisters, ages 10 and 14.
"He was an all-around good kid, never in trouble," Pie said.
She said her nephew was proud of being in the Marine Corps, correcting anyone who confused it with another branch of the military.