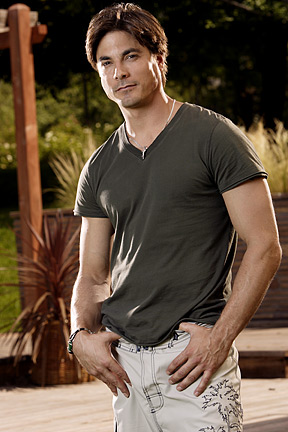 COURTESY NBC
"I'd like Lucas going out with guns blazing."
Bryan Dattilo,
on how he'd prefer his 'Days of Our Lives' character Lucas Roberts be written off, if at all.
---
Soap stars chat in Waikiki
"Days" star Bryan Dattilo is among those in town
THE ELEMENT of suspense is what draws people to daytime soap operas. From romance and seduction to mayhem and mystery, the end-of-the-week cliffhangers leave viewers dangling, longing for more.
This week, fans can get a closer look at some of their favorite daytime stars at the tapings of SoapNet's "SoapTalk" on the beach at the Hilton Hawaiian Village. On Thursday, Ty Treadway and co-host Rebecca Budig, formerly of "All My Children," meet with Susan Lucci ("All My Children") and Jason Thompson ("General Hospital") at the 9 a.m. taping and Kamar de los Reyes ("One Life to Live") and Ingo Rademacher ("General Hospital") at 11 a.m.
On Friday, Laura Wright of "General Hospital" co-hosts with Treadway. Guests include Julie Pinson and Billy Warlock ("Days of Our Lives") and Jack Wagner ("The Bold & the Beautiful") at the 9 a.m. taping and Kelly Monaco ("General Hospital") and Bryan Dattilo ("Days of Our Lives") at 11 a.m.
The public is invited to be a part of the audience. Participants should go to the Rainbow Suite and must arrive 45 minutes prior to taping (8:15 a.m. for the 9 a.m. shows, and 10:15 a.m. for the 11 a.m. show).
Bryan Dattilo, who appears on Friday, has played Lucas Roberts on "Days of Our Lives" since 1993. He became a "Days" fan after watching a few episodes with his grandmother.
Dattilo's life as Lucas is never dull; misadventure always find him. Although Lucas obviously belongs with Sami Brady (Alison Sweeney), circumstances manage to keep them apart. Although they are forever bound together by their teenage son, Lucas can't find it in his heart to trust her.
And it's no wonder. Sami originally lied to Lucas, telling him that his half brother Austin Reid (Austin Peck) was her baby's father. After all the heartache Sami caused, Lucas married Sami's half sister Carrie Brady (Christie Clark), who is now engaged in an adulterous affair with Austin, of whom Lucas has always been jealous. Lucas most likely will be dumping his lovely bride, Carrie, after catching her in a steamy scenario with his half brother.
Like sands through the hourglass, we can only expect more mayhem to reach the kind citizens of Salem.
---
Bryan Dattilo had time to answer a few questions:
Star-Bulletin:
Have you visited Hawaii prior to your participation in SOAPnet's "Soap Talk" tapings? What are your impressions of the islands?
Bryan Dattilo: No, I've never been to Hawaii. One big reason I'm going on the trip is to see how beautiful it is. I can't wait to surf.
SB: Lucas Roberts has dealt with alcoholism, bitter custody battles, being framed for abuse and Sami's conniving antics. What would you like to see develop in Lucas' life next?
BD: To take over Salem without any interruption from the Salem PD. Acknowledge being the top dog.
SB: In the love life department, would you like to see Lucas in a happy marriage with Carrie? Reconciliation with Sami? Or a new woman?
BD: It would be tough to get away from Sami, because we have such great chemistry ... but a triangle with a new woman and Sami would be hot ... being the centerpiece of a triangle with two women for a change.
SB: Lucas has a mischievous personality and has dabbled with his own share of schemes in the past. Are you a schemer yourself? Have you ever come up with something that you think would be perfect for Lucas?
BD: My life has mirrored Lucas' life in many ways from day one. Yep, we've all done our scheming, probably I more than others. I'd love to see Lucas fall off the wagon in a big way -- or at least let everyone think he did -- when he's really stone-cold sober. He could get information from everyone while they think he's a drunk, and use it to his advantage.
SB:
Throughout your acting career, you've played a variety of different roles in "Charles in Charge," "Doogie Howser, M.D.," "In the Heat of the Night" and featured roles in the movies "The Adventures of Grizzly Adams" and "Arcade." Is it difficult to leave Lucas behind in taking on new roles?
BD: I look at acting like using a part of yourself in everything, so even if I do other characters, there's always a part of me there, not Lucas. I bring myself into every role which you have to in order to make it believable.
SB: Let's say it's time to close the book on Lucas in Salem (you know, 50 years from now). How would you like to see him go out: a happy ending and closure, or perhaps a fiery car crash where his body is never found, leaving open the possibility that maybe ...
BD: I'd like Lucas going out with guns blazing. Defending Sami or Will that would show his love for them and the family he always wanted. I definitely don't want him to be the victim in anything. I want it to be because he's so passionate about something that he's willing to sacrifice himself. But, of course, I'd like the door open for him to come back.