Aina Haina condo project is opposed by residents
Rockfall danger to the nearby school, traffic and noise are cited
Aina Haina residents and a local developer are at odds over a proposal to build a 15-unit condominium project on a slope near Aina Haina Elementary School.
Residents fear the project could change the area's character, increase traffic, expose students at Aina Haina Elementary to noise and dust, and endanger residents and the school -- which is the area's emergency shelter -- with falling rocks.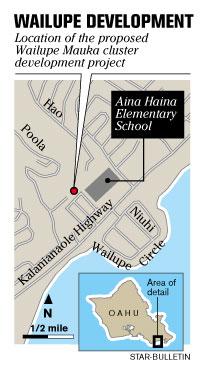 Rep. Lyla Berg of District 18 has scheduled a community meeting tonight at 7 to help bring the two sides together.
"There's a lot of residents who don't know what's going on, so they're relying on hearsay," Berg said.
The meeting is scheduled at the Aina Haina Elementary School Cafeteria. Developer Kent Untermann, owner of L&K Investments LLC, and community groups are expected to attend.
The Wailupe Mauka project consists of five buildings on level benches that would be excavated into the 3-acre site, zoned residential. Two of the buildings would be three stories, with six units each. Three townhouses would sit below the buildings.
The project requires a cluster permit from the city Department of Planning and Permitting because the structures are nine feet higher than the 25-foot limit. The department is expected to make a decision on the cluster permit on Oct. 9.
Henry Eng, director of the city Department of Planning and Permitting, said his office had received a lot of opposition to the project.
At a Sept. 7 meeting of the Kuliouou/Kalani Iki Neighborhood Board, 95 residents voted against the project and 10 in favor, board Chairman Bob Chuck said. The board voted unanimously to ask the city to deny the cluster permit.
Untermann, a local businessman, says he plans to continue with the project and is willing to accommodate residents. Since he bought the property 18 months ago, Untermann has altered the project at least four times to address city safety and aesthetic concerns, he said.
"There's nothing that we're doing that's not already zoned for," Untermann said.
But the scale of the project is perhaps the residents' most serious concern. Parents of children at Aina Haina Elementary, which borders the project several hundred feet below, are concerned about effects on the children's safety and education.
"The impact on the school is directly coordinated with the magnitude of the project," said Paul Bernstein, a member of the School Community Council. The project could bring dust into the open-air school and noise from rock excavation to build the foundation, Bernstein said.
Aina Haina residents, already concerned about rockfalls, flooding and house slides, are wary of large developments.
"All of these things have an effect, like ripples widening," said Norma Carr, who sees stress marks from sliding on Hao Street, where she has lived since 1962.