WARRIOR FOOTBALL
Warriors willing to run
BOISE, Idaho » Hawaii football coach June Jones never refers to the Warriors offense as the run-and-shoot, although most of the rest of the football world does.
Usually he just calls it "what we do." He said earlier this week it's because the four-receiver schemes have evolved into something very different from what Tiger Ellison first devised decades ago to what Jones' mentor (and current special teams coach) Mouse Davis built upon and what Jones continues to tinker with now.
Hawaii vs. Boise State
Where: Bronco Stadium

Kickoff: 2 p.m.

TV: KFVE (Ch. 5)

Radio: 1420-AM

The line: 15
Maybe UH can work out a travel deal by re-naming the attack "Hawaiian Air." And before anyone takes that too seriously, when the Warriors go into an old-fashioned short-yardage formation, it can be called the "Augie T." That would be in honor of the man who seems to have become the unofficial UH comedian, since he performed at the Letterman's Club dinner, and last night here in Boise.
What isn't funny for Hawaii fans is the Warriors are a 15-point underdog in the team's biggest game of the season tonight. Here's what to look for:
When Hawaii has the ball: A basic UH offensive premise is to set up the run with the pass, which goes against conventional football thinking. It worked very well against UNLV last week, as Colt Brennan completed his first nine passes, creating enough space for Nate Ilaoa to rush for more than 100 yards.
Jones raved about the Warriors' offensive-line play last week, saying: "They pass-protected about as good as I've seen."
Starting center Sam Satele said the Warriors are looking forward to doing some more run-blocking, too.
"I want to see how they act when Nate Ilaoa runs for 200 yards," said Satele, who has dealt with a painful bruise to his collarbone area.
Slotback Ryan Grice-Mullins had a slight groin strain earlier in the week, but seemed fine at yesterday's walk-through, and backup tackle Keoni Steinhoff's hamstring is better enough for him to play if he must.
Boise State's defense is a little more conservative with less blitzing under new coordinator Justin Wilcox, and it's working so far, as the Broncos lead the WAC in all major defensive stats and are seventh in the nation with just 8.0 points allowed per game.
When Boise State has the ball: After two games, UH's defense looks like it might be Hawaii's best since guys like Mark Odom, or maybe even Al Noga roamed the WAC. But the task is very difficult this week, since the Warriors must stop a multi-faceted Boise State attack, and its rank of 26th in the nation against the run could quickly evaporate.
"I'd rather play Alabama again than go up against this," defensive coordinator Jerry Glanville said.
Ian Johnson has emerged as one of the best running backs in the nation, going for 149.3 yards per contest. The goal for the Warriors is to string him out and not let him pick a hole and get into the second and third layers of the defense.
"We can't let him attack us vertically," defensive line coach Jeff Reinebold said.
The trick to containing quarterback Jared Zabransky is the opposite; UH must contain him and not let him roll out where he is dangerous as a runner and passer.
The Warriors may have to do this without two starters; the availability of inside linebacker Solomon Elimimian (knee) and cornerback A.J. Martinez (groin) will be game-time decisions. The replacements are Brad Kalilimoku and C.J. Hawthorne.
Special teams: This is where the game was won and lost last year at Hawaii. BSU blocked two kicks and returned two for scores, including a 2-point conversion when Orlando Scandrick returned a blocked extra-point try that would've tied the game for Hawaii.
"I gave it to them. I'm not going to give it to them again this year," UH kicker Dan Kelly said. "Everything was perfect except my kicks."
The Warriors have improved in the kicking game from last fall, but Boise State still holds a decided edge.
"Special teams is a big factor in every game we play," Scandrick said.
Broncos punter Kyle Stringer might be the best in the nation. He averages 48.5 per kick. Last year, he dropped a snap against UH, but picked it up and ran for a first down, and BSU eventually scored. Davis called it the turning point of the game.

KEY MATCHUP


The Hawaii Warriors vs. themselves

Talent is not the question. Hawaii has plenty, probably more than Boise State, and there's even some depth this season. What the Warriors need to pull off an upset tonight is to not beat themselves with turnovers, dropped balls, penalties and special-teams mistakes.

Hawaii got away with 11 penalties for 92 yards (including three personal fouls) and four turnovers last week because it thoroughly dominated UNLV physically and schematically.

At Alabama, the Warriors might have won if the receivers hadn't dropped four passes in the first half. Penalties also hurt in that game. So did a botched punt that led to a safety for the Crimson Tide. It was reminiscent of the train wreck that was Hawaii special teams in 2005, particularly in the Boise State game.

Although Boise quarterback Jared Zabransky has a history of offensive risk-taking, it's unlikely the Broncos will beat themselves at home. But the Warriors must be careful not to do so themselves. They can't win if they give the football away.

"That's a must for this week," Hawaii coach June Jones said. "If we don't take care of the ball at a place like this it's going to be a long day."
---
Hawaii
1-1, 0-0 WAC
Probable Starters
Offense

Z
82
Ross Dickerson
5-10
198
Sr.

H
7
Davone Bess
5-10
195
So.

LT
70
Tala Esera
6-4
308
Sr.

LG
65
Hercules Satele
6-2
288
Jr.

C
64
Samson Satele
6-3
298
Sr.

RG
55
John Estes
6-2
290
Fr.

RT
72
Dane Uperesa
6-4
310
Sr.

Y
1
Ryan Grice-Mullins
5-11
179
So.

X
84
Jason Rivers
6-2
192
Jr.

QB
15
Colt Brennan
6-3
196
Jr.

RB
4
Nate Ilaoa
5-9
254
Sr.
Defense

DT
67
Mike Lafaele
6-0
302
Jr.

DE
98
Melila Purcell
6-5
276
Sr.

DE
91
Ikaika Alama-Francis
6-6
285
Sr.

STUB
8
Tyson Kafentzis
6-1
230
So.

WILL
33
C.J. Allen-Jones
6-1
224
So.

BUCK
43
Brad Kalilimoku
5-10
213
Jr.

or
41
Solomon Elimimian
6-0
224
So.

MAC
44
Adam Leonard
6-0
236
So.

CB
34
A.J. Martinez
5-10
179
Jr.

or
19
C.J. Hawthorne
5-11
161
Jr.

FS
42
Leonard Peters
6-1
211
Sr.

SS
31
Jacob Patek
6-0
202
Jr.

CB
24
Kenny Patton
6-0
188
Sr.
Specialists

P
25
Kurt Milne
6-0
205
Sr.

PK
86
Dan Kelly
6-3
202
So.

PR
85
Aaron Bain
5-9
183
So.

and
38
Myron Newberry
5-8
164
Jr.

KR
24
Kenny Patton
6-0
188
Sr.

and
82
Ross Dickerson
5-10
198
Sr.

LS
57
Jake Ingram
6-4
268
So.

H
25
Kurt Milne
6-0
205
Sr.
Schedule

Date
Opp.
Result

Sept. 2
at Alabama
L, 25-17


Sept. 16
UNLV
W, 42-13


Today
at Boise State


Sept. 30
Eastern Illinois


Oct. 7
Nevada


Oct. 14
at Fresno State

Oct. 21
at New Mexico State

Oct. 28
Idaho

Nov. 4
at Utah State

Nov. 11
Louisiana Tech

Nov. 18
San Jose State

Nov. 25
Purdue

Dec. 2
Oregon State
BOISE STATE
3-0, 0-0 WAC
Probable Starters
Offense

Z
1
Jerard Rabb
6-2
199
Sr.

X
11
Drisan James
5-11
186
Sr.

LT
79
Ryan Clady
6-4
315
So.

LG
66
Tad Miller
6-4
304
Jr.

C
69
Jadon Dailey
5-11
285
Sr.

RG
64
Jeff Cavender
6-2
286
Jr.

RT
60
Andrew Woodruff
6-3
331
So.

TE
91
Derek Schouman
6-2
233
Sr.

QB
5
Jared Zabransky
6-2
203
Sr.

RB
41
Ian Johnson
5-11
194
So.

FB
34
Brad Lau
5-11
242
Sr.
Defense

LE
97
Nick Schlekeway
6-4
262
Jr.

LT
92
Dennis Ellis
6-3
270
Sr.

RT
57
Andrew Browning
6-0
278
Sr.

RE
96
Mike G. Williams
6-3
244
Sr.

or
93
Mike T. Williams
6-4
238
So.

SAM
31
Colt Brooks
6-1
216
Sr.

MIKE
25
Korey Hall
6-1
228
Sr.

WILL
44
Kyle Gingg
5-11
215
So.

S
2
Gerald Alexander
6-0
204
Sr.

S
20
Marty Tadman
5-11
182
Jr.

CB
8
Orlando Scandrick
5-11
187
So.

CB
23
Quinton Jones
5-9
177
Sr.
Specialists

PK
47
Anthony Montgomery
6-1
211
Sr.

KO
42
Kyle Stringer
5-8
194
Sr.

Hold
42
Kyle Stringer
5-8
194
Sr.

P
42
Kyle Stringer
5-8
194
Sr.

Snap
74
Mike Dominguez
6-2
255
Sr.

KR
23
Quinton Jones
5-9
177
Sr.



11
Drisan James
5-11
185
Sr.

PR
23
Quinton Jones
5-9
177
Sr.
Schedule

Date
Opp.
Result

Aug. 31
Sacramento State
W, 45-0

Sept. 7
Oregon State
W, 42-14

Sept. 16
at Wyoming
W, 17-10

Today
Hawaii

Sept. 30
at Utah

Oct. 7
Louisiana Tech

Oct. 15
at New Mexico State

Oct. 21
at Idaho

Nov. 1
Fresno State

Nov. 11
San Jose State

Nov. 18
Utah State

Nov. 25
at Nevada
How they compare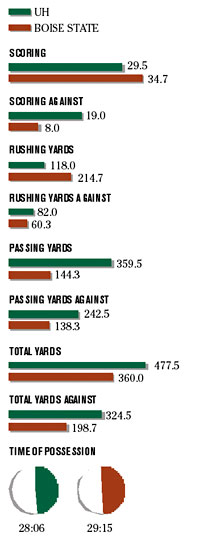 Other Key Statistics
| | | | |
| --- | --- | --- | --- |
| | Hawaii | Category | Boise St. |
| | 24.0 | First downs/game | 19.3 |
| | 6.5 | Rushing first downs/game | 8.0 |
| | 17.5 | Passing first downs/game | 3.3 |
| | 0.0 | First downs by penalty/game | 0.7 |
| | 3.5 | Turnovers lost | 0.3 |
| | 0.5 | Turnovers gained | 1.7 |
| | 1-33 | Interceptions-return yards | 3-89 |
| | 36.3 | Punting avg | 48.5 |
| | 22-174 | Penalties-yards | 18-131 |
| | 6-4 | Fumbles-lost | 2-1 |
| | 43% | Third-down-conversion rate | 36% |
| | 0.0% | Fourth-down-conversion rate | 100% |
Individual Leaders
Rushing



A
Yds
Avg
TD

Nate Ilaoa, UH
13
131
10.1
2

Reagan Mauia, UH
9
48
5.3
0

Ian Johnson, BSU
58
448
7.7
7

Jared Zabransky, BSU
28
60
2.1
2
Passing



A
C
I
Yds
TD

Colt Brennan, UH
79
54
3
646
4

Tyler Graunke, UH
9
8
0
65
0

Jared Zabransky, BSU
53
31
0
402
3

Taylor Tharpe, BSU
4
4
0
31
0
Receiving



Rec
Yds
Avg
TD

Ryan Grice-Mullins, UH
13
220
16.9
2

Davone Bess, UH
18
198
11.0
1

Drisan James, BSU
7
141
20.1
1

Legadu Naanee, BSU
8
67
8.4
2
Tackles



S
A
Tot
FL/S

Adam Leonard, UH
8
8
16
1/1

Jake Patek, UH
6
6
12

Leonard Peters, UH
7
4
11
0/0

Kenny Patton, UH
8
2
10
0/0

Brad Kalilimoku, UH
4
4
8
1/1

Korey Hall, BSU
13
14
27
3/1.5

Colt Brooks, BSU
6
11
17
2/1

Marty Tadman, BSU
11
6
17
.5/0

Kyle Gingg, BSU
10
7
17
2/1

Dennis Ellis, BSU
6
10
16
.5/0