ELECTION 2006
Final push
» Some Republicans could vote Democratic in the Senate race
» U.S. House hopefuls are not expected to gain much benefit
With the U.S. Senate race between Dan Akaka and Ed Case in today's Democratic primary election expected to draw some crossover votes from moderate Republicans, the biggest beneficiary among the 10 U.S. House hopefuls could be ... no one.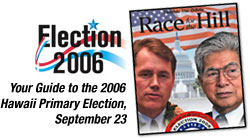 Some experts have speculated that independents and moderate Republicans could pull a Democratic primary ballot to try to oust Akaka.
In the race for the 2nd Congressional District seat to represent the neighbor islands and rural Oahu, additional votes by nontraditional Democrats could just have a "random-generator" effect, with either everyone getting a few votes or the ballot being left blank altogether, said University of Hawaii political scientist Ira Rohter.
A centrist voter, he said, is unlikely to agree with any of the 10 Democrats seeking to represent rural Oahu and the neighbor islands.
"They're all pretty solid liberals," Rohter said. "If you think about moderate candidates, is there somebody in there who's more conservative? It's just not obvious to me."
Get out! And vote
Polls are open today from 7 a.m. to 6 p.m. Nonpeak hours, when lines are generally shortest, are between 9:30 and 11 a.m. and between 1 and 4 p.m.

Bring a picture ID with a signature to verify your identity.

Those using a paper ballot should not vote in more than one political party and the special nonpartisan offices ballot; otherwise, your vote will not count.

Also, mark the inside of the oval completely to make sure your vote is counted.

Your polling place location should have been mailed to you on a yellow voter registration and address confirmation card.

If you do not know your polling place, call the state elections office, your county clerk's office or the Aloha United Way's 211 information line, or go online to the polling place finder on the Office of Elections Web site at www.hawaii.gov/elections.

Absentee ballots: If you have not mailed in your absentee ballot, drop it off at the county clerk's office by the time polls close today. Ballots can also be dropped off at polling places.

Got questions? Call the state Office of Elections at 453-VOTE (8683) or 800-442-VOTE (8683); or your county clerk's office:

» Oahu: 523-4293
» Big Island: 961-8277
» Kauai: 241-6350
» Maui: 280-7749
Most analysts agree the Democrats have done little to separate themselves from the crowded field.
Although former Lt. Gov. Mazie Hirono started out with the greatest name recognition, political analysts have said state Sen. Colleen Hanabusa appears to have closed the gap, picking up several newspaper endorsements in the last two weeks. That could help Hanabusa with moderate voters, Rohter said.
"This is one of those instances, like the Board of Education, where people are going to pay a lot of reliance to the newspaper endorsements," he said.
"They won't be voting for Hirono because they've already had a choice on that, and they rejected her for Linda Lingle (in the 2002 governor's race)," he added. "Hanabusa has no particular negatives ... so, yeah, it might fall down on Hanabusa."
The other Democrats in the race are former biotech company executive Hanalei Aipoalani; Honolulu City Councilman Nestor Garcia; state Sens. Clayton Hee, Gary Hooser and Ron Menor; former state Sen. Matt Matsunaga; state Rep. Brian Schatz; and Honolulu attorney Joe Zuiker.
Although he doesn't expect a significant crossover vote, UH political scientist Neal Milner agrees that none of the Democrats would likely appeal to a moderate Republican.
"There's nobody in the Democratic primary that, on the surface, appears to be all that attractive to that hypothetical Republican crossover voter," Milner said.
Republicans have urged their electorate to stay with the GOP ballot today.
Most analysts say the GOP race in the 2nd Congressional District -- between state Sen. Bob Hogue and former House Minority Leader Quentin Kawananakoa -- is too close to call.
Conceivably, either one could benefit from a crossover by moderates, depending on which issue resonates most with the solid Republican voter, analysts said.
Both have been supportive of the Bush administration on issues such as the war in Iraq and tax cuts passed in 2001.
Rohter gives Hogue a slight edge among strongly conservative voters based on his stance for native Hawaiian sovereignty.
Hogue has said he supports federal recognition and protection of Hawaiian programs, but that he also supports some kind of statewide vote if a proposal called for any type of change in government.
Kawananakoa has criticized Hogue, saying he first backed the Akaka Bill for Hawaiian recognition and now is aligning himself with conservative groups who oppose the measure.
"Hogue's strategy is a little smarter," Rohter said. "He's clearly appearing to be less a gung-ho supporter of the Akaka Bill.
"That anti-Akaka grouping (of conservatives) ... I think that's going to be the core type that's going to stay voting in the Republican primary."