2ND CONGRESSIONAL DISTRICT
Race for Congress stays tight
2nd Congressional District predictions elude some analysts
University of Hawaii political scientist Neal Milner has studied island politics for more than three decades, but even he is not sure exactly how the Democratic or Republican primaries in the 2nd Congressional District will shake out this weekend.
"This may be one of those few elections where you simply aren't going to have any good idea at all about winner and loser until the polls start coming in," Milner said. "That may sound like a cliché, but most of the time, let's face it, we have a pretty good idea who's going to win an election. This is like a crap shoot."
But both Milner and Rick Castberg, a political scientist at the University of Hawaii at Hilo, agree that among the 10 Democrats, former Lt. Gov. Mazie Hirono appears to be the front-runner, with state Sen. Colleen Hanabusa closing the gap.
"I think (Hanabusa's) had a more dynamic campaign than Hirono," Castberg said. "It's going to be a tight one, but my feeling is at this point it's probably between Hanabusa and Hirono, and I give Hanabusa a slight edge."
The other Democrats in the race are former biotech company executive Hanalei Aipoalani; Honolulu City Councilman Nestor Garcia; state Sens. Clayton Hee, Gary Hooser and Ron Menor; former state Sen. Matt Matsunaga; state Rep. Brian Schatz; and Honolulu attorney Joe Zuiker.
DEMOCRATIC CANDIDATES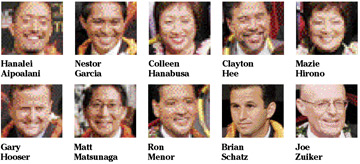 "It's Mazie trying to hang onto the lead and losing a little bit of momentum," Milner said. "I think other people like Hanabusa and Schatz have run better campaigns and have really managed to capture a little bit of the attention and the fancy of the electorate. ... I think it's getting closer."
Both say the lack of statewide polls on the race and the traditional tight-lipped nature of Hawaii voters when it comes to answering telephone surveys have made it hard to gauge voters' true feelings in the race.
Although Castberg gives the edge to Hanabusa, he notes that nothing can be discounted with so many candidates in the race.
"Matsunaga's going to get votes because of the name recognition; Clayton Hee, also because of name recognition and native Hawaiians," he said. "There are a lot of other players in there."
Hanabusa, who along with Aipoalani and Garcia attended a candidate forum yesterday at Honolulu Community College, said she is confident heading into election day.
"Strategy in the next couple of days is basically to go out to try and touch as many people as you can and hope that the message has resonated for a good percentage of the voters," she said. "Yes, I do believe we are picking up momentum, and we are very happy with the way it's going."
Hirono said she also plans to keep working and "leaving no stone unturned."
"I do have the advantage of having won statewide office, so I have grass-roots support on neighbor islands, but the others also are bound to catch up," she said. "But I'm taking nothing for granted, and I'm working hard to the very end."
While the Republican side of the primary features only two candidates -- state Sen. Bob Hogue and former House Minority Leader Quentin Kawananakoa -- the experts say that race is equally too close to call.
Both candidates have experience at the state level and a fair amount of statewide name recognition, Castberg said, noting Hogue's past experience as a sports broadcaster and Kawananakoa's ties to Hawaiian royalty.
Milner would not venture a prediction in the GOP race. "I have no idea. How's that? The trained professional has no idea," he joked.