HILIFE
The evolution of tradition
For Keali'i Reichel, maintaining the continuum of culture means honoring the old and creating anew
"This reminds me of small-kid time," Keali'i Reichel says, pointing at the worn Formica tabletop and Naugahyde upholstery as he settles into a booth at Jane's Fountain on Liliha Avenue. Unobtrusive though this small restaurant is, business was steady as Reichel talked about his upcoming concerts, the continuing evolution of hula and how he always visits Jane's when business brings him to Oahu.
'Kukahi 2006'
Keali'i Reichel with Halau Ke'alaokamaile

In concert: 7:30 p.m. Saturday and Sunday

Place: Blaisdell Concert Hall

Tickets: $28 to $68; available at Blaisdell Center box office and Ticketmaster locations

Call: 591-2211 (Blaisdell) or (877) 750-4400 (Ticketmaster) or visit www.ticketmaster.com
Several decades of helter-skelter development on Reichel's home island of Maui have eliminated almost all the old-time mom-and-pop stores and local-style eating places that he grew up with. Strip malls and fast-food chains just aren't the same as traditional neighborhood spots, Reichel says, and that why it's a "beeline to Jane's" whenever he is on Oahu.
With an album to finish and preparations for his "Kukahi 2006" concerts this weekend, Reichel has been catching up on his favorites -- Jane's hamburgers and saimin among them -- since he returned last week after a lengthy series of mainland engagements. These included a performance with Ledward Kaapana and the Halau O Kekuhi in a multimedia event at the Wolf Trap National Park for the Performing Arts in Virginia.
The album is for Christmas ("We're under major deadlines!") and "Kukahi 2006" will be his first big show here since 1999. The timing of the two projects -- on top of his standard teaching commitments -- is forcing him to commute between Oahu and Maui. Reichel says he's doing the concerts primarily for the halau.
"We don't go to competitions as much as we used to," he said. Concerts allow them not just to perform, but to go through the full process -- "to make their lei, get their costume together, get their clothes together (and) practice as a group -- it's almost the same as going to a competition except ... no more rules."
The show is also important in that the dancers are able to pass their knowledge from one generation to another.
"People forget that, yes, we do this for audiences, and we hope that people come, but we also do this for ourselves. It's part of the learning process for the dancers, for myself, for the band (and) for the production team."
Much of the show -- especially the kahiko portion -- comprises dances Reichel learned as a dancer and reflect his years of training and his foundation in the art.
"I've been creating a lot over my lifetime, and I'll be creating more stuff, but I wanted to pay homage to those teachers that I learned things from. That kind of continuum is important -- being able to take these dances and passing them on to my students (the way) I learned them, as well as teaching them stuff I've created."
Two of students are training to become kumu hula, and he's hoping they will maintain the continuum by again passing on these dances. "For me, that's really important."
Reichel adds that evolution and the continuation of the creative process are essential to hula and chant as well, and he embraces modern technology in recording music and presenting it in concert.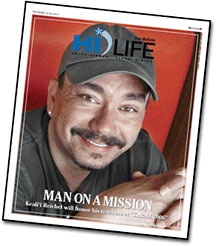 "Nowadays we have computer access and high speed, so when they finish a mix and I'm on Maui, they can MP3 it and I can listen to it and give my input -- 'Pull this back; try this' -- and then they can re-do it and send it to me almost instantaneously. It's wonderful technology."
Reichel was one of the first Hawaii artists to record and release a full-length concert video in the mid-1990s, and he's continuing that tradition by having "Kukahi 2006" filmed for an upcoming DVD.
"We really like this particular show, and we thought we'd give it a chance and bring it, and hopefully people will like it."
Reichel says accommodations are being made -- to a point -- for people who aren't fluent in Hawaiian. Here too, modern technology helps transcend the language barrier without turning the show into an ethnomusicology lecture.
"Our main concern is that people get (the meaning), and we hope that they get it when they come. Hawaiian poetry at the very basic level creates images in your mind, and it's the hula that helps to bring it out to fruition."
Video footage will help clarify points in the chants and English translations will be included in the playbill. "We don't translate it fully while they're watching because it distracts, but getting the experiential imagery is helpful."