| | |
| --- | --- |
| | Island Mele |
---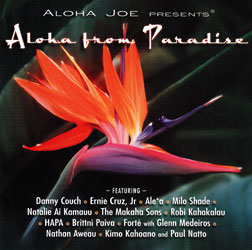 "Aloha Joe Presents
Aloha From Paradise"
Various artists
(Aloha Joe Productions AJP 002)
Aloha Joe has evolved from host of the
www.AlohaJoe.com
online Hawaiian music network to producing anthology albums, and from there to recording new material for release on his own label. This anthology includes a new recording.
Joe writes in the liner notes that the selections "were taken directly" from his request lines. Hawaii residents will find his listeners have extremely eclectic tastes. On one hand they appreciate traditionalist Hawaiian and hapa-haole music, as represented by 'Ale'a, Natalie Ai Kamauu and the Makaha Sons. "It's Aloha Friday, No Work 'Til Monday," the ever-popular Kimo Kahoano signature, is another welcome find.
The popularity of the new HAPA, and of Nathan Aweau as a solo artist, is acknowledged by the inclusion of HAPA's zesty "Haleakala," and Aweau's solo version of "Kaimana Hila." Credit the listeners as well for a disco-style original by Danny Couch, the remake of C&K's "Gotta Get Away" by Ernie Cruz Jr., and Forte's languid recycling of "Nothing's Gonna Change My Love For You," the swan song of that once-promising "girl group."
Joe shares credit with Brittni Paiva for "Dreaming of Hawaii," a newly written piece of romantic lounge music.
---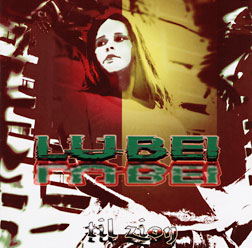 "Til Zion"
Lubei
(RSL Productions RSL 7099)
Composer/producer Rikki S. Lepule provides the material and the studio skills on this debut album by single-monickered female vocalist Lubei. Lepule provides no information about her, but the title of the final song, "Oureng (Palauan Song)," suggests that she may be Micronesian.
Wherever she's from, Lubei sings in a hard-edged sing-song style that sounds natural rather than a rasta-wannabe affectation. Lepule's arrangements aren't elaborate, but have enough rhythmic hooks to connect. A majority present Lubei as a female "ragamuffin" type always ready to "get my punch on" if a guy irks her or makes the mistake of touching her at the wrong time.
Two of these inner city bad girl numbers sound like potential local hits. On "Float Around" she denounces a shiftless man. "Real Bad Girls" is an up-tempo anthem about hitting the clubs; the strong rhythms and catchy hook override an ambiguous lyric message about exactly what type of ragamuffin girl she is.
---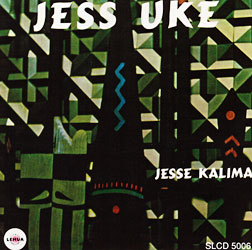 "Jess Uke"
Jesse Kalima
(Lehua SLCD 5006)
Every generation of musicians builds on the legacy of those who came before. This re-issue of ukulele virtuoso Jesse Kalima's second album for Lehua makes available the music of a master who redefined the role of the instrument more than 50 years ago. Kalima wasn't the first to play the uke as a solo instrument, but his visibility as a member of the Kalima Brothers ensured his impact as an inspiration for younger musicians from the late 1930s until his death in 1980.
Kalima's early recordings were thoroughly documented when re-issued by Mike Cord in 1996. "Jess Uke" dates from much later, and some of the history is missing. The copyright date is 1974, but it also says that the recordings were made in 1962. What's up with that? There's also no information regarding the identity of the producer or the musicians who worked with Kalima on these sections.
Latin rhythms predominate, but the bassist provides a welcome change of mood and texture by using his bow rather than his fingers on "King's Serenade (Imi Ai Ia Oue)." This re-issue should come with more information that it does for 2006, but given Kalima's significance, it is welcome nonetheless.
Lehua Records, P.O. Box 1207, Honolulu, HI 96807-1207
John Berger
, who has covered the local entertainment scene since 1972, writes reviews of recordings produced by Hawaii artists. See the Star-Bulletin's Today section on Fridays for the latest reviews. Reach John Berger at
jberger@starbulletin.com
.