| | |
| --- | --- |
| | Newswatch |
---
Feedback on aging sought
Seniors and family caregivers are asked to share comments about growing older in Hawaii with the state Department of Health at a community forum.
The issues raised will help the Policy Advisory Board for Elder Affairs define statewide and community-specific themes based on elderly issues, such as assisted transportation, senior housing, affordable prescription drugs and preventing financial abuse.
The meeting is scheduled from 9 to 11 a.m. tomorrow at the Windward Health Center, 45-691 Keaahala Road in Kaneohe. For more information, call Bruce McCullough at 239-5258.
Help support annual PetWalk
Donations to support the annual Hawaiian Humane Society's PetWalk on Oct. 8 at Magic Island are now being accepted.
Hawaiian Telecom and Central Pacific Bank are sponsoring the event and supporting their employees' pledge-raising efforts with a $5,000 donation. Media sponsors include KSSK and KITV.
For more information, call 946-2187, ext. 225.
Man pleads guilty to federal drug charges
A 31-year-old Honolulu man who had $57,386 stashed in his bedroom along with 14 pounds of drugs pleaded guilty in federal court Monday to charges of drug trafficking.
Greg Yoshihara Takahashi pleaded guilty to two counts of methamphetamine and cocaine trafficking and to one count of forfeiture, in which he admitted that the cash recovered from his apartment were proceeds from narcotics trafficking, the U.S. Attorney's Office said in a news release.
Takahashi is scheduled to be sentenced Jan. 4 before Chief U.S. District Judge Helen Gillmor.
On Dec. 21, 2004, FBI agents searched Takahashi's home at 1088 Bishop St. They found four pounds of crystal methamphetamine, eight pounds of cocaine, two pounds of marijuana and the $57,386 in two locked safes.
Navy defuses bomb found off Kauai shore
Polihale State Park on Kauai was reopened yesterday after Navy ordnance workers dismantled a bomb 800 yards offshore.
Navy divers used a device, known by the trade name "Vulcan," to determine that the bomb was inert.
The device was disposed of in deeper waters.
The Navy worked with the National Marine Fisheries Service and the state Department of Land and Natural Resources.
---
SHINING STARS
---
HONORS
Queen's selects 6 to receive Nursing Excellence Awards
The Queen's Medical Center has named six winners of its 2006 Nursing Excellence Awards:
Andrea Stamp, Clinical Practice Award; Gayle Arakaki, Leadership; Kevin Matsumoto, Education; Mandi Benton, Performance Improvement; Gail Smith, Research & Evidence Based Practice; and Katherine Johnson, Queen Emma Nursing Leadership.
GRANTS
Ho'ala School
in Wahiawa has received the following grants: $60,000 from the
Hau'oli Mau Loa Foundation
for financial aid for students over four years; $15,000 from the
Samuel N. and Mary Castle Foundation
for establishing a pre-K program; $18,000 from the
McInerny Foundation
for financial aid for students; $10,000 from the
Frear Eleemosynary Trust
for financial aid for students; $4,000 from the
G.N. Wilcox Trust
for financial aid for students; $2,000 from the
Alexander & Baldwin Foundation
for operating support; and $1,500 from
Hui O Wahine
.
Goodwill Industries of Hawaii has been awarded $10,000 from the Jessie Ann Chalmers Charitable Trust to retrofit and install energy efficient lighting equipment.
---
"Shining Stars" runs Monday through Thursday.
| | |
| --- | --- |
| | Police, Fire, Courts |
---
HOME THE HARD WAY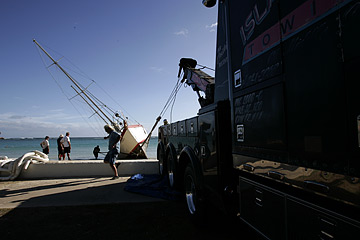 NEIGHBOR ISLANDS
Hit-and-run victim ID'd as Kula man
WAILUKU » A Maui man who was killed by a hit-and-run driver as he sat in the middle of the road last week has been identified as Tony Ray Dickens of Kula.
Police said the 46-year-old Dickens was sitting in the southbound lane of Kula Highway near Cross Road when he was hit by a car about 8 p.m. Thursday.
Police traffic investigator Ericlee Correa said Monday that police suspect Dickens was drunk at the time he was struck by the car.
Police later found the car they believe was involved. There have been no arrests.
Help sought in finding video store robbers
Big Island police are asking the public's help in identifying two men who robbed a video rental store in Hilo on Monday.
Police said two men, wearing hooded jackets and cloths covering their faces, entered the Kukila Street store about 10:05 p.m.
Police said one of the men said he was armed with a gun and allegedly asked the clerk for cash and adult DVDs. The clerk turned over an undisclosed amount of cash and about 200 DVDs worth an estimated $10,000. The man asked the clerk for the location of the safe, to which the clerk replied there was none. The men then fled on foot and no weapon was seen, police said.
Anyone with information concerning the case is asked to call officer Cory Hasegawa of South Hilo Patrol at 961-2213 or the police nonemergency number at 935-3311. Anonymous calls may be made to CrimeStoppers at 961-8300 (Hilo) or 329-8181 (Kona).
Warehouse fire does $65,000 in damage
Fire heavily damaged a warehouse in the Hawaiian Paradise Park subdivision in Puna on the Big Island on Monday.
Big Island firefighters responded to the alarm at 15-1702 13th Ave. at 5:29 p.m. They found a one-story woodworking warehouse fully engulfed in flames.
The fire was out by 8 p.m. Fire officials said the fire caused $65,000 in damage. No one was there when the fire started.
The cause of the fire is under investigation.
HONOLULU
Big Isle police help catch theft suspect
Several Big Island police officers happened to be on the right place at the right time to catch a theft suspect in Honolulu on Monday night.
Police said a 17-year-old boy snatched a fanny pack belonging to a 54-year-old man about 7:55 p.m. near Ala Moana.
The boy fled on foot, but was stopped by several Hawaii County police officers who happened to be in the area. Honolulu police arrested the boy on suspicion of second-degree theft, then released him pending investigation.
WEST OAHU
Man arrested in women's kidnapping
Police arrested a 40-year-old man who allegedly robbed and kidnapped two women at gunpoint Sunday night.
Police said the man drove to a used-parts business along the bicycle path near Lehua Avenue in Pearl City about 5:30 p.m. and asked the women for license plates and registration for his vehicle.
The women, ages 45 and 51, refused, and the man pulled out a handgun, police said.
The man then told the women not to leave and held them there until about 12:05 a.m. Monday, when they managed to slip away and call police.
Police arrested the man for investigation of first-degree robbery, kidnapping and auto theft, after officers determined that the car he had been driving was reported stolen.