U.S. SEN. DAN AKAKA
Lawmaker courts supporters with a gentle, personal touch
Dan Akaka is as comfortable golfing with the president as he is chatting with local restaurateurs -- as comfortable dining at a black-tie affair as he is eating mackerel and two scoops rice at a local restaurant.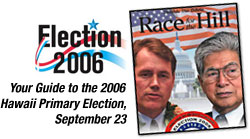 He was born Daniel Kahikina Akaka, but he is known to many as Danny.
"I think Akaka is the epitome of the aloha spirit," said Gary Mijo, owner of Asahi Grill, where Akaka and two staffers stopped off for lunch last week during a break from campaigning.
Eldon Lee, Asahi's manager, said Akaka is always gracious. Unlike some lawmakers, Akaka always makes time to talk to everybody, Lee said.
With his campaign schedule packed with rallies and community visits leading up to Saturday's primary election, Akaka's inner drive to serve the people of Hawaii for another six-year term in the U.S. Senate continues to be in full force.
"I love our people," said Akaka. "I'm doing the best I can do to improve quality of life, and that is a big thing."
Political views on Akaka are mixed, according to Larry Sabato, a professor and director for the Center for Politics at the University of Virginia.
While he is well liked by his colleagues based on his genuine and warm personality, he is not perceived to be a leader in the Senate or an energetic and especially active senator, Sabato said in a telephone interview.
"You don't see him introducing legislation or much important legislation. He rarely speaks on the floor. He might be effectively talking one on one with other senators, but no one would see that," he added.
While Akaka would be the favorite to win, "you can't rule out an upset," Sabato said.
At Asahi Grill, waitress Aina Nicolas, 47, took away the dishes as Akaka said, "Eh ... good," referring to the mackerel dish. Nicolas said her grandmother used to pray with Akaka.
Mijo chatted with Akaka, who told a story of how he used to play golf with former President Bill Clinton. "Playing with him is slow," Akaka told Mijo in his gentle voice, noting that Clinton would always take the time to stop and talk to people.
He recalled a game he played with the former president at the Ko Olina Resort. By the 15th hole, "it was dark," Akaka said gesturing with his hands on how they used flashlights to look for their golf balls.
He's like you, likable, Mijo said.
As Akaka prepared to leave, Mijo told him, "This makes my day. How long I nevah see you."
Others approached Akaka to greet him. Waitress Alicia Pada, 20, stood with Akaka as the restaurant manager took a photo of them together with a cellular phone camera.
Hours later, after 5 p.m., Akaka, dressed in a casual salmon-colored aloha shirt with black slacks, walked into a ballroom at the Honolulu Country Club as people clapped to welcome him to his 82nd-birthday celebration fundraiser.
Near the ballroom entrance, many surrounded him, enthusiastically greeting him with leis and hugs.
Akaka, who turned 82 last Monday, is the youngest of eight children and grew up in a taro patch community of Pauoa Valley.
His father, Kahikina Akaka, of Chinese- Hawaiian descent, was a molder for Honolulu Iron Works. His mother, Annie Kaleianuenue, was of pure Hawaiian descent. Akaka's parents raised their children in a two-bedroom home. He recalled how their kitchen was located outside of their house where they cooked on a wooden stove.
Akaka's constant goal to serve the people derived from his father, who was service-minded, said Millannie Akaka-Mattson, Akaka's only daughter, who attended the fundraising event.
Millie Akaka, his wife of 58 years, recalled how she and her husband discussed what he should study at the University of Hawaii after he served two years in the Army. He thought of becoming a minister as did his older brother. The Rev. Abraham Akaka was a well-known kahu of Kawaiaha'o Church. He died in 1997.
"He was always following in his brother's footsteps," said Akaka's wife. "He always wanted to be in a position to help people," she said, noting that her husband made the decision to pursue education.
He is a perpetual teacher, Akaka-Mattson said.
Akaka obtained a master's degree in education and served as a teacher, vice principal and principal before he began his political career at the urging of the late Gov. John Burns.
Akaka has spent 30 years in Congress -- 14 years in the House and 16 years in the Senate. He is also the first person of Hawaiian descent to serve in the Senate.
While age has been one of the primary issues in the Senate race against U.S. Rep. Ed Case, 53, Akaka remains undeterred, saying he still has much to do.
The late Sen. Strom Thurmond served until he was 100, and Sen. Robert Byrd continues to serve at 88, the oldest member in Congress, Akaka said.
"Seniority makes a difference for the state," he said.
Retirement was never a consideration, according to his friends and family members.
"Sometimes I think he has more energy than I do," said Nicholas Akaka, 45, his youngest son.
At 80, former Gov. George Ariyoshi, who spoke at the fundraiser, said the age issue is ridiculous. "It's what the person can do is important," Ariyoshi said.
He shared with attendees how the H-3 freeway would not exist if it were not for Akaka's support. Faced with the possibility of abandoning the project due to insufficient funding, the former governor recalled how he contacted Akaka in Tokyo at 2 a.m. to ask if he could get enough votes to support the freeway. "He said, 'Governor, I'll get you votes,'" Ariyoshi said, adding that an overwhelming majority of Congress supported the project.
"When he makes a commitment, they know he's good for his word," said Joan Ohashi Akai, Akaka's longtime chief of staff.
He treats staff members like ohana, Akai said. "It's always been about the people first," she added. "He's warm. ... He's one of those bosses that you feel happy working for."
In the middle of the fundraising event, Akaka sat next to his daughter and son, Nicholas, who pushed a plate of roast duck with buns along with ahi poke toward his father.
With five children, 14 grandchildren and six great-grandchildren, Akaka said there are 15 bloodlines in his large, close-knit family. "Millie says we can't talk stink about anybody," joked Akaka with attendees.
As the celebration came to an end, Akaka stood onstage to thank everyone. "I feel humbled and I feel great," he said. "I feel it a privilege to serve the people of Hawaii. I made it a point to reflect the people of Hawaii."
At about 8:15 p.m., more than an hour after the fundraiser formally ended, many stuck around to talk one on one with the personable senator, who gave each his undivided attention.
He's just really warm and genuine, Josh Frost, 28, of Palolo Valley said as he stood behind a line of several people waiting to have a chance to talk with Akaka. "For me, character is a big deal."