ELECTION 2006
Allegations of theft, sex abuse swirl around BOE candidate
A former employer of Board of Education candidate Kris DeRego alleges that DeRego stole thousands of dollars of liquor and cash from his workplace during several months last year, accusations supported by DeRego's own letters and e-mails.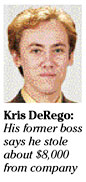 "He was ripping us off left and right," said George O'Hanlon, general manager of the Liquor Collection, a liquor store in Ward Warehouse. O'Hanlon said about $8,000 was taken, mostly in liquor.
While not directly refuting those charges, DeRego, who also had a temporary restraining order granted against him in June for alleged harassment of a former female friend, said yesterday that neither incident should derail his candidacy.
He also said he is considering a lawsuit against whoever is behind e-mails sent to news media this week containing allegations of sexual abuse by DeRego and purported photos of DeRego in seminude poses.
DeRego said the photos were fakes and the sexual allegations false. He said they were an effort to defame him.
DeRego, 24, seeks a Windward Oahu seat on the board, which sets policy for Hawaii public schools.
He is touting his youthful perspective as an asset, a strategy that won him the endorsement of the Honolulu Advertiser this week.
The Honolulu Weekly endorsed him earlier this month but retracted that in its latest issue, without explanation. The Star-Bulletin does not endorse board candidates until after primary elections, set for Sept. 23 this year.
The Liquor Collection's owner, Ming Koshi, said she agreed not to press charges against DeRego, who worked at the store from June to November last year, if he paid restitution and never came near the store again. The store was repaid.
"We didn't want to make any trouble over this, but when we saw that he was running for office, we couldn't just let it go," O'Hanlon said. "We couldn't stand by and let him do to Hawaii what he did to our store."
DeRego initially denied the theft accusations to a Star-Bulletin reporter, then later said that since he paid the store back, it cannot be considered stealing.
He said the episode occurred during a "difficult period" of his life caused by unrelated disputes with friends that led to the restraining order against him.
"Everyone goes through periods where they make mistakes, but I hope I can be judged on merit and where I stand on the issues," he said.
O'Hanlon produced letters and e-mails from DeRego in which he admits to, and apologizes for, the thefts.
His mother, Beatrice DeRego-Coffield, said he received therapy after leaving the liquor store and that running for the BOE was part of an effort to make a positive "fresh start" in life. She still supports his BOE run.
"You can probably dig up dirt on anyone if you look hard enough. The problem for him is that he's young, so his errors are still fresh," said DeRego-Coffield, a teacher at Kahuku High School.
In June, DeRego was served with a three-year restraining order sought by former friend Sibyl Wong after the two had a falling out. Efforts to contact Wong were unsuccessful.
The order, which DeRego did not fight, was dissolved shortly after it was issued.
DeRego claims in campaign materials to be a student at the University of Hawaii. However, he is not currently attending school.