KENYA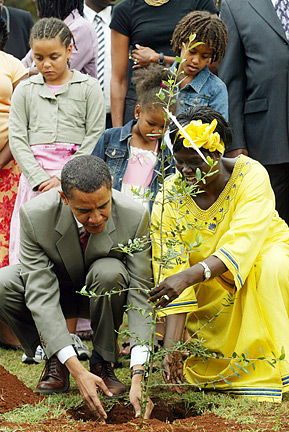 Obama goes international with Africa trip
ANALYSIS
N'DJAMENA, Chad » From the day he won a U.S. Senate seat, Barack Obama captured national attention with his charisma and unique personal story. The question was what he would do with them.
His two-week tour of Africa has helped suggest an answer.
Obama, known on the political stage mostly as an eloquent speaker and popular Democratic fundraiser, can point to the trip to show there is gravitas behind the glitz. He can try to position himself as a thinker on international affairs, from trade to terrorism.
It is a role that builds smoothly on his biography -- son of an African father and Kansas mother, raised in Hawaii and Indonesia -- to give Obama a meatier role than simply junior senator from Illinois.
ETHIOPIA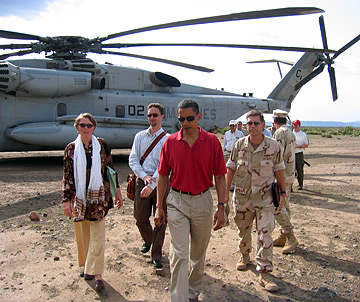 Obama says the Africa trip, which ended over the weekend, was all about learning to be a better senator. But staking out some territory for himself, especially on international issues, cannot hurt as political insiders talk about a possible presidential or vice presidential run in 2008 -- even though he has said he is not interested.
Obama maintains he has not thought about the political impact of his trip and the stories and pictures it generated: Obama visiting Nelson Mandela's former prison cell. Obama reuniting with his Kenyan grandmother. Obama surrounded by throngs of fans.
When pressed, he says some Illinoisans will like having a senator engaged in foreign affairs, and others will object to anything that takes his attention away from the state.
"Politically, it ends up being a wash," he said.
Still, he is quick to point out that he is not forgetting about folks in Illinois as he travels the world.
CHAD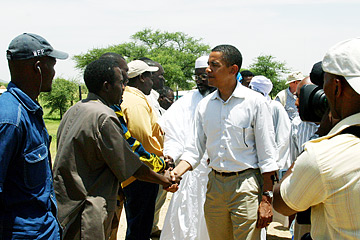 He pointed out that his trip to South Africa included a meeting with the head of a company looking to open a multibillion-dollar coal liquefaction plant in the United States -- perhaps in Illinois. He noted that cell phone service in remote parts of Africa is far better than in sections of southern Illinois and said that should be fixed somehow.
The trip had its rocky moments.
Obama took a cautious approach when local reporters in Chad, a dictatorship, asked him about human rights, saying he did not know enough about the country to comment. He pleaded ignorance in Kenya when asked whether the government was doing enough to fight poverty.
DJIBOUTI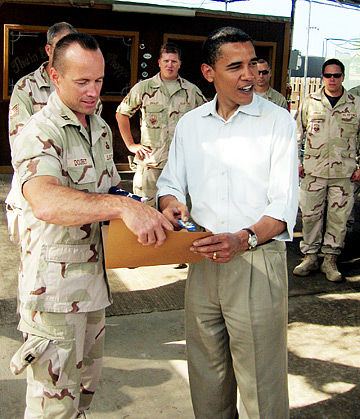 In the end, however, Obama did not make any embarrassing mistakes, got lots of coverage back home and staked his claim to "an area where my voice will have an impact."
"It was," Obama said, "a good growth experience for me."
---
Christopher Wills, the AP's Illinois statehouse correspondent, covered Obama for seven years in the state Senate and traveled with him on his trip to Africa.