| | |
| --- | --- |
| | Island Mele |
---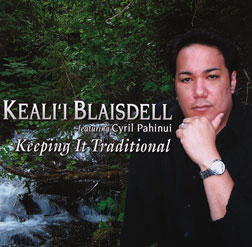 Keeping It Traditional
Keali'i Blaisdell
(Pacific Hawaiian Entertainment PHE-7103)
Singer/musician Keali'i Blaisdell returns to the Hawaii music scene with an album that honors tradition and poses a challenge to other musicians of his generation. Several songs set the lyrics of long-forgotten Hawaiian poets to newly written neo-traditionalist melodies. Others are entirely his own, and display his talent as a Hawaiian lyricist, as well. All are presented with clean synthesizer-free arrangements.
There are also three noteworthy hapa-haole originals. Blaisdell shares his fond memories of Oahu's Leeward coast with "Waianae," an image-booster for a district that needs positive publicity these days. "Hawaii We Will Return" decries in poignant style changes that have occurred since the overthrow of the Hawaiian government in 1893.
Blaisdell uses his falsetto on "A Son's Plea," a tear-jerker about an abused child. It is the type of song that usually comes across as an exercise in mawkish melancholy, but the liner notes reveal that Blaisdell is writing about his childhood. That information changes everything. The kaona (hidden meanings) elsewhere aren't revealed, but English translations make guesses possible. Count this album a welcome addition to the small number of new traditional Hawaiian albums.
---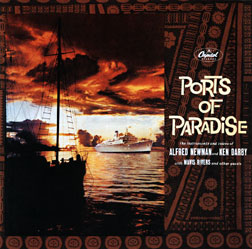 Ports of Paradise
Ken Darby and Alfred Newman
(EMI Music Special Markets - No serial)
The 1950s saw a revival of interest in the "South Seas" as a romantic "paradise" inhabited by handsome "native" men and playful, compliant "maidens." Interest in Hawaii in particular was stoked by the hit movies filmed here, the relentless campaign for statehood, the success of Martin Denny's "Exotica" recordings and James Michener's blockbuster novel. This album, created and produced by two Hollywood film-industry giants and originally released in 1960, is a product of that era and a welcome reissue.
The selections represent a voyage on a Matson liner, with stops in Tahiti, New Zealand, Fiji and Samoa before disembarking for a longer stay in Hawaii. Newman and Darby's film credits as of 1960 included "South Pacific" and "The King and I," and the expansive orchestral sound of those award-winning soundtracks is replicated here. The duo's reworking of "My Little Grass Shack" is especially interesting, although far removed from the original.
It is no surprise, then, that this reissue is the work of Jon de Mello, whose father, Jack, created and produced several similar projects here in the '60s. Here, perhaps, is the prototype.
---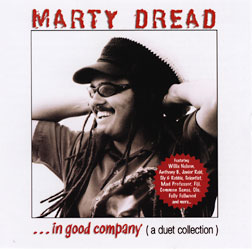 ...In Good Company
Marty Dread
(Five Corners Music FCR0900
Reggae purist Marty Dread strikes another musical blow against the local "ice" epidemic with the lead song of this excellent 18-song collection of duets. "No Ice in Paradise," recorded with Jamaican dub master Mad Professor, says it all about the scourge of the destructive drug. Lt. Gov. Duke Aiona should jump on it as the theme of a new anti-ice campaign.
"Can't Leave It Alone" repeats the message for anyone who doesn't get it the first time. Dub fans get a reprise of the "No Ice in Paradise" message in that form, as well.
Willie Nelson joins Dread on two other socio-political songs, "Laws of Nature" and "Take No Part." The latter warns against trusting the media, the system or political leaders. Is "taking no part" the solution? Not according to Fiji, who guests as co-writer and vocalist on "Rise & Stand," a catchy call for action on native Hawaiian issues.
Almost every song is the work of a different producer or production team, but the creative patchwork of styles and textures fits perfectly.
John Berger
, who has covered the local entertainment scene since 1972, writes reviews of recordings produced by Hawaii artists. See the Star-Bulletin's Today section on Fridays for the latest reviews. Reach John Berger at
jberger@starbulletin.com
.