---
CELEBRATION FOR PELE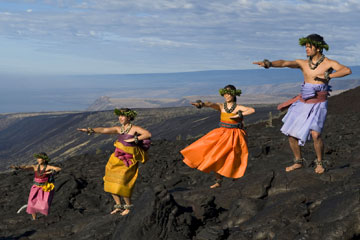 'Pearls for the Cure'
The Black Pearl Gallery in Ward Centre hosts "Pearls for the Cure," a fundraiser tomorrow for Breast Cancer Awareness Month.
The noon-to-4 p.m. event will include a book signing by Mary Olsen Kelly, co-owner of the gallery and a breast cancer survivor, who wrote "No. 1 Best Tools and Tips from the Trenches of Breast Cancer" and co-wrote "Chicken Soup for the Breast Cancer Survivor's Soul."
A drawing will be held for a $750 "Survive & Thrive" black pearl and pink sapphire pendant, and refreshments with a pink theme will be served. Ten percent of book and jewelry sales during the event will be donated to the local Susan G. Komen Foundation chapter.
Call 597-1477.
Cook-off canceled
The Paniolo Beef Stew Cook-Off planned for Sunday at Bishop Museum has been canceled.
The event was meant to mark the Aloha Festivals theme, "Na Paniolo Nui O Hawai'i -- The Great Cowboys of Hawaii."
The museum's "Paniolo Sunday" festivities will go on as scheduled, from 11 a.m. to 4 p.m. Activities will include a hula show, country-western dancing, Hawaiian games, crafts and an exhibit on the life of a paniolo.
Wear an Aloha Festivals Ribbon and receive $2 off museum admission. Call 589-1771.
A musical meeting
The Hawaii Music Teachers Association's annual dinner meeting at 5 p.m. Sunday will include entertainment by Thomas Rosenkranz, national winner of the American Fellows Award for piano performance, and Andrew Ramos, the Music Teachers National Association's third-place winner in piano.
The free event is open to anyone interested in learning more about the association. It will be held at the Makakilo home of Kioni and Doris Dudley. Call 672-8888.
BOOK SIGNING
Maui sleuth heads for Florida
John Spyer is a Maui sleuth who takes his detection skills to Florida -- thanks to Sara Williams, who spent 10 years in Hawaii before taking her writing skills to Florida's gulf coast.
Williams will sign copies of her novel, "The Serenoa Scandal" (ArcheBooks, 2004, $28.99) at 2 p.m. tomorrow at Barnes & Noble Booksellers, Ala Moana Center.
"Serenoa" begins with Spyer in Lahaina, but the "sophisticated hapa-haole" quickly takes off across country to solve a mystery in Florida's Okeechobee ranch country.
Williams will also sign her other novel, "The Don Juan Con."
Sample chapters of both novels are available at the Web site, www.ArcheBooks.com.
HOME & GARDEN
Foster gardens tour has history lesson
Stroll through Foster Botanical Gardens tomorrow as tour guide Liesel Vander Leeden provides its history with emphasis on founder Dr. William Hillebrand.
The tour runs from 1 to 2:30 p.m. at 180 N. Vineyard Blvd.
Admission, $5, $3 for residents with identification. Insect repellent suggested.
Call 522-7064.
Bonsai exhibit set for Gallery 'Iolani
Gallery 'Iolani at Windward Community College presents "Bonsai and Beyond," an exhibit with emphasis on plants and art.
The exhibit features the art of bonsai master Walter Liew with pieces from his Dragon Garden -- Hawaii Bonsai Cultural Center -- and includes traditional and abstract Zen paintings by Andy Kay and native Hawaiian wildlife paintings by Michael Furuya.
Artist reception is 4 to 7 p.m. Sept. 15 at Gallery 'Iolani. The exhibit runs Sept. 15 through Oct. 16, with a special event 10 a.m. to 5 p.m. during Windward Ho'olaule'a, with plants and art for sale.
The gallery is located in the Grand Main Lobby adjacent to Paliku Theatre.
Call 236-9155 or visit www.gallery.wcc.hawaii.edu.
Birthday festival honors Mary Foster
Celebrate the life of Mary Foster and Foster Botanical Gardens at the Mary Foster Birthday Festival, 9 a.m. to 4 p.m. Sept. 24.
The event begins with taiko drumming, and the fun lasts all day with entertainment by the Royal Hawaiian Band and Nalani Olds, hula dancers, tours of the garden, a plant sale and sale of garden items, plus ceramics from Hawaii Potters Guild and demonstrations by Hawaiian craftsmen.
Of course, there's birthday cake and an ice cream social featuring Dave's Ice Cream.
Sunday brunch and afternoon box lunch are available with tickets purchased in advance, or bring a picnic lunch.
Call 537-1708.