---
FAST FACTS HAWAII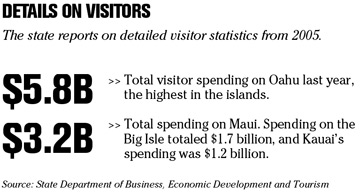 ---
HAWAII
American Air closing reservations office
American Airlines
said last night it is shutting down its Honolulu reservations office at the end of the year and offering all 44 employees jobs at its other domestic reservations offices.
The Fort Worth, Texas-based carrier said about 1 percent of its calls are handled at the Honolulu office.
"This volume can be effectively managed at American's other U.S.-based reservations offices," American said in a statement. "American Airlines greatly values the contributions of its people and is pleased that it can offer all of its Honolulu reservation employees a job at its other domestic reservation facilities."
The airline said will offer employees assistance with moving to any of the company's other five domestic reservation offices.
[HAWAII INC.]
NEW JOBS
»
Central Pacific Bank
has announced the following new hires and promotions:
Karen K. Street
has been hired as senior vice president and director of human resources. She previously served as vice president, organizational development for
First Insurance Company of Hawaii
.
Terilyn K. Takahashi
has been hired as vice president and director of financial reporting. She previously served as director of corporate reporting for
Hawaiian Airlines
.
Layne F. Yoshida
has been hired as vice president and director of accounting. He previously served as financial reporting senior manager at
Coherent Inc. Dinah M. Hayashi
has been promoted from assistant manager in the bank's customer service center to assistant vice president and assistant manager.
Jane L. Ratcliffe
has been promoted to assistant vice president and project administrator for the bank's credit risk management department, overseeing the bank's risk management projects. She previously served as vice president and quality assurance officer/documentation manager at
Bank of Hawaii
.
PROMOTIONS
»
Alexander & Baldwin Inc.
has announced promotions and additions in its Tax Department.
John Reilly
has been appointed to senior manager, tax compliance, research and planning. He was previously manager, state and local taxes for the company's Matson subsidiary.
Jian "Jen" Zheng
has been promoted to manager, tax provisions in Hawaii. She previously held the position of supervisor, tax compliance, research and planning.
Avery Chin
has been hired as manager, tax provisions in Oakland, Calif. Chin previously worked as a tax consultant for
Jefferson Wells
.
» Stryker Weiner & Yokota Public Relations has announced the following promotions: Candice Kraughto has been promoted from senior account executive to account supervisor. She now supervises the agency's travel accounts. Krislyn Hashimoto has been promoted from assistant account executive to account executive. She now oversees public relations initiatives for Sheraton Hotels & Resorts in Waikiki.
» Kona Brewing Co. has given its president, Mattson Davis, the additional title of chief executive officer. Davis has led Kona Brewing for the past nine years and has been the company's president since 2004.
» Alexander & Baldwin Inc. has promoted Denise Ishizu Torres from senior accountant to assistant controller. She will be responsible for financial consolidations and reporting. Shimizu previously served as controller for Guamcell Communications.
ON THE BOARD
»
Robert Cundiff
has joined the board of directors of the Board of Water Supply. Cundiff, who was appointed by Mayor Mufi Hannemann and confirmed by the City Council, is general manager of
Weyerhaeuser Honolulu
.
NATION / WORLD
Agency alleges sex harassment
LAS VEGAS » Federal authorities have sued a company that operates Club Tahiti and 11 other resorts in Las Vegas and Hawaii after a female employee complained she was forced to perform oral sex to keep her job.
In a lawsuit filed yesterday in U.S. District Court in Nevada, the U.S. Equal Employment Opportunity Commission alleged that Las Vegas-based Consolidated Resorts Inc.'s supervisors and general manager subjected the unidentified woman to "degrading acts" and "unwanted touching of her breasts and private area" from June to September 2004.
The agency, which seeks back pay, compensation and punitive damages, called the acts too numerous to list.
18M users affected by spyware
WASHINGTON » Federal regulators said yesterday that 18 million computer users worldwide -- half of them in the United States -- were affected by malicious spyware allegedly distributed by parties that agreed Wednesday to a $2 million settlement. Analysts and government officials said huge hurdles remain in containing the problem.
The Federal Trade Commission's settlement against two California companies and three individuals was the second-biggest ever made by the agency, bringing the running total to about $8 million in settlements with more than a dozen companies over the past two years.
"In terms of breadth and perniciousness ... this was probably the most widespread infection we've dealt with," said Mona Spivack, lead attorney on the case.
The FTC's settlement involved Enternet Media Inc., Conspy & Co. Inc., Lida Rohbani, Nima Hakimi and Baback Hakimi.
Lee Enterprises to sell papers
Lee Enterprises Inc.
, owner of the St. Louis Post-Dispatch, agreed to sell its stand-alone publishing and commercial printing units in the Pacific Northwest for about $51 million to concentrate on its daily newspapers.
Lee also sold a twice-weekly newspaper in Oregon. The asset sales involve three buyers and should be completed by early October, Davenport, Iowa-based Lee said yesterday. The company owns 52 other daily newspapers.
An affiliate of Victoria, British Columbia-based Black Press Ltd. will buy the Little Nickel and Nickel Ads Classifieds in Seattle and Portland, Oregon, Lee said. Target Media Partners of Los Angeles purchased Lee's 19 eastern Washington publications and commercial printing unit.
Lay's estate agrees to pay $12M
The estate of Kenneth Lay, who died after being convicted of heading a fraud that destroyed Enron Corp., agreed to pay $12 million to settle claims on behalf of participants in company pension plans, the Labor Department said.
The proposed agreement must go to a Houston court for approval. The recovery will depend on the assets available for distribution from Lay's estate, the government said yesterday.
More than 5,000 jobs and $1 billion in employee pensions were eliminated when Enron sought protection from its creditors in 2001, the second-largest bankruptcy filing in U.S. history. Lay, Enron's founder and chairman, was convicted of orchestrating a fraud that led to the company's collapse.
---
BUSINESS PULSE