Maui fire evacuates homes, strands visitors
The blaze north of Maalaea closes the highway to West Maui
A raging brush fire on the Valley Isle led to the evacuation of homes and closed the main highway to West Maui yesterday, stranding commuters and tourists.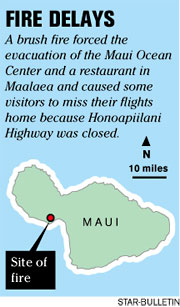 As of 8 p.m. yesterday the fire had burned about 2,000 acres and was still out of control, county officials reported, but Honoapiilani Highway was reopened by contra-flowing traffic in one lane.
County spokeswoman Ellen Pelissero said firefighters were able to put out the blaze near the pali tunnel last night so they could reopen Honoapiilani Highway.
Pelissero said relief shelters were set up at War Memorial Gym in Wailuku and the Lahaina Civic Center in West Maui in case people remained stranded overnight.
"It kind of sucks but it happens," said Caryl Rose, a Sacramento, Calif., visitor who checked in at the War Memorial shelter.
Rose, interviewed at about 8:30 last night, said she and her boyfriend, Brett Havener, arrived at about 12:30 p.m. yesterday and had planned to go to a condominium in West Maui.
The fire caused the evacuation of hundreds of people from Buzz's Wharf Restaurant and the Maui Ocean Center in Maalaea.
Authorities also advised a number of residents living north of Buzz's Wharf to evacuate their homes, Pelissero said. They were allowing people from West Maui to drive on the back road through Kahakuloa to Central Maui.
The blaze, reported to police at 12:30 a.m. yesterday, started north of Maalaea near Honoapiilani Highway and McGregor Point and spread mauka to more than 2,000 feet above sea level, threatening a newly built wind farm.
A second flank of the fire was heading toward Olowalu, and the second front was moving toward Waikapu.
State and county firefighters along with Air National Guard helicopters were fighting the blaze on various fronts.
Mick Smith, resident manager of the Maalaea Yacht Marina, said the blaze appeared to be partially contained in Maalaea after workers cut a fire break along the mauka side of Honoapiilani Highway near the Maui Ocean Center.
Closure of the highway caused some people to miss their flights on the busy Labor Day weekend.
"It's a crying shame," said Roger Sullivan, a Dallas resident who missed his flight on American Airlines by five minutes.
"They have to do something about the traffic."
Sullivan said he and his wife, Carol, finally learned of a back road to get to the airport while listening to the radio, but heard it too late to catch their flight.
Gina Crouch, who was traveling with her family, said she left Kaanapali at 10 a.m. and still was unable to make her flight at 1:30 p.m.
Crouch said she heard conflicting stories about whether roads to the airport were closed, and after waiting at the hotel, her family finally drove two hours on the back road to get to the airport.
Ohio resident Linda Hardwick said the drive on the back route was "scary" because some vehicles, including trucks, were driving in the opposite direction and speeding.
Jeff Tarpey, general manager of United Airlines on Maui, said some 40 people missed their flights.
"We were able to help most of them rebook," Tarpey said.
Visitors said it took about an hour and a half to get to Kahului Airport via the back road.
"They should have a bypass road. They have been talking about it for more than 20 years," said a female visitor who declined to give her name.