---
FAST FACTS HAWAII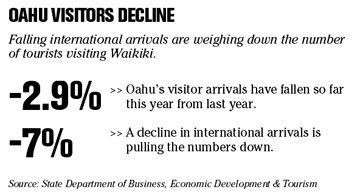 ---
HAWAII
Nuuanu retirement community planned
The Arcadia Foundation and an arm of the United Church of Christ are planning a new senior living community in Nuuanu, offering 170 units on 1.5 acres.
Called 15 Craigside, the moderate-income senior community will offer lifetime residency with a range of care that begins with independent living, and if needed, assisted living, skilled long-term care and special care for those who develop Alzheimer's disease and dementia.
The Hawaii Conference Foundation of the United Church of Christ and the Arcadia Foundation, which operates the Arcadia Retirement Residence on Punahou Street, entered an agreement in May to develop and operate the project.
The site, mauka of the Craigside Condominium complex, was used as the Hawaii Conference Foundation headquarters until early this year.
Completion of 15 Craigside is slated for late 2009.
NATION
Silicon Valley last among tech hubs
SAN FRANCISCO » Silicon Valley ranks last in an annual ranking of 12 U.S. technology hubs because of the region's notoriously high housing costs, traffic congestion, unemployment rate and other quality-of-life problems.
According to a survey by the Silicon Valley Leadership Group, the nation's top-ranked tech hub is North Carolina's Raleigh-Durham area, which enjoys relatively affordable housing and a thriving job market. The region also wins points for local kids' performance on eighth-grade math tests, as well as comparatively low sales taxes and affordable utility bills.
The No. 2 city is Seattle, home to thousands of well-paid technology professionals who work at Microsoft Corp., in suburban Redmond, Wash.
San Jose-based SVLG ranked its home region last for the second straight year -- a dubious distinction considering that last year's list didn't include expensive cities such as New York or those with struggling urban cores such as Philadelphia and Chicago, all of which finished higher than Silicon Valley this year.
MySpace to allow sale of music
LOS ANGELES » MySpace.com will soon enable members of the popular online social networking hub to sell downloads of their original music directly through MySpace Web pages, company executives said yesterday.
The initiative, which is still in a test phase, has the potential to turn millions of computer users, many of them independent or aspiring artists already using the site to build a fan following, into online music retailers.
Los Angeles-based MySpace was expected to formally announce the venture and its partnership with San Francisco-based Snocap Inc., which developed the technology, on Tuesday.
WORLD
U.S. prices got nothing on London
LONDON » As the average Briton struggles to get on the London property ladder, an influx of foreign buyers is fueling the top-end of the capital's overheated property market.
Buyers from Asia, Eastern Europe and the Middle East have helped push London past New York as the most expensive luxury home market in the world.
"In terms of time zones and location, London is the most attractive place to be," said Liam Bailey, head of residential research at the Knight Frank real estate agency.
Prime residential property in London now costs around $2,300 per square foot, compared with $1,900 in New York, according to research by CB Richard Ellis Hamptons International.
In Britain, where interest rates were held steady for a year until a surprise hike last month, prices for central London homes worth more than $2.9 million climbed 21 percent for the year ending Aug. 31, according to Knight Frank.
---
BUSINESS PULSE