TO OUR READERS
Fold-'n'-go guide, inside HILife
Today we introduce origami journalism, a new fold 'n' go section-within-this-section designed to go out on the town with you.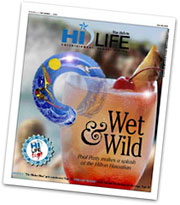 Today we also introduce HILife -- what you're lookin' at right now -- a revamped entertainment guide that lays out the many ways to have fun on Oahu. HILife replaces our Weekend tabloid, and although it will center on things to do from Friday through Sunday, it also recognizes that entertainment pursuits continue even when we go back to work on Monday.
HILife will continue to present features on concerts, movies, festivals, nightlife and stage productions, as well as continuing activities for families. We've added a couple of pages on events in Las Vegas -- a local entertainment venue by extension.
HiLife to Go is located at the very center of this section, easy to find and easy to pull out. The lead feature is Jason Genegabus' "In the Mix" column on the club scene, but here you'll also find the movie listings and "Nightcrawlers" -- special nightclub events in chart form.
Getting back to the origami concept: The pullout is designed to be folded in eighths, for a quick fit into pocket or purse. It unfolds naturally so that each section reveals a compact set of information.
So that's what's new. Now go out, have fun -- and take us with you.
Betty Shimabukuro
Star-Bulletin Features editor
GET LISTED
To list your entertainment event in HI Life:

E-mail: weekend@starbulletin.com

Fax: 529-4750

Mail: Weekend, Honolulu Star-Bulletin
7 Waterfront Plaza, Suite 210
Honolulu, HI 96813
TO REACH US
Betty Shimabukuro, features editor
529-4777 | betty@starbulletin.com

Nadine Kam, style editor
529-4775 | nkam@starbulletin.com

Gary C.W. Chun, entertainment editor
529-4772 | gchun@starbulletin.com

Michelle Ramos, production editor
529-4766 | mramos@starbulletin.com

Nancy Arcayna, staff writer
529-4324 | narcayna@starbulletin.com

John Berger, staff writer
223-2912 | jberger@starbulletin.com

Burl Burlingame, writer
529-4779 | bburlingame@starbulletin.com

Jacquelyn Carberry, staff writer
529-4324 | jcarberry@starbulletin.com

Jason Genegabus, staff writer
737-8504 | jason@starbulletin.com

Katherine Nichols, staff writer
529-4324 | knichols@starbulletin.com

Ruby Mata-Viti, page designer
529-4778 | rmataviti@starbulletin.com

Joleen Oshiro, page designer
529-4774 | joshiro@starbulletin.com