---
FAST FACTS HAWAII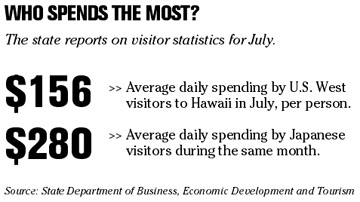 ---
HAWAII
Hotel occupancy drops, room rates increase
The hotel occupancy rate in Hawaii stood at 86.6 percent in July, down from 88.9 percent in July of last year,
Hospitality Advisors LLC
announced last night.
For the first seven months of 2006, the occupancy rate was 81.8 percent, compared with 82.2 percent for the same time period in 2005, the hotel, tourism and real estate consulting service said.
"The decline in room sales is reflective of where the market appears to be tracking in the current tourism cycle," Hospitality Advisors President Joseph Toy said. "Although we are likely passed the peak of the industry expansion that began in mid-2003, we should continue to expect a record year in industry revenues for 2006."
The average daily room rate in July was $198.22, compared with $175.70 in July 2005. The ADR for January through July was $185.38, up from $163.73 recorded last year for the same seven months.
Maui paving venture formed
Grace Pacific Corp.
and
Goodfellow Bros. Inc.
, which does business as Rimrock Paving Co., yesterday announced plans to consolidate their Maui operations in a joint venture, Maui Paving LLC, in November.
Bob Wilkinson, president and chief executive of Grace Pacific, said the venture will let the companies better allocate limited asphalt supplies on the island and expand the use of recycled products in paving projects.
Maui Paving will take over Grace Pacific's Puunene and Rimrock's Kihei facilities. The venture will retain all of Grace Pacific's and Rimrock's employees on Maui, the companies said.
Irish company buys RSI Roofing
Hawaii's
RSI Roofing and Building Supply
is being bought by
CRH PLC
, a Dublin, Ireland, maker and distributor of building supplies.
RSI, founded in 1983, has operations in Honolulu and Kona as well as on Maui and Kauai. Richie Mudd, RSI's president and chief executive officer, said he doesn't expect any changes in name or employees as a result of the transaction, which is to close by the end of the year.
"We see this deal as an excellent strategic alliance with someone that understands our business and culture and intends to grow and operate RSI as usual for the long term," Mudd said. Terms of the transaction were not disclosed.
CRH was founded in 1970 with the merger of Irish Cement and Roadstone. It now has operations in 19 countries with 66,500 employees.
Maintenance firm's buyer named
Hawaiian Building Maintenance, which has announced it is being sold, said yesterday that its buyer is a venture between its own management and a San Francisco investment company.
UNICCO Service Co. of Newton, Mass., said last week that it is selling its 742-employee Hawaii subsidiary, but did not specify who would be buying it.
Yesterday, Hawaiian Building Maintenance said the buyer is HBM Acquisitions LLC -- whose managing member is ATEL Investment Co., an affiliate of ATEL Capital Group of San Francisco -- with participation by Hawaiian Building Maintenance's management.
Dean Cash, ATEL's chief executive officer, said in a statement yesterday that the deal "demonstrates our confidence in the current management of HBM as well as the future of the Hawaiian economy."
State CPA wins national award
Craig Watanabe has won the national award for Outstanding CPA in State Government for 2006 by the American Institute of Certified Public Accountants.
Watanabe has overseen state regulation of the captive insurance industry since 1999, during which time the number of captive insurance companies domiciled in Hawaii has tripled to 161.
"We are very proud and fortunate to have Craig working with us," said Insurance Commissioner J. P. Schmidt.
Captive insurance is formal self-insurance, in which large companies establish their own insurance company to cover risks. Hawaii is the second-largest captive insurance domicile in the United States.
[HAWAII INC.]
ON THE BOARD
» Sales and Marketing Executives International Honolulu has announced a new board of directors for 2006-2007:
Richard Emery, Hawaii First Inc.
, president;
Dave Erdman, PacRim Marketing Group
, vice president;
Gail Atwater, R.M. Towill Corp.
, secretary;
Mike Curtis, Bank of Hawaii
, treasurer. Directors include
Robyn Frost, First Hawaiian Bank; Co Le, Starwood Regional Office Hawaii French Polynesia; Patricia Milburn, Clear Channel Communications; Chuck Reindollar, First Hawaiian Bank; Donna Smith, Fernandez Events LLC; Jason Taylor
, Ho-nolulu Advertiser;
Beth Waller, Hawaiian Telcom
. They have also named
TAG Team LLC
's
Tina E. Yap
and
Gloria M. F. Chang
as executive directors.
» The Agriculture Leadership Foundation of Hawaii announced its newest board member John J. McHugh Jr. He is a recent graduate of the agricultural leadership program that is the cornerstone of the foundation. He also is co-owner of Crop Care Hawaii LLC and is the sole proprietor of a second agricultural consulting company, John J. McHugh Jr.
AWARDS
> The Hawaii Society of Certified Public Accountants has announced two of its CPA nominations are recipients of the national awards of the American Institute of Certified Public Accountants.
Warren Haruki
, president and CEO of
Grove Farm Co.
, was one of four inductees in the 2006 AICPA Business and Industry Hall of Fame. Haruki was noted for his contributions to creating and sustaining cultures of leadership, developing strong employees and strategic partnerships and creating and envisioning strategies for company advancement.
Craig Watanabe
, captive insurance administrator for the state of Hawaii, received the 2006 AICPA Outstanding CPA in Government Award.
---
30-year mortgages decline for sixth week
Rates on 30-year mortgages fell for a sixth consecutive week, providing home buyers with more relief from an earlier rise in rates.
Mortgage giant Freddie Mac said yesterday that 30-year, fixed-rate mortgages dipped to 6.44 percent this week, down from 6.48 percent last week.
Company plans to build Texas reactors
DALLAS » Electric utility
TXU Corp.
said yesterday it plans to build nuclear reactors at up to three sites to meet growing electricity demand in Texas, fresh evidence of increased interest in nuclear energy in the United States.
The company said it expects to submit applications to the Nuclear Regulatory Commission in 2008 to build the plants, which could produce enough power to serve up to 4.5 million homes.
By applying to the NRC before the end of 2008, TXU expects to get $6 billion in tax credits, nuclear risk insurance and federal loan guarantees approved by Congress in last year's energy law.
Company buys 82% of airline for $2.68M
Baguio Gold Holdings Corp.
, a company owned by the Philippines' richest man Lucio Tan, said it will pay $2.68 million for six companies that own 81.57 percent of
Philippine Airlines Inc.
Manila-based Baguio Gold will pay the amount within a year from the completion of the sales agreement, Cecilia Pesayco, company corporate lawyer, said in an Aug. 18 statement released by the Philippines' stock exchange today. Tan owns the six companies that control the nation's biggest carrier.
---
BUSINESS PULSE