The Long and Narrow Road
FALL FASHION OUTLOOK
IT'S TIME.
For a couple of years, I've been warning friends that the lean look of the emaciated rock 'n' roller is on its way back, traversing oceans and highways on its slow journey westward from Europe, where it started with menswear designer Hedi Slimane, who resurrected the mod look for Dior Homme seasons ago.
In spite of the distance and time lag, those around me universally have responded, "Nooooo!" to the narrow look, just as they do when I threaten that perms could one day replace their sleek straight, nondamaged tresses. "Noooo!"
I feel their pain. I couldn't imagine slipping into the new skinny jeans, either. Real women have curves, they say on the mainland; in Hawaii we deal with the daikon-leg phenomenon, an analogy understood by all who have recognized a similarity between the vegetable and the human limb.
Well, most designers aren't lolo or suicidal and know full well that you can't fit a daikon leg into a straight-legged pant. To keep sales afloat, the solution for fall 2006, as in the 1980s, is leggings!
This, too, strikes fear into the hearts of those who possess a refined fashion aesthetic, not for their own closets' sake, but out of dread over just what might cross their paths on the streets, in restaurants, at clubs and in the malls. Something about trickle-down trends, like fourth-hand gossip, always gets lost in translation, with grotesque, comical or otherwise unintended results.
Some women, after all, never abandoned leggings, and you can see them running their errands on the weekends in stiff, roomy square shirts over skinny little bird legs.
Their rationale: "It's comfortable and makes my legs look skinny."
The effect: Hello Tweedle-dee, or is it Tweedle-dum? Or, is Humpty Dumpty your fashion icon?
All fears aside, fall's biggest trend is certain to win many followers. "It's so cute!" were the first words out of customers' mouths at Neiman Marcus, which just wrapped up two weekends of fall previews.
"It's so fun, so different, women are really enjoying it," said merchandise manager Lucy Chelini, who added that those who remember the '80s will find today's stretch denim more forgiving than the stiff fabric of the past.
For even greater ease, leggings allow women to get the same narrow look in comfort.
Madonna and "Flashdance" were responsible for popularizing the look last time we saw it in the '80s. Leggings were the pro-vince of club kids and dancers, who paired them with that other hot look, leg warmers. (Nondancers who adopted the look back then can laugh about it now, but will that stop anyone from donning their 2006 counterparts, arm warmers?)
Where the 1980s look embraced anything-goes rebellion and nonconformity, today's look is all about 21st-century polish.
The narrow leg goes hand in hand with fall's inverted triangle proportion and layered look, with volume from the waist up, in the form of blouson tops, ruffles and puffed sleeves.
There's a lot of freedom in layering. Whereas typical fall garb has been restricted to weighty skirts, jumpers and jackets, the year-round spring and summer looks perpetuated by L.A.- and Miami-based celebs and television series have left people with a desire for skimpy dresses in any season, even if they do have to throw them over turtlenecks and leggings. Global warming might have added to the seasonal confusion of those unsure whether their weatherman will be reporting cold spells or heat waves.
In Hawaii this translates into more wardrobe options in lightweight fabrics that will last beyond the cool season.
In addition to the narrow look, here are the trends and must-haves for fall, according to Neiman Marcus:
Handbags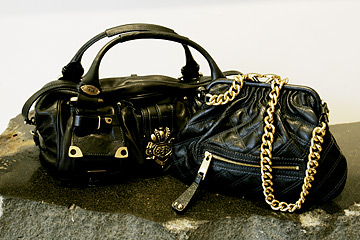 For women
Menswear:
Plaids, checks, houndstooth and tweeds bring sophistication back to women's wear. The look is echoed in textured and patterned stockings.
Bring on the glam: With an eclectic mix of velvet, jersey, chiffon, fur, metallics and animal prints, fashion hasn't been this colorful since the late '80s.
Black-and-gold handbag: Judges on "Project Runway" frequently bemoan "matchy-matchy" monochromatic, staid dressing. If you've been guilty of the same for a decade, you might finally get it this fall. Serious handbags are black with burnished, not shiny, gold details. Sit down before moving on to the shoes.
Shoes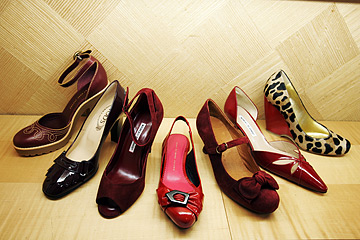 Shoe of the season:
You might say Christmas has come early. Fall's shoe is an eye-catching bold red with a sharp stiletto or chunky platform heel, sure to stand out amid a sea of black, white and gray. You can't be shy in red shoes.
The white shirt: Embroidery, lace and oversize ruffles bring a touch of romance to fall. Shirts can be streamlined to fit under slim jackets, or cut long and belted over narrow trousers or leggings.
The tunic: Remember what I said earlier about the large stiff shirt worn with leggings? Avoid the Tweedle-dum effect by draping yourself in a soft tunic in a forgiving knit or plush velvet, some with extra hiding places in the form of kimono sleeves.
Accessories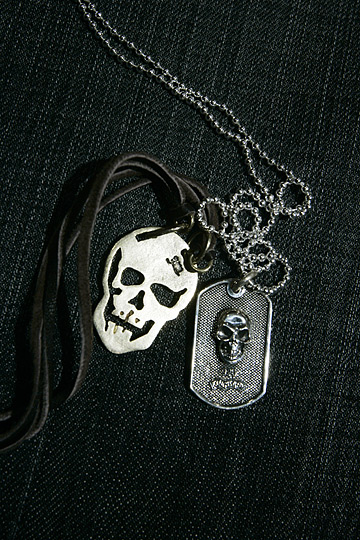 The wide belt:
The voluminous look doesn't mean letting anyone forget you have a waist. Belts at a minimum 3-inch width make dressing a cinch. Warning: If you look like you're wearing a back brace, maybe this look is not for you. Know your body, and know when the "Do not try this at home" rule applies.
Gold jewelry: The skyrocketing price of gold started a buzz with investors and renewed interest in the precious metal. Designers have suddenly remembered that gold looks great with black and red.
For men
Striped suit:
Just like women and their red shoes, men will be asserting themselves in stripes of all sizes and widths, in suits of all colors, textures and fabrications, from velvet to wool. Stripes can be seen in modern two-button jackets paired with narrow pants or classic three-button jackets with tailored trousers.
Plaids and checks: For graphic impact, sub that plain-colored shirt or tie for subtle-to-bold patterns of plaids and checks in unexpected color combinations.
Military: The war isn't ending any time soon, and its impact can be seen in military jackets with flap pockets, epaulets and metal buttons.
Skulls: Maybe it's rock 'n' roll. Maybe it's Johnny Depp. Maybe it's "Pirates of the Caribbean." The motif of pirates, bikers, rockers and bad boys and girls everywhere now belongs to the masses, whether printed on clothing, worn as jewelry charms or on a belt.
Games we play: Sports from tennis to snowboarding influence fashion, but fall 2006 is the season for rugby, represented by the collegiate long-sleeve knit with bold color swaths, vintage alma mater motifs, crests and numerals.
Boots: From rugged motorcycle styles with chunky hardware to sleek urban wear, what could be a better match for casual or dressy narrow denim?
More accessories: Speaking of dressing up denim, the guy who has everything might want to embellish his outfit of dark denim jeans and a graphic T-shirt with a biker's wallet chain of sterling silver or gold. Adding to the military look is dog-tag jewelry bearing imagery such as skulls, fleurs-de-lis, crowns, hearts and crosses.
-