---
FAST FACTS HAWAII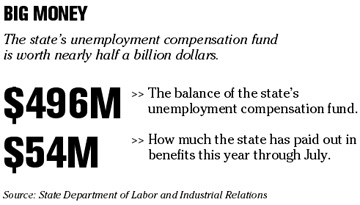 ---
HAWAII
Aloha offers California flights for as low as $99
Aloha Airlines
is offering one-way tickets to California for as little as $99 to its AlohaPass members, in what it calls a "Labor Day Clearance Sale."
The fares, which do not include taxes and fees, must be purchased online through next Tuesday, for travel between Friday and Sept. 7. Travelers who are not already AlohaPass members can fly for as little as $119 each way or sign up for an AlohaPass membership.
Aloha's $99 one-way fares include flights to Oakland, Sacramento, San Diego and Orange County in California. The price varies depending upon the island of departure and range up to $149 one way for AlohaPass members. Nonmember one-way fares range from $119 to $169.
Hawaiian Airlines said it won't match the fares for its West Coast destinations. In California, Hawaiian flies to Los Angeles, Sacramento, San Diego, San Francisco and San Jose.
On assignment
Erika Engle is on assignment. TheBuzz will return tomorrow.
[HAWAII INC.]
NEW JOBS
»
American Savings Bank
has hired
Steven Arakawa
as a real estate loan officer responsible for assisting clients with real estate, construction, land, home equity loans and refinancing. Arakawa has more than 19 years of experience in the financial services industry.
» Bright Light Marketing has hired Marsha Castillo as account executive. She previously worked for KHON2 News as an associate producer. Amanda Ezra has been promoted to assistant account executive. She previously held the position as an account coordinator and has been instrumental in assisting senior account executives in both corporate communications and special events.
» Anekona Development Group has named Teri Orton as general manager of the Ilikai. She will be responsible for overseeing all aspects of the hotel's operation, from housekeeping to sales and marketing. Orton has over 13 years of hotel industry experience and previously served as general manager of the W Honolulu -- Diamond Head Hotel.
ON THE BOARD
» The Hawaii Escrow Association has elected officers for 2006-2007:
Susanne Lunsford
,
Hawaii Escrow & Title
, president;
Sue Santos
,
First Hawaii Title Corp.
, vice president
; Frances Goo
, owner of
Guardian Trust Escrow
, secretary; and
Ann Fukuzaki
,
Fidelity National Title & Escrow of Hawaii
, treasurer.
» The International Association of Business Communicators Hawaii chapter has announced its 2006-2007 board of directors: Steve Golden, The Gas Co., president; Su Shin, Honolulu Board of Water Supply, president-elect; Lynne Unemori, Hawaiian Electric Co., finance vice president; Kris Tanahara, Stryker Weiner & Yokota Public Relations Inc., communications vice president; Lori Abe, Hawaii Community Foundation, programs vice president; Lynn Kenton, Kaiser Permanente Hawaii, programs vice president; Linda Howe, Alexander & Baldwin, awards vice president; Elizabeth Ahana, Kamehameha Schools, awards vice president; James Whitfield, Hawaii Pacific University, university relations vice president; and Alan Tang, Olomana Marketing, past president.
» The Juvenile Diabetes Research Foundation, Hawaii Chapter has elected its 2006-2007 officers: Scott Rolles, R&R Restaurants, president; Lori McCarney, Coldwell Banker, vice president; Brian Stewart, Bank of Hawaii, treasurer; Jocelyn Collado, Becker Communications Inc., secretary.
---
NATION
LaSorda says $3 gas is here to stay
TOLEDO, Ohio » The
Chrysler Group
, which depends more heavily on sales of pickup trucks and sport utility vehicles than any other Detroit automaker, said yesterday that it expected gasoline prices to remain at $3 to $4 a gallon for the rest of this decade.
The comments by Thomas W. LaSorda, Chrysler's chief executive, are the first time a Detroit automaker has issued a specific forecast on gas prices since they began climbing to $3 a gallon and higher.
Ford's chief sales analyst agreed yesterday that high gas prices were not a temporary phenomenon, although he did not cite a price range. The analyst, George Pipas, said that the auto company expected gas prices to remain high, volatile, and unpredictable.
Together, the comments signal a recognition that the two automakers may have to fundamentally change their product mix to put more emphasis on fuel-efficient vehicles -- a move General Motors says it already is making.
Prudential settles trading charges
Prudential Financial
, the life insurance company, agreed yesterday to pay $600 million to settle charges with federal and state regulators that one of its units engaged in inappropriate mutual fund trading.
The payment, the second-largest levied against a financial institution over the practice, may bring to a close a three-year investigation into the improper trading of mutual funds that has ensnared some of the largest names on Wall Street and the mutual fund industry.
The settlement with the Justice Department, which covers trades totaling more than $2.5 billion made from 1999 to 2000, is also the first in the market timing scandal in which an institution has admitted to criminal wrongdoing.
Google, eBay try to crack services market together
SAN FRANCISCO » If you're in the market for a nanny or a plumber close to home, chances are you'll consult the Yellow Pages or ask friends for recommendations. You might even check community sites like Craigslist or Angie's List.
Google Inc. and eBay Inc. would rather you use them. The two prominent Internet companies announced an advertising partnership yesterday that aims to put buyers in touch with a wider variety of sellers, such as the neighborhood exterminator, math tutor or roofer.
Under the arrangement, Google would provide search results whenever an eBay member typed in a search term that failed to find any matches on eBay's vast auction site.
Although eBay lists millions of physical, shippable goods, such as antique airplanes and used cloth diapers, the company has long struggled to sign up service providers -- people who sell their labor or intellect, not their physical wares.
WORLD
Japan's jobless rate declines
TOKYO » Japan's unemployment rate fell and job vacancies climbed to the highest in 14 years, laying the groundwork for a recovery in consumer spending in the world's second-largest economy.
The jobless rate dropped to 4.1 percent in July from 4.2 percent a month earlier, the statistics bureau said today in Tokyo. The result was in line with the median forecast of 42 economists surveyed by Bloomberg News.
---
BUSINESS PULSE