Community action stirs decrease in prostitution
A building manager says simple steps have had an effect on Kukui Street
SECOND OF TWO PARTS » Increased police patrols.
Trimmed trees.
Brighter lights.
All resulted from a downtown Honolulu community's outcry over a surge of prostitutes in their neighborhood.
Everything is coming together, said Alden Kamaunu, general manager of Kukui Plaza, where prostitution activity has been prevalent near the residential building. He said that since the increased community reaction, there has been a steady decline on Kukui Street.
Brighter lights installed by the Pali Longs on its rear wall facing Kukui Street and the trimming of trees by the city along the sidewalk bordering Kukui Plaza were done after a fatal shooting just before midnight on July 1. Police said Daniel Trulove, 24, was fatally shot near Nuuanu Avenue and Kukui Street, allegedly by a pimp in an argument involving prostitution.
The shooting spurred residents to take action to combat prostitution along Kukui Street, where there is high pedestrian traffic all day and night.
A series of sign-waving demonstrations were held by residents along the roadway with another one slated for tomorrow at the corner of Nuuanu Avenue and Kukui Street. A town meeting organized by Rep. Bev Harbin (D, Kakaako-Downtown) to address prostitution is also scheduled for Thursday at 6 p.m. at the state Capitol.
Based on residents' worries and increased prostitution activity observed, city officials and the Honolulu Police Department are calling for an expansion of the downtown Honolulu prostitution-free zone.
Honolulu Police Chief Boisse Correa recently sent a letter to the City Council recommending the expansion to Aala Street from Nuuanu Avenue and Bethel Street so that the zone encompasses Chinatown.
"We're recommending an increase in the area where we believe the activity has increased," said Maj. Lima, of the Narcotics/Vice Division.
The prostitution-free zone, which allows stricter penalties for anyone convicted of prostitution in the area, is another tool for law enforcement to use to reduce activity, Lima said.
"It is not the tool that will solve prostitution," he acknowledged, but "the more tools we have, the more we can utilize."
---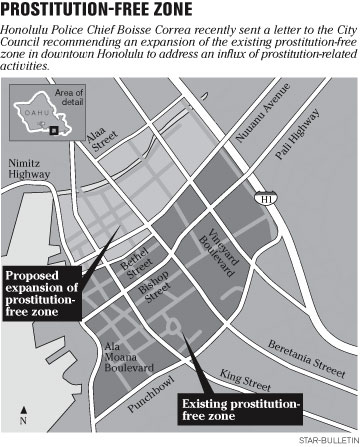 ---
A bill to amend the existing prostitution-free zone for the expansion is being drafted, said Councilman Rod Tam.
"I give credit to the community coming together. It was through their actions that made it possible," he said.
"We need the expansion," said Lynne Matusow, chairwoman of the Downtown Neighborhood Board, who added that prostitution is rampant on Aala Street.
But Matusow questioned why police were not heavily enforcing the block by the Pali Longs since it is already part of the existing prostitution-free zone. She described the area as the worst area for prostitution in downtown Honolulu.
Lima said residents are unaware of the number of prostitution-related arrests made by officers.
"We make a considerable amount of arrests," he said, noting that the arrests are typically made elsewhere than Kukui Street. "That's just the nature of the arrest."
Maj. Randy Macadangdang said, "There's certain particular elements of the crime that we have to observe and hear.
"It's not as easy as everybody thinks."
Undercover operations involving plainclothes officers are conducted several times a month, he added.
The number of complaints of prostitution in downtown Honolulu so far this year equal the number of complaints for all of last year.
In 2005 the Honolulu Police Department's Morals Detail received 141 complaints compared with 140 complaints this year as of Aug. 22, according to Lt. Rosalie Lenchanko. Ever since the shooting, complaints "just went up the roof," she said.
Despite the influx of undercover police officers roaming the area, a 19-year-old prostitute who goes by the street name "Gemini" said she would continue to solicit on Kukui Street.
"I still plan on staying here," she said while noting that she also works in Waikiki.
"Waikiki ain't got no vice," said Gemini, wearing a low-cut, hot-pink dress and 6-inch clear platforms, as she chatted with two other prostitutes on a recent night on the sidewalk behind the Pali Longs.
Police and advocates say street prostitution is only a fragment of the activity that also occurs in massage parlors, strip bars and through escort services.
"Street prostitution, that's just the tip of the iceberg," said Lorraine Faithful, executive director of Sisters Offering Support, a nonprofit organization attempting to put an end to commercial sex trade and the recruitment of underage girls into prostitution.
Faithful said they plan to approach the Legislature next year about establishing a "johns" school in the state. According to SOS, the school would be "aimed at combating the demand side of commercial sexual exploitation and targeting the customers who pay for sexual services, a k a johns."
"I think it will curb the problem in Hawaii. We have a large demand for paid sex," said Faithful.
Several cities, including San Francisco; Norfolk, Va.; and Buffalo, N.Y.; have johns' schools.
Meda Chesney-Lind, professor of women's studies at the University of Hawaii, said these type of programs tend to fade away because of political backlash.
"I think the johns' school is one way to placate the issue that we're only arresting the women," Chesney-Lind said. "In this community, you're also very likely to arrest military (personnel) and tourists who are males. Pretty quickly, those institutions will weigh in on this."
Job training and housing are alternatives to help prostitutes get off the streets, Chesney-Lind said. "If you take them out of that life, they seriously need some other way to survive and another place to live," she said.