| | |
| --- | --- |
| | Island Mele |
---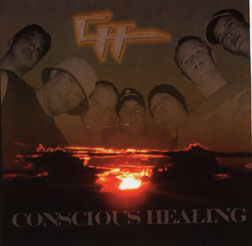 "Conscious Healing"
Conscious Healing
(Base 2 records)
First impressions aren't always accurate. Listen only to the first song on this septet's debut album and it is easy to dismiss Conscious Healing as just another local Jawaiian band. Listen to a few more songs and it becomes evident that there is more to this group than that.
Consider the three-man horn section that provides a soulful sound many local reggae bands lack. Consider the three lead vocalists that give the group more depth than usual.
There are times when pseudo-Jamaican accents intrude, but for the most part, the guys sing without such affectations.
The arrangements are diverse as well. While steady reggae rhythms are the foundation of many selections, others contain elements of ska or rock. There's also one that is semiacoustic.
The lyrics merit attention, too. Several songs suggest that the writers embrace the principles of Rastafari, the Jamaican religion that reggae music grew out of.
Others appear to contain mainstream Christian messages but never take them to the point where non-Christians might feel excluded.
Although Base 2 records fails to include composers' credits, the group members' thank-yous indicate that at least some of the songs are originals; whoever wrote the lyrics clearly understands the importance of rhythm, rhyme and meter. All things considered, this group should be around for a while.
---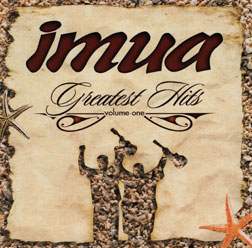 "Greatest Hits Volume One"
Imua
(808e Productions)
Give Imua -- singer/songwriters Dave Dunaway and Albert "Baba" Akiona -- credit for the optimism shown by the title of this anthology.
The 18 songs here represent a career spanning eight years and four previous albums. To say that all 18 were "hits" is a stretch, and the words "Volume One" might be tempting fate, but the collection has a surprising charm. The light soft-pop originals have a sincerity that overcomes the occasional awkward lyric, and the duo's remake of "Wonderful World" -- a hit for Sam Cooke, Herman's Hermits and James Taylor -- has more appeal than most local efforts at remakes.
As for the originals, both men write honestly about their experiences growing up in Hawaii -- "small-kid time," friendships, falling in love.
Dunaway adds a light bit of comedy with "Red Light" and gets political with "Mr. Governor," a song written in support of a threatened teachers strike. Akiona speaks for a generation of Hawaii residents with "Local to the Max."
---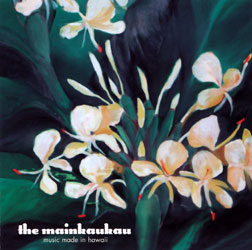 "The Mainkaukau"
The Mainkaukau
(Mainkaukau)
The Mainkaukau is the creation of singer/songwriter Eric Laride, who also plays several instruments, and a group of studio musicians. Laride writes from the heart with varying degrees of success, sometimes in a style that is closer to middle-school stream-of-consciousness than the work of a veteran professional. As such, this album will be a interest primarily to friends and family, but a couple of songs stand out as interesting ideas that deserve a larger audience.
First and foremost is "Pupu Blues." Laride and his sidemen get a smooth blues groove going that makes the song work musically.
As for the lyrics, Laride shows imagination and humor in coming up with a list of food items that goes far beyond the basic local favorites of fish, poi and laulau.
Laride shows his talent as a storyteller with two other memorable selections. "Koke'e Cow" might be the first song ever written to thank a wild animal that was killed by a man whose family was down on its luck. "Captain Cook" describes the arrival and death of the English explorer with imaginative lyric images as well.
Laride opens the album with a solo rendition of "Hawai'i Pono'i" and closes it solo with "The Star-Spangled Banner." Maybe there's kaona (hidden meaning) in that, maybe there isn't, but the placement suggests that Laride has more ideas to share.
John Berger
, who has covered the local entertainment scene since 1972, writes reviews of recordings produced by Hawaii artists. See the Star-Bulletin's Today section on Fridays for the latest reviews. Reach John Berger at
jberger@starbulletin.com
.