---
FAST FACTS HAWAII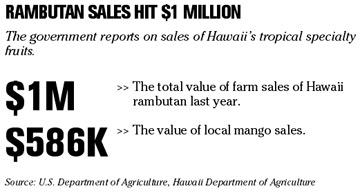 ---
Tower Records files bankruptcy again
WASHINGTON » Tower Records has filed for Chapter 11 bankruptcy protection from its creditors, its second such filing in less than three years.
The company, which operates 89 stores in 20 states, sought bankruptcy protection Sunday to sell its assets through a court-supervised auction.
The Sacramento, Calif.-based company, formally known as MTS Inc., asked the U.S. Bankruptcy Court in Wilmington, Del., to approve the rules governing an auction now slated for Oct. 5. Tower said it needs to close the sale by mid-October so it has time to prepare for the holiday shopping season, when it records about 32 percent of its annual sales.
Tower, which is slated to go before the bankruptcy court for the first time this morning, said its revenue fell to $430 million for the fiscal year ended July 31 from $476.1 million a year earlier.
Heads roll at AOL over release
AOL announced the resignation of its chief technology officer yesterday, two weeks after it came under intense criticism from privacy advocates for releasing hundreds of thousands of its customers' Web search queries.
An AOL researcher who put the queries online and a manager overseeing the project were dismissed, according to an AOL employee who did not want to be identified because the company does not comment publicly on personnel matters.
AOL, a unit of Time Warner, also said it planned to enhance data-privacy protections, reconsider the length of time that it holds onto the millions of search queries that customers make every day and re-educate its own employees about the sensitivity of personal data.
Ford to offer buyout to all workers
Ford Motor Co.
, slashing production after battling a decade-long drop in U.S. market share, is preparing to extend buyout offers to all its factory workers in North America, two people with knowledge of the plan said.
The step would reverse Ford's strategy of "targeted" offers at specific plants and echo General Motors Corp.'s companywide buyouts and early retirements, which helped GM shed a third of its United Auto Workers union employees this year. Ford had 82,000 UAW-represented workers at the end of 2005.
Employee hid checks in socks
NEW YORK » A former
JPMorgan Chase & Co.
mailroom employee pleaded guilty yesterday to conspiracy to commit bank fraud, admitting his role in the theft of $100 million in corporate checks, some of which he hid in his socks.
Gregory Halley, 38, entered the plea in U.S. District Court in Manhattan. He faces up to 30 years in prison when he is sentenced June 8.
Shanghai Electric execs resign
SHANGHAI, China » The chairman and two directors of
Shanghai Electric Group
, a state-run maker of power-plant equipment, have resigned amid an investigation into alleged misuse of public funds, the company said yesterday.
Wang Chengming, 58, left the company as of Friday, Shanghai Electric said in an announcement posted on the Web site of the Hong Kong Stock Exchange. It said Han Guozhang and Zhang Rongkun, both executive directors, had also resigned. All three resignations were said to be "for personal reasons."
The announcement came amid reports that central Communist Party investigators had settled in for an extensive probe into allegations of financial abuses linked to one of Shanghai Electric's pension funds.
Russian aluminum giants to combine
MOSCOW » Russia's two biggest aluminum makers are planning to combine in a deal that will create one of the world's largest producers of the metal, the Kommersant business daily reported yesterday.
OAO Rusal and Sual Group will announce the deal in October, the newspaper reported.
Kommersant cited an unidentified partner of Sual owner Viktor Vekselberg as saying that the two companies had signed a memorandum of understanding and that the deal had received the blessing of President Vladimir Putin, which meant it would not be opposed by antitrust regulators.
While terms of the agreement were not disclosed, Kommersant quoted the partner as saying that Rusal owner Oleg Deripaska would receive 75 percent in the company while Vekselberg and other Sual shareholders would get 25 percent.
Neither company would comment on the story yesterday.
California will raise minimum wage
SACRAMENTO » California's minimum wage will increase by $1.25 an hour over the next two years under a deal struck yesterday between Gov. Arnold Schwarzenegger and legislative leaders.
The agreement ends, at least temporarily, a stalemate between the governor and Democratic lawmakers and clears a political hurdle for Schwarzenegger as he seeks re-election. Both sides agreed a raise for the lowest-income workers was necessary but differed over whether it should be accompanied by automatic annual increases.
---
BUSINESS PULSE