---
FAST FACTS HAWAII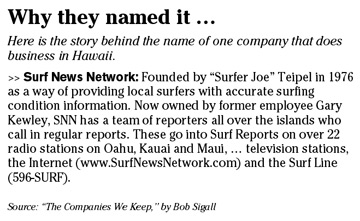 ---
NATION
More older Americans are using the Internet
The Internet isn't just the domain of today's youth; older generations also surf the World Wide Web, according to one survey.
Half of all Americans over 60 years old use the Internet, while more than 80 percent of baby boomers are online. Nearly 21 million boomers and 7 million Americans born before 1946 have been online for more than decade.
Most older Americans use the Internet for e-mailing, but some users make travel arrangements, check news, and find health information online. Thirty percent of Web-savvy boomers shop online a few times a month, the same percentage as younger generations.
Mike Irwin, president at Focalyst, a market search company focused on older consumers, said he expects to see older Americans to increasingly use the Internet for financial transactions and management as they become more confident in Internet security. Online social networks that have lured younger users may also become more popular with younger boomers.
Advice for spouses working together
Mixing personal and professional relationships can often spell disaster. But following a few guidelines can help spouses find success at work and home, according to one expert.
Former Harvard Business School professor Mark Albion suggests these tips to manage your business and relationship:
» Constructive criticism: When you offer a criticism, sandwich it between compliments to soften the impact.
» Love first: Remember that you're a couple first and business partners second. Develop a daily ritual to remind you of that.
» Communicate: Just like maintaining a personal relationship, make sure to talk about any problems that may arise. But make sure it's clear who is in charge of what at work.
» Money breakdown: Put all company financial arrangements in a legal document, so each person knows who owns what in case the marriage doesn't work out.
Look in the cupboard for stock picks
Most investors rely on Internet finance pages to pick their stocks, but some check the cupboard to make their choices, according to one survey.
Nearly one-third of investors who use online brokerages select investments based on whether they use a company's product or service, while more than one-quarter choose to invest in a company they've read or heard about.
Although 54 percent of investors get their financial information and news from financial web sites, 43 percent still receive their information from local newspapers. Nearly one-third use magazines for their research, whereas 28 percent depend on television programs for information.
Scottrade Inc. polled in May 1,888 active investors who use either of both full-service and online brokers.
---
BUSINESS PULSE